This beautiful and helpful book is a true means of retreat when the only way you can squeeze one in is to do it at home, for an hour a day.
What can God do in your life with one Bible verse a day?
Subscribe to Aleteia's new service and bring Scripture into your morning:
Just one verse each day.
Click to bring God's word to your inbox
So, my Lent had been pretty easy pedaling in 2023. Declaring it an "Old Testament Lent," I'd found instructive food and consolation in meditating on the word "shalom," and imagining Jesus greeting his disciples with that word, both in life and in his glory. I'd actively sought morsels of beauty from my Jewish ancestry (both spiritual and genetic) by studying John Altar's translation of the Hebrew Bible, and lingering with emotion over the staggeringly expressive and knowing prayer-poems of Leonard Cohen's Book of Mercy.
Yep, Lizzie was feeling pretty proud of herself — she'd played it smart, and her Lent was becoming an outright thing of beauty.
Until it wasn't.
Then suddenly people had to listen to me wail that just as I'd been rolling full speed toward the finish line my easy ride had thrown me into a wall. A big hard one. "I need a retreat," I kvetched to anyone who would listen.
Funnily enough, someone was listening. I am not claiming my guardian angel was up to anything, but as I walked past a groaning bookshelf, Jen Norton's illustrated book Arise to Blessedness: A Journal/Retreat with Eight Modern Saints who Lived the Beatitudes fell and landed at my feet.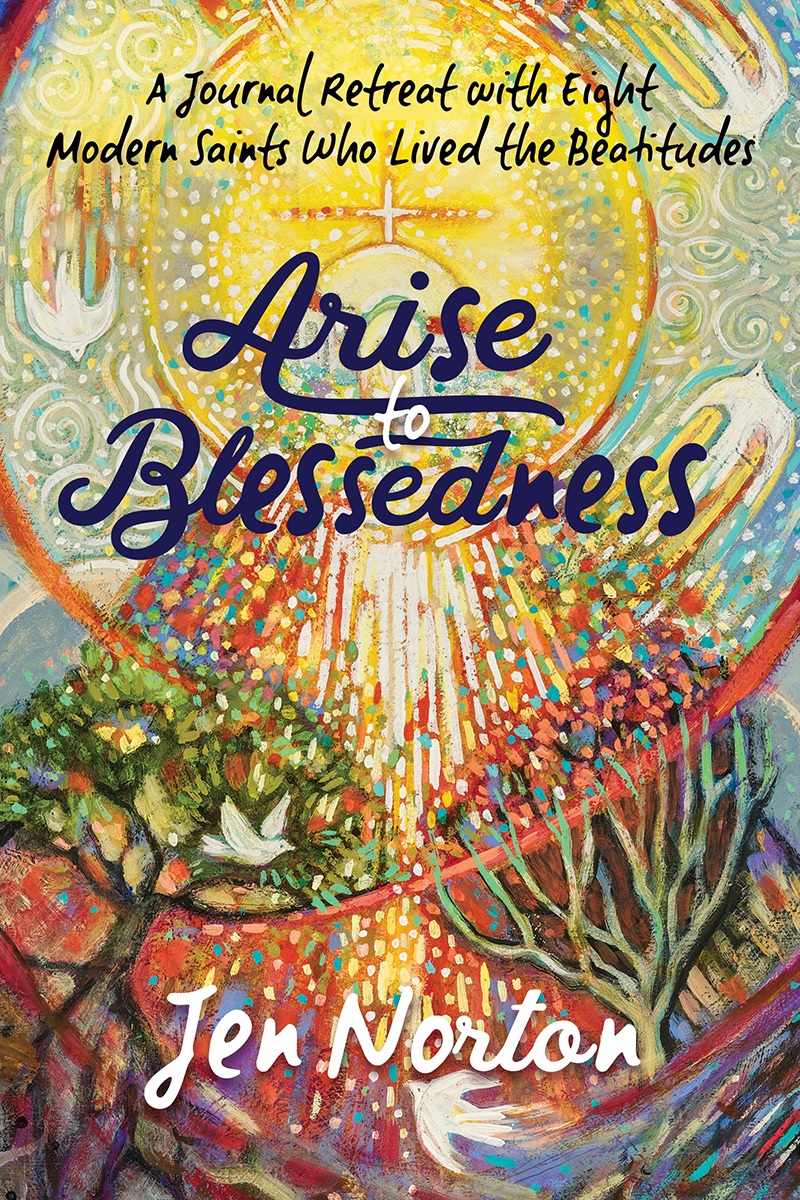 Ave Maria Press | Courtessy of OSV News
Well, I'm pretty stupid about many things, but I'm not too stupid to know when I'm being heard, or to take up a generous assist when offered.
Arise to Blessedness was born on a holy mountain — Croagh Patrick in Ireland's County Mayo, actually, where St. Patrick is believed to have fasted for 40 days. Already it seemed meant for me Lent, aye?
Norton conceived the book after climbing to the summit with other pilgrims and contemplating how Christians have been physically and spiritually climbing to encounter Jesus ever since the Sermon on the Mount and learning (through the beatitudes) that in just about all circumstances of life, they were blessed. In constructing a retreat around Jesus' specifics, Norton built each day's chapter around a "traveling companion" saint whose life bore witness to the beatitudes. The "merciful" are represented by St. Maria Goretti, who forgave her murderer; "the meek" by St. Maximilian Kolbe; "the peacemakers" by St. Óscar Romero; the "clean of heart" by St. Charbel Makhlouf.
I dug in and began my "retreat day" with the first beatitude — "Blessed are the poor in spirit" — in the company of St. André Bessette, whose humility actually had a great deal to say to me about God alone being the source of every gift — even my excellent Lent, about which I had become, yes, prideful.
Ugh. Talk about spot-on. The lesson, the book, were just exactly what I needed, and I threw a thumbs up to my angel who, I trust, will not get all smug-uppity about being right. As I clearly would.
The structure of each chapter is the same, beginning with a beautiful Norton illustration of a pilgrim in the shadow (or embrace) of a mountain. There is a verse of Scripture and then another image, this time of the saintly companion for that particular journey. There is a brief explanation of how that saint relates to the beatitude and space for reflective journaling. Then, there is an invitation to climb to the summit, to experience "a visio moment" based on a deeper reflection of the artwork. It's all meant to enlarge one's own understanding of where in our lives — and why — we have needed to make this climb.
Each chapter includes a journaling challenge that draws an inner silence from which insights might flower, plus encouragement to take another step, and then a closing prayer.
All of it is lovely, quieting and enriching stuff, even amid Jen Norton's impressive, somewhat gaudy artwork which — in what felt like a nod to my "Jewish Lent Experience" — put me in mind of the work of my favorite gaudy artist, Marc Chagall.
Other saints coming along on the retreat include St. Mark Ji Tianxiang, St. Elizabeth Ann Seton and St. José Luis Sánchez del Río.
This is a beautiful and helpful book, and a true means of retreat when the only way you can squeeze one in is to do it at home, for an hour a day. The images alone are worth the price, but the whole thing is a colorful, soul-feeding gift. I personally recommend not writing on its pages, because the next time you need it, you might be traveling this mountain from another side, and all of its prompts may hit differently.
Elizabeth Scalia is culture editor for OSV News. Follow her on Twitter @theanchoress.