Fire provides a potent image. We use it especially to speak of desire.
What can God do in your life with one Bible verse a day?
Subscribe to Aleteia's new service and bring Scripture into your morning:
Just one verse each day.
Click to bring God's word to your inbox
The Paschal flame that lights our churches throughout the Easter season begins at a precise moment, the blessing of the fire at the Easter Vigil. The fire having been prepared outside, the celebrant prays, "Sanctify this new fire … and grant that, by these Paschal celebrations, we may be so inflamed with heavenly desires, that with minds made pure we may attain festivities of unending splendor." 
Fire provides a potent image. It enlightens, warms, and heals, wounds and destroys. We use it especially to speak of desire. Human desire burns, for it pushes beyond creaturely limits and frustrates when it remains unsatisfied. Fire describes God's ceaseless fulfillment of his own glory and holiness: "Our God is a consuming fire" (Hebrews 12:29, citing Deuteronomy and Isaiah).
Jesus draws together these human and divine senses when he speaks of his desire to "set the earth on fire." At Pentecost, tongues of fire manifest the coming of the Holy Spirit, who flows from the eternal fire of Trinitarian love ignited by the exchange of Father and Son.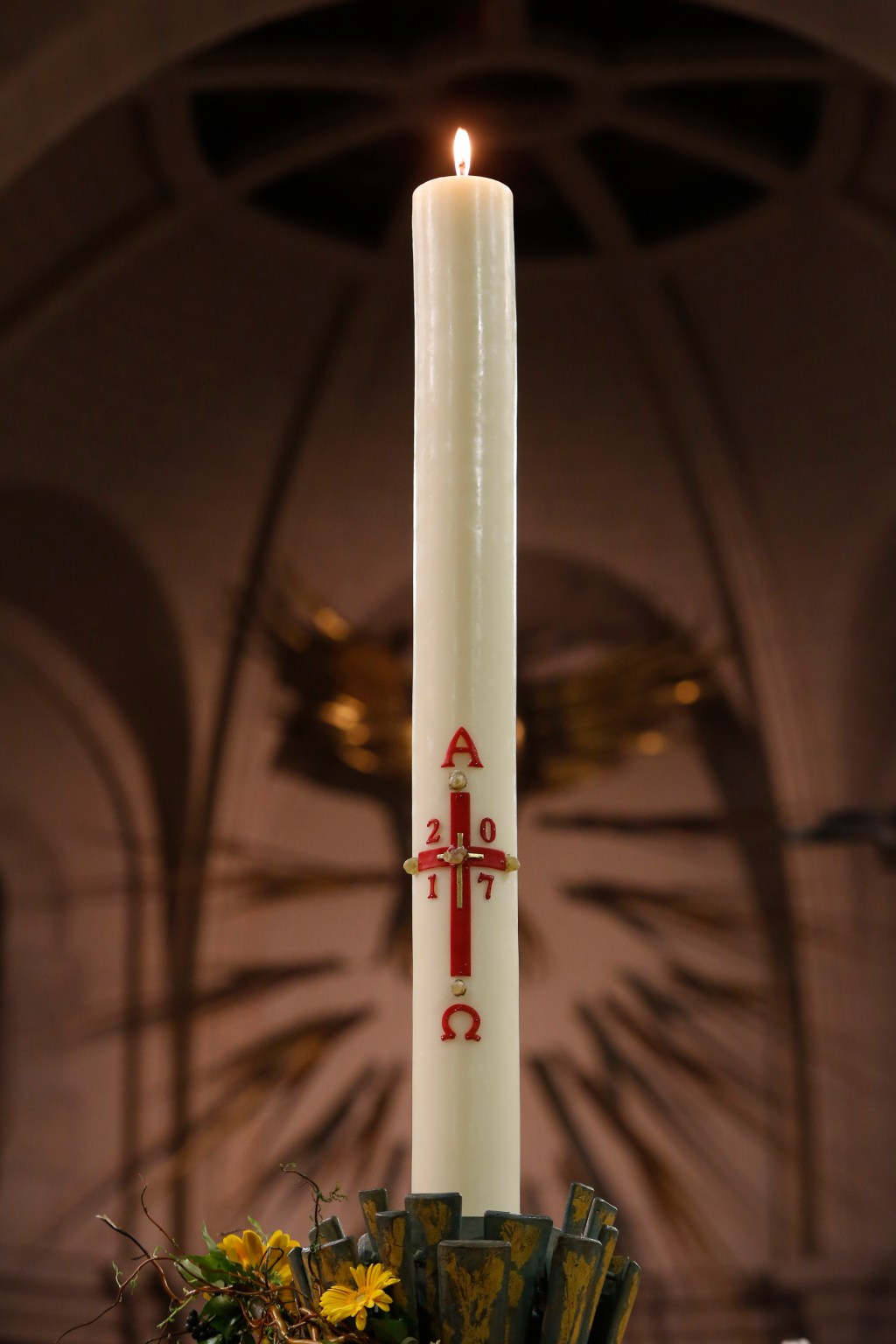 Philippe Lissac I Godong
Human desire sanctified
Fire's symbolism in the liturgy follows its spatial journey on Easter night. It begins outside the Church, human desire as yet unsanctified: the relentless yearning for what lies beyond this world and depends upon another for fulfillment. Suddenly, it is blessed by God, who takes it up and suffuses it with his holiness and power.
It remains itself, but has been set apart for a higher purpose: to become the Christ-light, where human and divine desire meet to set the world on fire, remaking the whole cosmos and every willing heart. 
This Christ-light makes its way into the heart of the Church, where it burns for each newly- baptized, renews those already baptized, and shines over our celebration of Christ's new Passover feast. It will appear again for us at death, to mark our funeral vigil for the Resurrection. The origin and destiny of our sacramental lives, it begins with our boundless desire and ends in its promised fulfillment.        
As a soon-to-be-ordained priest, the Easter fire exerts a special attraction for me this year. In two months, Christ will sanctify the "new fire" of my vocation, blessing the desire he has lit in me by suffusing it with his sacramental power. I will be consecrated to tend this holy fire. But like all who stand around the fire of Christ, my fire can be sustained only if I remain close to his, so that "inflamed with heavenly desires … we may attain … unending splendor."
~
This is part of Aleteia's The Human Being Fully Alive series. See more here.