Peruvian artist "Walt Wizard" reveals to Aleteia the details of his latest masterpiece: a hyperrealistic statue of Jesus preaching
What can God do in your life with one Bible verse a day?
Subscribe to Aleteia's new service and bring Scripture into your morning:
Just one verse each day.
Click to bring God's word to your inbox
"Six years ago I saw a documentary in which Ray Downing (famous illustrator and 3D animator, Ed.) made a 3D image of Jesus from the Shroud of Turin. I was very struck and wondered what it would be like to be able to make a hyperrealistic statue of Jesus to be able to see him in all his dimensions, as if he were right in front of us."
With these words, Peruvian artist Walter Huamán ("Walt Wizard" is his artistic name) began to explain to Aleteia the origin of his recent project. The result is a dazzling work: a hyperrealist image of Jesus in a preaching pose.
Cortesía
Walt told Aleteia that at the time he hadn't feel ready to carry out a work of such significance, so he had asked God to help him know the right moment to start the project.
"I didn't know about the Shroud of Turin in depth, so I wanted to turn to experts. That's how I met Rafael de la Piedra, a specialist in Shroud of Turin research," Walt continued.  
It was through this specialist that the Peruvian artist was able to contact representatives of centers specialized in studying the Holy Shroud (syndolology) from different countries such as Spain, Italy, and Mexico. The information he obtained made it possible for him to advance in his project.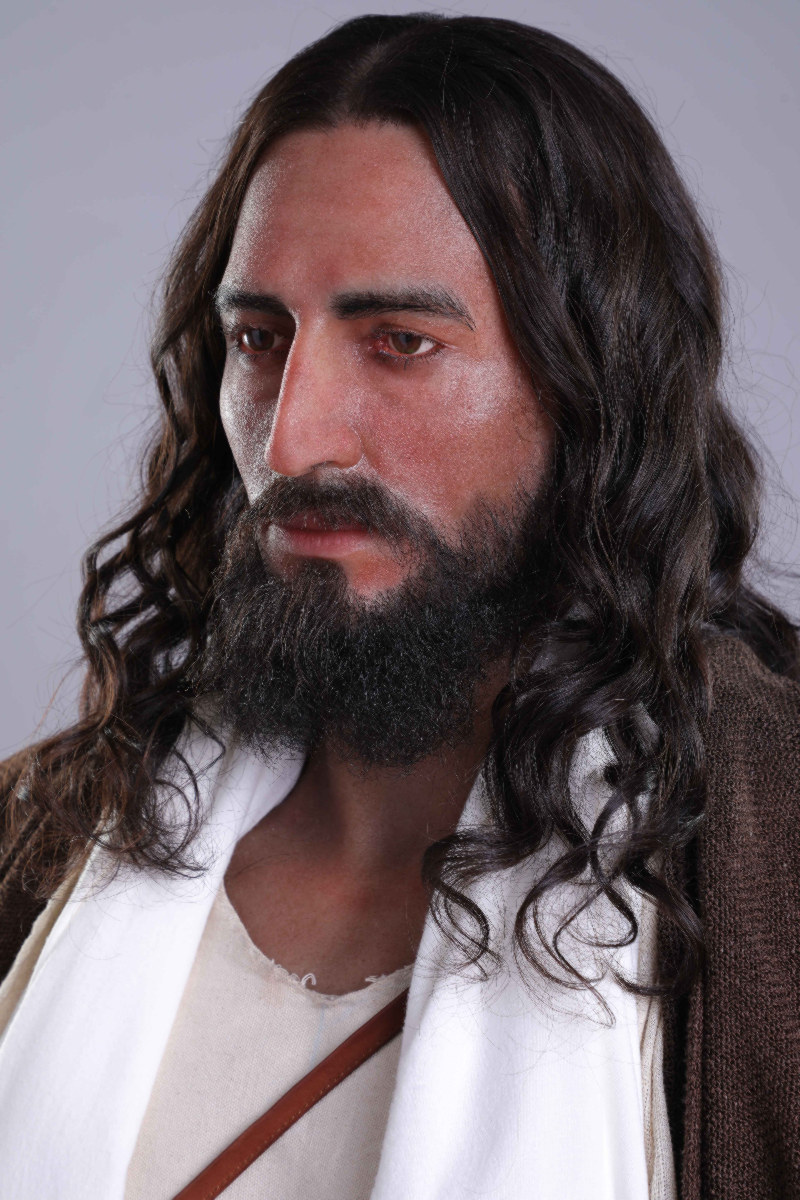 Cortesía
Materials and processes
The Shroud of Turin thus became the main source of Walt's hyperrealistic historical reconstruction. It's the source from which Walt was able to obtain information such as Jesus' height, hair length, beard shape, and so on.
He was "always taking into account that the body and other features look longer than normal because the sheet was in contact with indentations and protrusions of the body," Walt clarified.  
"The next step was to make a full-scale plan of Jesus' body that served as the basis for the modeling. At that stage we put the pores in one by one, tear ducts, and other distinctive features," Walt explained.  
Regarding the materials used to achieve a hyperrealistic work, Walt emphasized the use of the most advanced techniques and materials. He pointed out that in this case the best material to make the statue was medical grade silicone.  
It's the material most similar to human skin due to the fact that it's also used when making medical prostheses. The skin color would have to be in agreement with Jesus' birthplace, a dark, tan color. All head hairs, eyelashes, and eyebrows were put on one by one. The replicas of the clothing and accessories were made using as a reference original garments from the time of Jesus, such as sandals from the first century in the Middle East.
Cortesía
"He is always present"
Walt is 45 years old and defines himself as a Catholic. He studied at a Jesuit school growing up and is an industrial engineer from the University of Lima. He has also taken courses in Philadelphia. He considers himself a self-taught hyperrealist artist.
In August 2020, Walt gained notoriety for a fabulous historical reconstruction (also hyperrealistic) of the patron saint of Peru, America, and the Philippines, Saint Rose of Lima. When asked if there was also some religious motivation for undertaking similar projects, this is what he answered:
I want to contribute with the art I make and put it at the service of faith so that more people can become interested in the path of Jesus, so that new generations know him more and people who have lost their way can meet him again.
Jesus is the light that guides you in the darkness. Nowadays with so many high quality images, children are difficult to impress. Hyperrealistic art makes an impact and allows us to have an emotional connection. That's why I wanted to update his image in a historically accurate way and be able to somehow put us in his place and see as humans how much he suffered because of the love he had for us.
"Jesus' position is with open arms as if inviting you to follow him. He is always present," said the Peruvian artist.
An astonishing work that will travel to several cities
The reactions to Walt's work with the hyperrealist image of Jesus were not long in coming. 
For example, Walt told Aleteia that the president of the Spanish Center of Syndonology, Jorge Manuel Rodriguez, has said that "it has been an exceptional achievement that is going to be received as a masterpiece."
He also commented that Fr. Rafael Pascual of the Pontifical Athenaeum Regina Apostolorum in Rome said, "It's the first time that an image has been made from the Holy Shroud of a glorious Christ, in his fullness."
Lastly, he referred to the words of Rafael de la Piedra of the Mexican Center of Sindonology: "It's a work of extraordinary realism. It's a unique piece in its genre."
"The general public that has seen the work in person has been impressed by the expression it has and by what it transmits," acknowledged Walt.
Walt pointed out that the statue of Jesus and of other personages are part of the Jesus, Life and Passion Project, which is going to tour major cities around the world. "It's a hyperrealistic and immersive exhibition that will transport you, so to speak, to the time in which Jesus lived," said Walt.