If we want to be merciful, we have to start by working on our own relationship with God, so as to do everything through Him.
What can God do in your life with one Bible verse a day?
Subscribe to Aleteia's new service and bring Scripture into your morning:
Just one verse each day.
Click to bring God's word to your inbox
There are only 1,000 Missionaries of Mercy around the world. They've been given a special assignment by Pope Francis: that of being able to absolve even the greatest sins, normally reserved for the Apostolic See. Among these are, for example, the desecration of the Eucharist (the Body and Blood of Christ), physical violence against the Pope, and violation of the secrecy of confession.
Fr. Robert Wielądek is a Polish Missionary of Mercy. He spoke to Aleteia about this ministry and the power of the sacrament of forgiveness.
In the Bible, we read that God is merciful, gentle and slow to anger. But sometimes we also read that God is judgmental and can punish. Doesn't one contradict the other?
Father Wielądek: Mercy and justice are two sides of the same coin. Mercy needs justice and vice versa. These two realities are inseparable. There can be no anarchy in love. Every relationship needs frameworks, limits, and order. 
God loves us, so he is demanding with us.
Isn't judgment incompatible with love?
Fr. Wielądek: Let us remember that we will be judged by the One who died for love of us, to save us from our sins. God's judgment is comparable to parents' love for their children. If you warn your child not to disobey, or not to do such-and-such a thing, but he doesn't listen, as a parent you'll tell him that he's done wrong and make him feel the consequences of his behavior. Does this mean that you don't love him? On the contrary: you do it precisely because of your love for him.

Moreover, punishing him often hurts you as a parent at the same time. It's the same with God. He loves us, so he's demanding with us. And because he made us free, we're able to endure the consequences of our life choices. He doesn't act coldly, but with compassion.
How can we become merciful people?
Fr. Wielądek: We cannot be merciful by ourselves. We can be benevolent, but not merciful. We can only learn this from God, and especially through the sacrament of confession. Confession allows us to discover patient, constant, and unceasing love — a love that is not of this world. And only this experience lets us know how we can translate it into our attitude towards others.

Therefore, if we want to be merciful, we have to start by working on our own relationship with God, so as to do everything through Him.

Mercy is about doing what Jesus did. Therefore, if I don't know how to behave (or how to show mercy), I have to ask myself, "What would Jesus do in my place?"
Christ is empathetic, patient, and gentle. But he never turned a blind eye to evil.
We tend to confuse mercy with tenderness.
Fr. Wielądek: Jesus' love had different faces. Sometimes it manifested itself through miracles and teaching, and at other times through anger and sternness. The multiplication of loaves and chasing the merchants out of the Temple with a whip or calling the Pharisees whitewashed tombs are all equally manifestations of God's love.
In one situation being merciful means supporting someone with a good word, and in another it means sharply pointing out someone's sin to them. There are millions of people in the world, and each of them has a different story. There is no such thing as a manual of standard ways to show love. If we want to know how to act in a given situation, we need to be in relationship with God.
So, contrary to what people often think, mercy isn't about forgiving or turning a blind eye to someone's weakness?
Fr. Wielądek: No. Christ is empathetic, patient, and gentle. But he never turned a blind eye to evil. When he meets the adulteress, he doesn't pat her on the shoulder and tell her it's okay, or pretend that it never happened. He turns to her, looks at her, and says, "Go and sin no more." In other words, "You have sinned. What you have done is wrong. But I love you and you can choose to renounce evil and change your life."
One of the greatest manifestations of mercy is patience. Jesus says that we are not to forgive seven times but seventy-seven times. Does this mean we must endure someone's offenses indefinitely?
Fr. Wielądek: No. God tells us that if another person asks us for forgiveness in truth, then we must forgive as many times as he or she asks. But again, it's all about balance. We must be patient, but patience doesn't mean turning a blind eye to evil: Someone can indeed ask for forgiveness without good intentions. God endures our sin endlessly, but there are bound to be consequences. The same is true for us: In the face of evil inflicted upon us, we cannot pretend that nothing has happened.
The place where we experience mercy most powerfully is the confessional. And this is true regardless of whether an "ordinary" priest or a Missionary of Mercy sits in it. What, then, should the ministry of these Missionaries be?
Fr. Wielądek: Every priest on the day of ordination receives from the bishop the authority to forgive sins. However, there is a category of offenses from which only the head of the Church can absolve.

Seven years ago, in the Year of Mercy, Pope Francis decided to share this authority with chosen priests from around the world. Until now, absolution from certain deeds had to be addressed directly to the Holy See. Thanks to the ministry of the Missionaries of Mercy, this is no longer necessary, as this grace has become more readily available.   
What specific sins are involved?
Fr. Wielądek: These include profaning the Blessed Sacrament, betraying the secrecy of confession, or recording and sharing the content of confessions.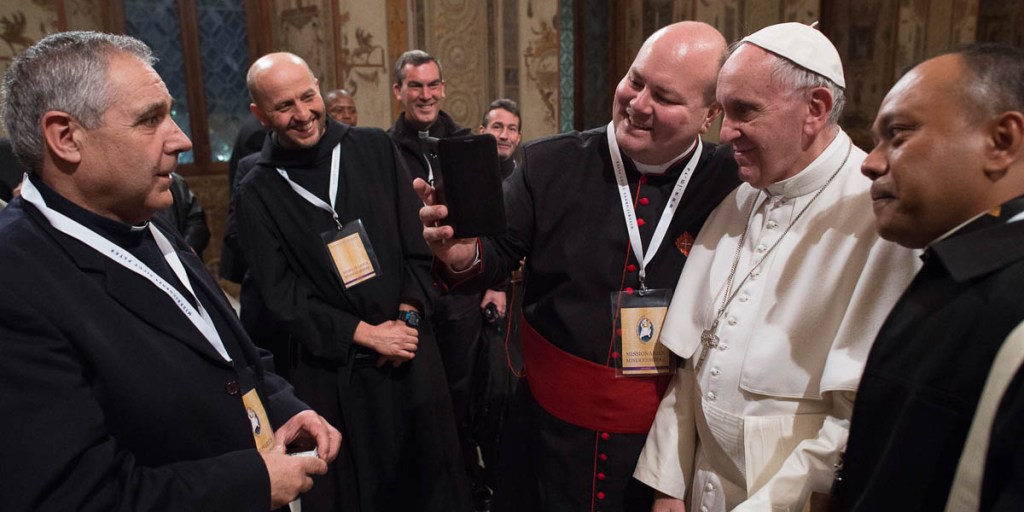 HO | OSSERVATORE ROMANO | AFP
Such things actually take place?
Fr. Wielądek: I thought not, too — until I became a Missionary of Mercy. These are not common cases, but yes, they do happen.

When we returned to Rome to share the fruits of our ministry a year after the establishment of the function of missionaries of mercy, the Pope decided that he was extending it until further notice. And it must still be very much needed, since it's currently in its seventh year.
What is the hardest thing about confession for a priest?
Fr. Wielądek:  First of all, sin is not interesting at all; on the contrary, it's boring. People have been committing the same sins since the beginning of time, it is only the tools used to do the sin that change.

On the other hand, for me it's difficult to listen to the sins of others, because I'm aware of the misery they cause. It's like a parent who has to listen to how his child has lost his way in life. There's no joy in that.
The most powerful experience for me has been preaching retreats and giving the sacrament of reconciliation in prison.
Is there a confession that has particularly stuck in your memory or heart?
Fr. Wielądek: The most powerful experience for me has been preaching retreats and giving the sacrament of reconciliation in prison. To discover how God's mercy changes people, especially those most "broken" in life, is a great grace. I have heard the confession of people who hadn't confessed in 40 or 60 years.
How have these seven years of ministry affected your life and your faith?
Fr. Wielądek: I discover every day how much I lack mercy in my daily life. It makes me realize that I need to be converted again and again, every day. Sometimes I still push others away and reject them. Working at being merciful means demanding of oneself an ever stronger adherence to Jesus. We must seek to imitate him. For this, the sacrament of reconciliation is important. It is not by chance that John Paul II went to confession once a week.