St. Bernard's School of Theology and Ministry in Rochester, New York, will meet you where you're at, geographically and academically.
What can God do in your life with one Bible verse a day?
Subscribe to Aleteia's new service and bring Scripture into your morning:
Just one verse each day.
Click to bring God's word to your inbox
While the Church has a wide variety of institutions and materials to help the faithful grow in their knowledge of the faith, doctrine, and the spiritual life, students of all walks of life are finding an amazing resource at St. Bernard's School of Theology and Ministry in Rochester, New York.
The School attracts both online and onsite students from around the world; those who are online find themselves fully integrated into the classroom setting through live classes, thereby experiencing a true community of learning across the board. 
In fact, St. Bernard's students end up with friendships from all over the country and the world because of the shared experience of intellectual and human growth at the School made possible by its distance education technology. Those friendships are enriched by the fact that the School has an integrated classroom model: lay people, diaconate students, and pre-theology students all learn together.
"Relationality"
It's no surprise that the School is a fount of friendship. An emphasis on community extends to the entirety of the School's tradition, from its founding in 1893 up to today. Community is a guiding focus among students, with professors and students, with the Body of the Church, and ultimately, with the Trinity.
"Our charism is this sense of formation," explains President Dr. Stephen Loughlin. "The emphasis on relationality applies to all the personages throughout the whole tradition. That community emphasis extends to the entirety of the tradition. This is the only way to save the world."
Dr. Matthew Kuhner, Vice President and Academic Dean, adds: "Our formation isn't about information, it's a true formation of mind and heart for all of our students, both in form and content. The education modality itself lends itself to true personal encounter."
The community aspect is integrated in the content of the courses themselves, based upon the fact that "all our faculty do theology and philosophy in and from the heart of the Church, as they personally strive to live out the faith. This makes a demand upon you," says Loughlin. "It's not just intellectual formation, but a call for conversion of heart – found in classes such as Logic that challenge you to change your mind and presuppositions."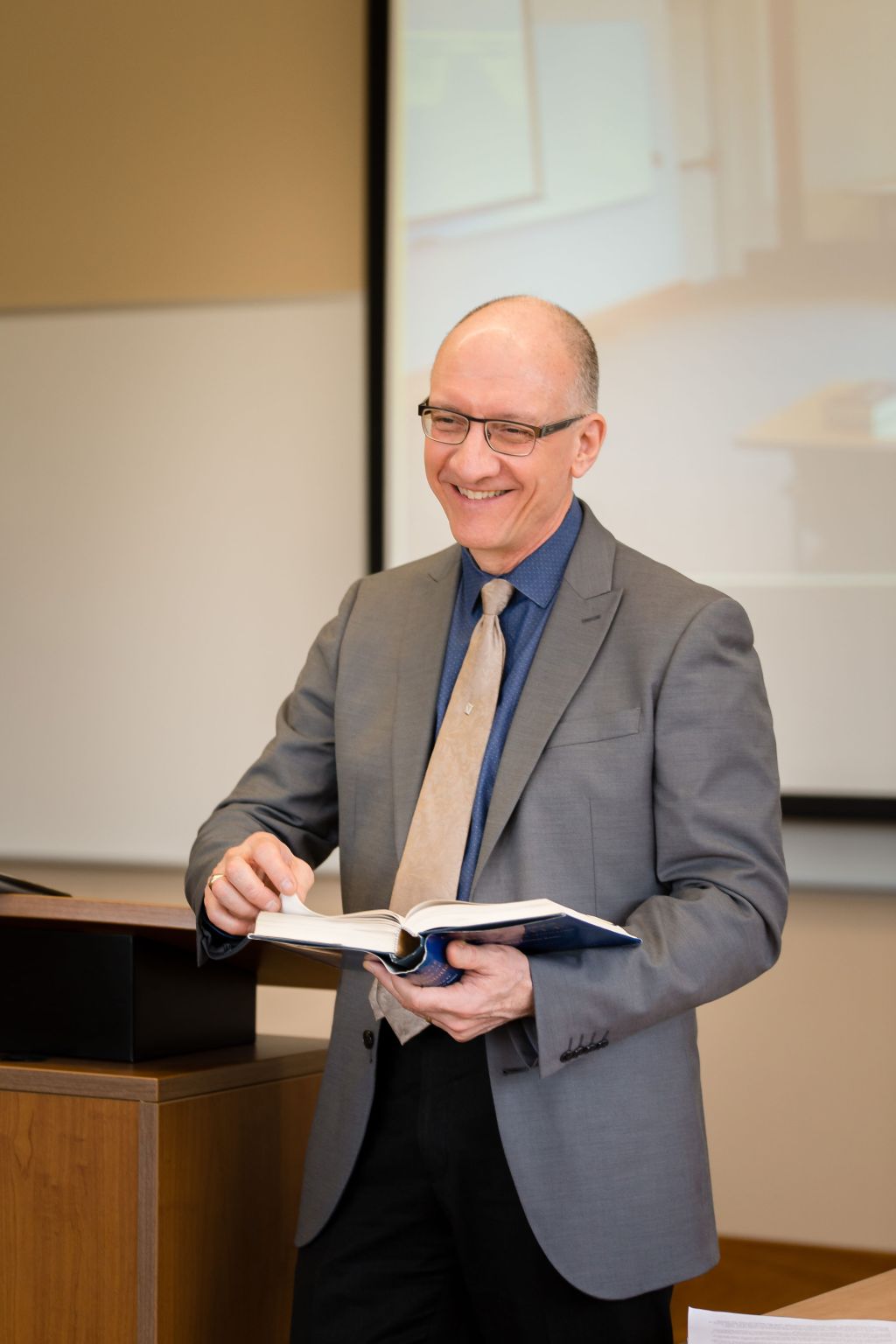 Courtesy of St Bernard's
But this doesn't mean that all students start out as theologians and philosophers: "Our professors meet the student where he/she is, regardless of theological or philosophical background or lack thereof," Kuhner assures.
And the course content has the advantage of drawing broadly from the whole Church, given that St. Bernard's is not focused on a particular spiritual family. "When you come here, you will engage sources more broadly than you ever have before. They're not pre-selected according to a specific charism, but provided in the context of the Church's tradition," noted Kuhner.
Those who are on campus have the added benefits of community resources such as the chapel and library, as well as museum-worthy resources on Fulton Sheen. "In all our programs, we strive to pursue a kneeling theology both through our study and prayer," Loughlin said.
Brought to contemplation
Students from any location or financial situation, as well as those with a range of purposes and goals, will find something at St. Bernard's — from a variety of certificate programs that require no bachelors degrees, all the way up to four different Master's degrees in theology and Catholic philosophy. 
"A lot of people have realized that they can pursue studies at St. Bernad's after having experienced what we have to offer, or have spoken with our kindly support staff and/or faculty," Loughlin said. 
Courtesy of St. Bernard's
Lifetime learners
As students grow in their education and formation at St. Bernard's, they realize that these involve much more than just information; they begin to appreciate what St. Paul means when he states that "love surpasses knowledge," that the more you know, the more you love. 
What's certain is that students come to desire this formation for the rest of their lives.
The School intentionally responds to this desire with the "Lifetime Free Alumni Audit" program. "The Free Alumni Audit is a new model of graduate alumni formation that achieves our goal of providing continuing education that mirrors the active, engaging, and dynamic experience of our Master's programs," explains Kuhner. Every student who has graduated with a Master's degree from St. Bernard's is automaticallyeligible to audit graduate courses for the remainder of their life for free. 
With this initiative in place, the expenses associated with one's graduate level formation are no longer an investment for a few concentrated years only; instead, the initial investment in theological education will provide formational accompaniment and enrichment throughout the entirety of one's life. 
Thus matriculation into a graduate degree at St. Bernard's means lifelong access to an almost endless variety of theological and ministerial experiences, all with the characteristic breadth and depth of engagement students have come to expect at St. Bernard's. For more on their Lifetime Free Alumni opportunity, visit: https://www.stbernards.edu/life-time-free-alumni-audit.
Annual Abbey Retreat Course at the Abbey of the Genesee
St. Bernard's students have another unique summer opportunity: The annual Abbey Retreat Course at the Abbey of the Genesee in Piffard, NY. This features courses co-taught by the monks at the Abbey and St. Bernard's professors. For one week during the summer, students are immersed in the life and rhythm of the monks, while simultaneously learning more about our faith.  
Thus students see first hand the way that souls consecrated to Christ live in the monastery, while also discovering the way the monastic discipline enables human, spiritual, and intellectual growth. Students will find themselves considering how they can make their own home-lives more monastic so as to achieve their own goals and the Church's goal to transform the world through radical sanctity.
One free Summer Audit
"A lot of people train for the sake of training," reflected Loughlin. "What we do at St. Bernard's is a different approach to education: a classical approach that emphasizes the human person, a kneeling theology, character building, an existential commitment and invitation. Come and see!"
You can hear about students' experiences as well as audit one summer course for free here.
And take a look at our conversations with some of St. Bernard's leaders here.
~
This content has been brought to you in partnership with St. Bernard's School of Theology and Ministry