If you're looking for a way to get closer to Our Lady and celebrate her this month, you've come to the right place.
What can God do in your life with one Bible verse a day?
Subscribe to Aleteia's new service and bring Scripture into your morning:
Just one verse each day.
Click to bring God's word to your inbox
It's the merry month of May, and for Catholics all over the world, we know that this is traditionally "Mary's month!"
If you're looking for a way to get closer to Our Lady and celebrate her this month, you've come to the right place. Here are some wonderful resources to help you honor your mother Mary this month.
Books
For the Love of Mary by Fr. Daniel Maria Klimek
For the Love of Mary takes the reader on a spiritual journey of tender love that begins with the questions, "How do I fall in love with Mary, the mother of Jesus and my spiritual mother? How do I cultivate a deeper, more intimate and meaningful relationship with her, inviting her into my spiritual life?" 
Fr. Daniel-Maria Klimek, T.O.R., presents a path of deep spiritual intimacy with Mother Mary that includes practicing the "presence of Mary" in one's life, among many other beautiful devotions.
The Reed of God by Caryll Houselander
First published in 1944 and now a spiritual classic around the globe, The Reed of God contains meditations on the humanity of Mary, Mother of God. British Catholic writer Caryll Houselander lovingly explores Mary's human side, depicting Our Lady as a musical instrument who makes divine love known to the world.
The World's First Love: Mary, Mother of God by Archbishop Fulton Sheen
In The World's First Love, Fulton Sheen presents a moving portrayal of the Blessed Virgin Mary that combines deep spirituality with history, philosophy, and theology. Mary's whole life is lovingly portrayed in this book that brings not only information but also consolation and inspiration.
Walking with Mary: A Biblical Journey from Nazareth to the Cross by Edward Sri
In Walking with Mary, Edward Sri looks at the Bible passages concerning Mary and offers insight about the Blessed Mother's faith and devotion that we can apply in our daily lives. We follow her step-by-step through the New Testament account of her life, reflecting on what the Scriptures tell us about how she responded to the events unfolding around her.
Renata Sedmakova | Shutterstock
Classes
Journey Through Scripture Course: The Bible and the Virgin Mary
The Bible and the Virgin Mary unveils the mystery of Our Lady that is woven into the fabric of Sacred Scripture. Twelve visually stunning lessons convey the beauty of the doctrine and devotions surrounding Mary, bringing them to life in a powerful, new way.
Emmaus Academy Course: Full of Grace by Fr. Daniel Maria Klimek
This course is an invitation to better understand and come to love the person of Mary, the Mother of Christ, by cultivating intimate devotion to her. Special emphasis is given to Marian spirituality, with topics such as the Rosary, the practice of the presence of Mary, and much more.
Mary: A Biblical Walk with the Blessed Mother DVD Set
Filmed on location in the Holy Land, in these eight videos Edward Sri provides a captivating look at the life of the Blessed Mother and an explanation of our beliefs about her.
For children
Through the Year with Mary: Ponder and Pray Together with Children by Katherine Bogner
Through the Year with Mary brings together the Church's traditions in one place and provides a year-long plan for coming to know and love the Mother of God through weekly passages from Scripture, saints, and scholars; reflections to nurture understanding of Marian teaching and devotion; sacred art from around the world; and Marian prayers to teach you to grow closer to Jesus through Mary.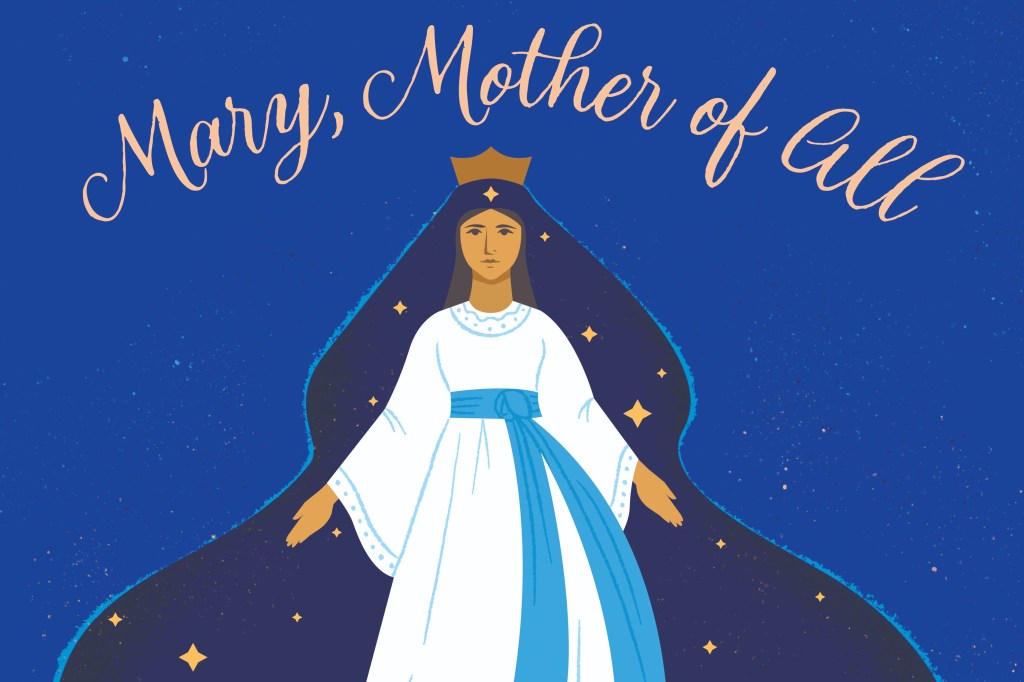 Tricia Dugat
Mary, Mother of All by Dr. Scott Hahn & Emily Stimpson Chapman
Bestselling authors Scott Hahn and Emily Stimpson Chapman have teamed up to bring the story of Our Lady's role in salvation to children with Mary, Mother of All. 
With illustrations from Tricia Dugat, Mary, Mother of All begins with the story of creation and the Fall and continues with God's unfolding plan of salvation. 
Crucial to this plan is a Mother whose love continues to surround us today.
Children — and their parents — will be deeply grateful for this exceptional presentation that makes Catholic teaching on Mary understandable to all ages.