A surprising book has been published in Israel: 'On the Way to Santiago,' written by Jewish author Golan Rice.
What can God do in your life with one Bible verse a day?
Subscribe to Aleteia's new service and bring Scripture into your morning:
Just one verse each day.
Click to bring God's word to your inbox
Many books have been written containing testimonies of people who have made the pilgrimage to Santiago, in Spain, but this one in particular could make history. It's a book about the Camino de Santiago that's not a guidebook, but the chronicle of an inner and outer spiritual journey of an unusual pilgrim.
I sat on one of the wooden benches with other pilgrims and some of the villagers who had begun to gather for the start of Mass. I gazed in awe at the ancient early 13th-century building, the concave arches interwoven with decorations on the ceiling, the colorful windows, the shells marked on the walls, the altar standing on a small platform at the higher part of the large hall, and there it was, in the center: the cross. I had a strange feeling.

(On the Way to Santiago, unofficial translation)
The book, currently available in Hebrew (and hopefully soon in other languages), is unique. It recounts the experience of Golan Rice, a Jewish believer and passionate trekker, discovering the Camino of Santiago. He goes beyond the earthly journey, exploring above all its spiritual meaning.
His pilgrimage to Santiago, he says, has changed his life. "I didn't know how much it would shake me up, shatter and break everything I thought I knew and then put me back together, but in a completely different way."
In fact, this transformative experience that has led him, along with fellow pilgrim Yael Tarasiuk, to launch The Way to Jerusalem. It's a great enterprise that aims to restore for all of humanity the routes that for two millennia have been traveled by believers to the Holy City. He told ISRAEL21C that he "would like to see Christians, Muslims and Jews walking the route, as was done historically."
Connecting Santiago with Jerusalem
At the end of this month of May, a second pilot experience is planned: the Way of Silence, from Jaffa to the Jaffa Gate in Jerusalem. This time, the purpose is to teach others how to guide pilgrims who will come in the future.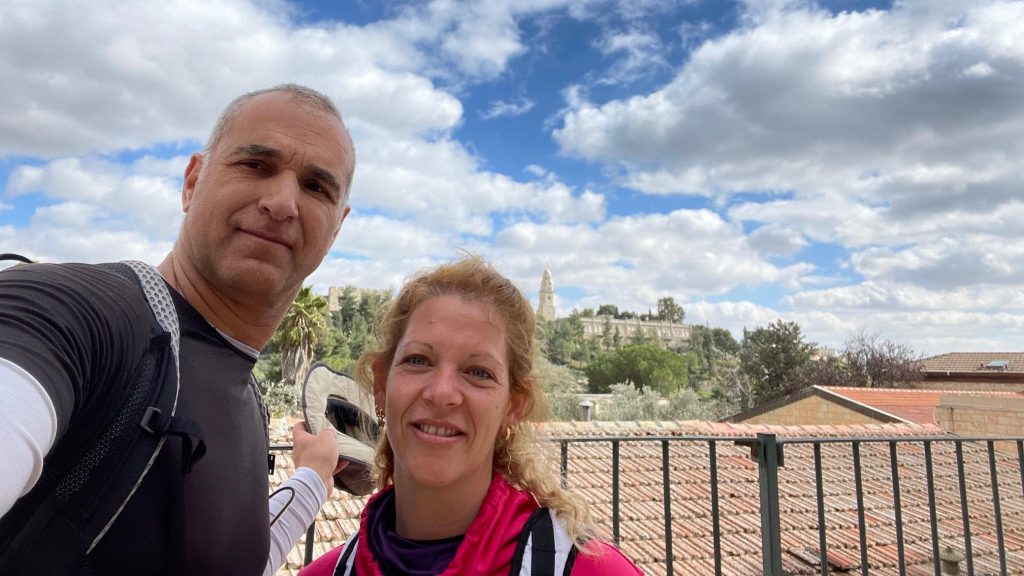 Golan Rice, Courtesy
For Golan, the Camino de Santiago was an experience that is not as obvious as it seems: the discovery of Christian history for a contemporary Jew. And yet it has a very deep meaning. The Apostle James was also a Jew, and he walked to Spain 2,000 years ago. To understand the path of St. James is to understand the path of Golan Rice and of many like him who today are trying to discover, to understand, and to love.
Religions don't dialogue, religious people do
"It is not just another pilgrimage book. It goes from the past to the present, and it takes place on three levels. It talks about Jewish symbols and Christian symbols," Golan and Yael explain. "We realized that although Christianity isn't taboo in the Israeli mentality, it's not talked about and not known." Many people believe that it's not possible for religions to dialogue, and that a pious Jew cannot enter a church. "But that's a mistake: Religions don't dialogue, it's people who connect, people who have their religious traditions that they can share and accept from others."
"One person can be a Christian, another a Muslim, another a Jew, and another an atheist. When people connect, religions meet and discover each other. I entered the churches, but not as a tourist: as a pilgrim. That's my great experience of the Camino de Santiago," Golan explains, still emotional as he recalls it.
Not a hike, but a pilgrimage
That's the experience they want to bring to the Jerusalem Way. "It's not a hike, it's a pilgrimage. There are ups and downs, there's rain, there's sun; it's a part of the Camino. And that's exactly what makes the difference between a pilgrimage and a hike. When you go for a hike with your family, you expect a nice day. When you go on a pilgrimage, what you experience on the road is what it is. The path is as it is, as the path accepts you and sees you as you are. It doesn't differentiate between religions or genders or anything, whether you're Jewish or Christian."
To build this project, Golan and Yael are not only in contact with the Israeli authorities. They're also in contact with Christian entities such as the Saxum center, the Franciscans and the Domus Galilaeae. "And it all happened in Spain. Doing the Camino de Santiago changed my life. And I believe that for Israel there is also a path for peace, and that it's connected to the Camino de Santiago."
Courtesy of the author
I understood that it doesn't really matter what your religion is or what country you come from, because as soon as you start walking, everyone immediately becomes a pilgrim and the term "pilgrim" today has a different meaning. The Camino does not differentiate, it does not favor or give advantage to anyone: it connects. When you do it, when you walk the Camino, you're like everyone else and the Camino accepts you as you are, with all the baggage you brought, with your beliefs, your fears. And the depth of your learning depends on your degree of dedication, and that depends only on you.

(On the Way to Santiago, unofficial translation)