By incorporating animals into Christian art, artists have enriched the visual language of Christianity, evoking emotional responses and conveying theological concepts.
What can God do in your life with one Bible verse a day?
Subscribe to Aleteia's new service and bring Scripture into your morning:
Just one verse each day.
Click to bring God's word to your inbox
Animals hold a prominent place in Christian art, serving as potent symbols and conveying profound theological and spiritual messages. From early Christian catacombs to illuminated manuscripts and grand cathedral sculptures, animalshave played a vital role in shaping the visual language of Christianity – and, thus, its ethical and spiritual narratives and discourses. Here are some reasons why animals are important in Christian art:
1.- Symbolism: Animals (almost) always carry symbolic meanings in Christian iconography. Some of these meanings are taken directly from Scripture – as in the case of the lamb, representing Christ's sacrificial death, or of the dove symbolizing the Holy Spirit. Some others are rather metaphorical: the lion signifying Christ's authority and kingship, the fish representing baptism and the early Christian community. These symbolic associations enrich Christian storytelling, allowing viewers to grasp theological concepts more readily.
2.- Allegory and Moral Lessons: Animals are frequently used in allegorical compositions to convey moral lessons and spiritual teachings. For instance, a lamb might symbolize meekness, innocence, or gentleness, while a snake could suggest deceit or temptation. Through these allegorical depictions, viewers are encouraged to reflect on ethical choices, virtues to emulate, and vices to avoid, thereby deepening their understanding of Christian teachings.
3.- Nature and Creation: Animals in Christian art also serve as reminders of the beauty and diversity of God's creation. They are sometimes depicted in harmony with humans, signifying the original state of the Garden of Eden as well as the vision of a restored creation. Animals also convey a sense of awe, wonder, and reverence for the natural world, inviting viewers to contemplate the marvels of God's handiwork.
4.- Saints and Patronage: Animals are associated with specific saints and can symbolize their virtues or attributes, or even some details of the saint's own biography. Take, for example, St. Anthony the Abbot. The Egyptian saint became the patron saint of swineherds due to the reported relationship a pig had with him in keeping him attuned to the hours of the day for his prayers, one of several animals who played a role in his life. Thus, he is most frequently represented as accompanied by a pig.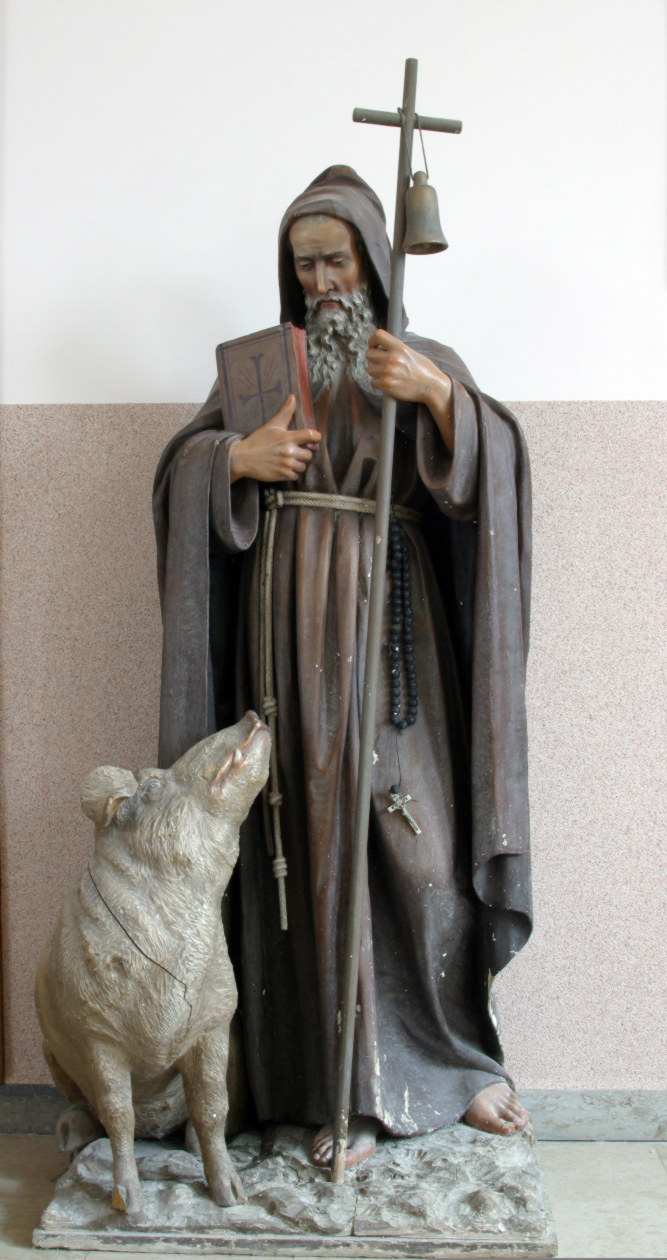 Shutterstock | Zvonimir Atletic
5.- Spiritual Lessons: Animals can serve as metaphors or exemplars of spiritual virtues. The depiction of a mother bird sheltering her young under her wings, reminiscent of Psalm 91:4, symbolizes God's protective and nurturing love. The industriousness of ants, as mentioned in Proverbs 6:6-8, may be portrayed to encourage diligence and hard work.
6.- Narrative and Storytelling: Animals frequently appear in biblical narratives and stories and, consequently, are normally depicted in Christian art. From Noah's Ark and the animals' preservation to the humble stable with its resident animals at Jesus' birth, animals provide context, realism, and emotional depth to these narratives, fostering a connection between viewers and the stories being portrayed.
By incorporating animals into Christian art, artists have enriched the visual language of Christianity, evoking emotional responses, conveying theological concepts, and helping viewers to establish connections between Creation and Creator. Here's a collection of articles previously published at Aleteia that can give you further insight into this fascinating subject.