What do you say to tired teenagers who claim they can "manage" their finals, yet wait until the last minute?
This is a situation we as parents can face throughout the school year, and perhaps even more when our kids are on vacation. With summer vacation coming up, we need to be on our toes.
School starts tomorrow …
We know the scenario. The kids have to go back to school tomorrow. Your tired teenager has spent a good 15 days of vacation lying on the couch, hanging out in the yard, stuck in his room, or slumped over on the breakfast-snack-dinner table. He has a few hours left to rediscover the intoxicating sensations of verticality. Now he has just one evening to write six pages on "the great problems of the world from Julius Caesar to the present day." 
The little brother — that little darling — has spent 15 good days of vacation pestering, picking on, and poking at everything he can get his hands on. The dog, the cat, the tired teenager, the slightly annoyed mother, a passing friend, or a compassionate grandmother, have all been targets. He has half an evening left to sort, plant, and water lentil seeds and turn them into a green little garden to bring to class tomorrow morning.
And the older sister, that lovely student, has spent a good 15 days of vacation vanishing into thin air, all the while taking care to leave some evidence of life here and there: sneakers, a gym bag, her book bag, her purse, or a duffle bag in the hallway. Sneakers, socks, a jacket (yours in fact) in a ball at the foot of the couch, next to empty bottles, and the teenager who will tell you he had nothing to do with it. She has a few hours left to gather all her stuff and write, type, and bind her report, themed "maximizing everyone's efficiency at work."
As for you, you've had a great vacation, apart from tripping over bags in the hallway a few times, pleasantly lulled by that chorus taken up at all hours of the day: "Don't worry, I can manage it." I can manage my homework, I can manage the teachers, I can manage my project reports for school. I can manage my life; I'm a big boy now, or a big girl.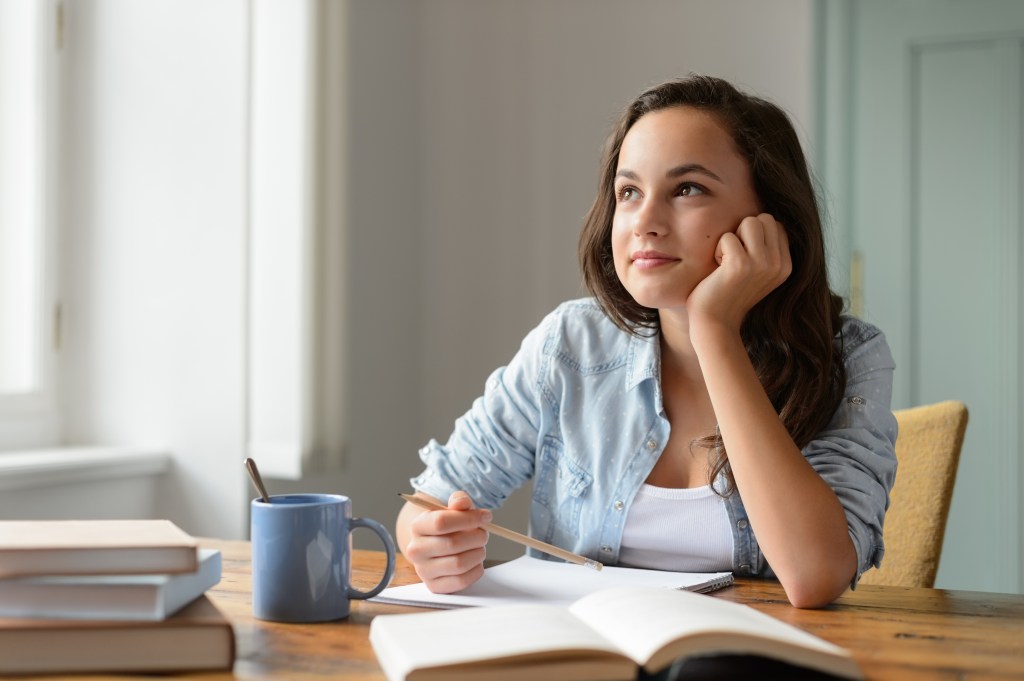 CandyBox Images | Shutterstock
Last-minute emergencies
So it's with a clear conscience that you sip your last drink of vacation … until your kids eventually discover that the lentils went into yesterday's meal, and that there are no more ink cartridges. And then, oddly enough, everyone will expect you to take matters into your own hands! That's the question: Should we believe them when they say, "Don't worry, I'll manage?" The answer is clear: of course not!
"Don't worry, I'll manage it" is a smoke screen designed to keep you from nagging, a mantra believed only by those who really want to believe it. But what should you do? Worry about them and manage them? No, I don't think so.
You can't do it for them
You're not going to write a project report or a geopolitical essay, signed by your children. You aren't there to teach them delinquency! And you won't grow lentils overnight. There are, however, some tried and true techniques, which require a little foresight.
Make a list of homework (or planting) to be done on the evening of the last day of school before vacation, while the teenager is still vertical and before the textbook is lost at the bottom of the abandoned book bag. Don't even wait for vacation to get underway! In two days their brains have already softened. Put an up-to-date calendar on the fridge, including all their deadlines. There's no need to keep reminding the kids. Their assignments and deadlines are posted, not necessarily stored in your own head but regularly before the eyes of the vagarious students. Suggest days and times when you can be available to help whoever wants it: buying seeds, correcting spelling mistakes, formatting… 
You can do things with them
In short, our little darlings won't have to worry either: We won't do things for them. We can do a lot to support them, we can do a lot with him, but not in their place. And that's good, because their place is precisely theirs … and it's already taken. That's the healthy side of them saying, "I can manage." That's how they grow up: guided by parents who are good supporters but very bad magicians, who don't have a hundred arms, who can't be everywhere at once, who have no superpowers.
In their search for autonomy they will experience defeats, and more and more victories. Doing things for them, making up for it indefinitely, wanting to spare them defeats, also means depriving them of their victories. Parents, we have our own refrain: "Tell me what you need." Our children will always be happy to hear it — regularly, not too often, and effectively. And let's let them manage it.