If some people still doubt the impact of a WYD in people's lives, they should hear the story of David Cueto. This Spanish priest converted at the WYD in Cologne, during the time of Benedict XVI.
David Cueto is a priest and currently a canon at the Shrine of the Our Lady of Covadonga, located in the Asturias region. As the World Youth Day (WYD) in Lisbon is approaching, he spoke about the connection between his vocation and the WYD in Cologne, which took place from August 16 to 21, 2005, with Pope Benedict XVI.
It was while going to confession there that he really felt that God existed. That experience would change his life.
Although Fr. David was raised in a Catholic family, in his youth he quickly abandoned his faith and even said he was Confirmed without really wanting to be. The WYD? He had never heard of it, but his brother, who had registered, "sold" the idea to him as an opportunity to have fun with young people from all over the world.
"At the time, I wasn't aware of it, but I was looking for answers to many questions I had. However, it wasn't because of a motivation of faith (that I went), but for fun, because my brother invited me and showed me the festive and playful part of it. He told me that young people from the entire world would go. That attracted me because I really like to travel and I thought it would be a unique opportunity," he explains in an interview published on the website of the Diocese of Oviedo.
Bishops treated like rock stars
"I knew absolutely nothing about these World Youth Days. Right from when we left Asturias it was great. I met very fun and centered people, good and generous people. Everyone was looking after everyone else. I didn't feel judged at any time, and that's something that helped me a lot," he recalls.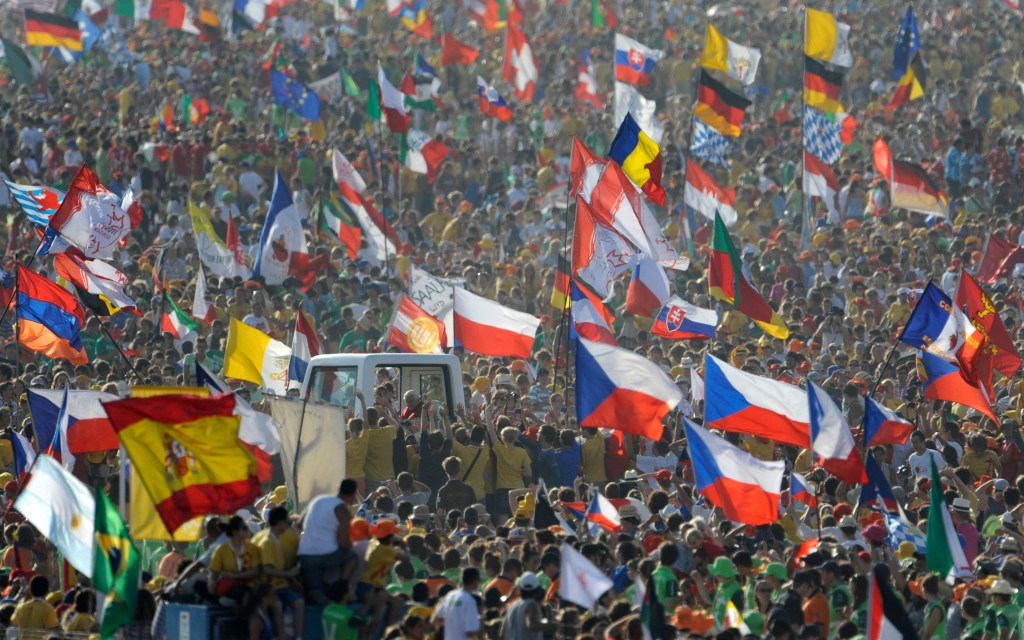 AFP
Fr. Cueto then recounts, laughing, a scene that perplexed him at the time:
Once in Germany, the atmosphere was very festive, with millions of young people gathered together, but it was very calm. We had a meeting with all the Spaniards gathered around their bishops, and I'll always remember it because something happened that caught my attention. We went in through a place where before we could see the bishops we saw all the people who were there. There was a great commotion, shouts, flags, and I imagined that we were going to attend a concert, and when I looked at the stage and saw the bishops, I thought, "This makes no sense to me at all."
He goes on to tell the interviewer what happened next:
We sat down, and in the back we could see a group of priests. My brother explained to me that they were there to hear confessions, and I felt moved to go over to them to do it. And there, I experienced a change, a conversion. I experienced the certainty that God exists.
Fr. David says that all the wounds that he carried within him were not healed immediately, but after experiencing the certainty of God's existence he couldn't get rid of that conviction. "I've seen it, it was shown to me."
After the WYD
Back in Spain, David talked to his friends and admitted, "I don't know what to tell you. I just know that God exists and I can't deny it. Now I have to build my life and my way of thinking around that, because he has arrived, he's here and it seems that he's not going to go away."
He then joined a parish in Oviedo, thinking that he would "get over it soon," that it was all just the "euphoria" of the moment. But it wasn't just euphoria; it was the beginning of a new life. 
"When there is a truth behind it, it lasts," he says. He met with priests in order to better educate himself, because he knew very little about religion. He enjoyed his many discussions with them, as well as the parish life he also discovered. He realized that a Christian needs to live in community. The life of the Church fascinated him, and he wanted to go deeper because "'the more you know, the more you love,' as the saints say."
Going to WYD without faith is possible!
Thanks to his beautiful experience, Fr. David, who was ordained on June 4, 2017, at the Cathedral of Oviedo, is eager today to encourage young people to register for WYD. "A WYD involves a lot of effort, a lot of fatigue, but people from all walks of life go, and the Lord is always there waiting to meet each one of them. Those are moments of conversion, of strengthening faith, of discovering a universal Church. Therefore they are important ecclesial experiences, which anyone can enjoy," whether they are a believer or not.
Regarding young people who are far from the faith, Fr. David continues, "they lose nothing and can gain a lot. Even if they aren't believers, they can understand a little about the life of the Church, see that it is full of good people, and also discover a young Church. No one will judge you there or ask you questions about your level of faith. It's also a very fun experience."
And for young Catholics who already have an established Christian life, Fr. David has a message as well. For them it's a good opportunity to "strengthen your belonging to the Church, your communion with the Pope, and get to know many movements. It's a very powerful ecclesial moment that can help strengthen our experience of faith and of the Church. I really see no reason not to go."