Blogger Bogumila Siedlecka-Goslicka suffers from congenital brittle bone disease. She describes herself as "a person who loves life."
Bogumiła "Bogusia" Siedlecka-Goslicka is known on the internet (in Polish) as Angel on Springs. When she started her blog more than 10 years ago, she never thought that she would become so involved in social issues and activities for people with disabilities. Her online presence as an influencer has turned out to be her greatest challenge, through which she grows, learns, and experiences life every day.
The 34-year-old has suffered from congenital brittle bone disease(osteogenesis imperfecta) since birth. It's a genetic connective tissue disorder resulting from abnormalities in collagen structure. Its principal characteristic symptoms are bone fragility and fractures, which occur even at rest. By the age of 18, Bogusia had 200 bone fractures, and then she stopped counting them. She explains that she has come to terms with her disease and doesn't ask "why it happened to her."
"I love life and don't waste a single moment"
"The driving force behind my activity is love, and not only for my husband, who is the most important to me. Also my faith, principles, and beliefs. Every day is a gift that I try to use 150%. I love life and I don't waste a single moment, because I'm driven by the thought that there may be no tomorrow," she says in an interview with Aleteia.
Bogusia is just over three feet tall and has never stood on her own feet, but she is a strong, fulfilled woman and a happy wife. She met her husband on the internet. It all started with a post: "An exceptional woman wants to meet an exceptional man." A man named Bartek responded to the ad.
"I was afraid of this meeting. The internet wasn't as developed then as it is today, so I asked a friend to come as backup. We agreed that at any sign of danger, she would respond. However, that wasn't necessary," Bogusia recalls.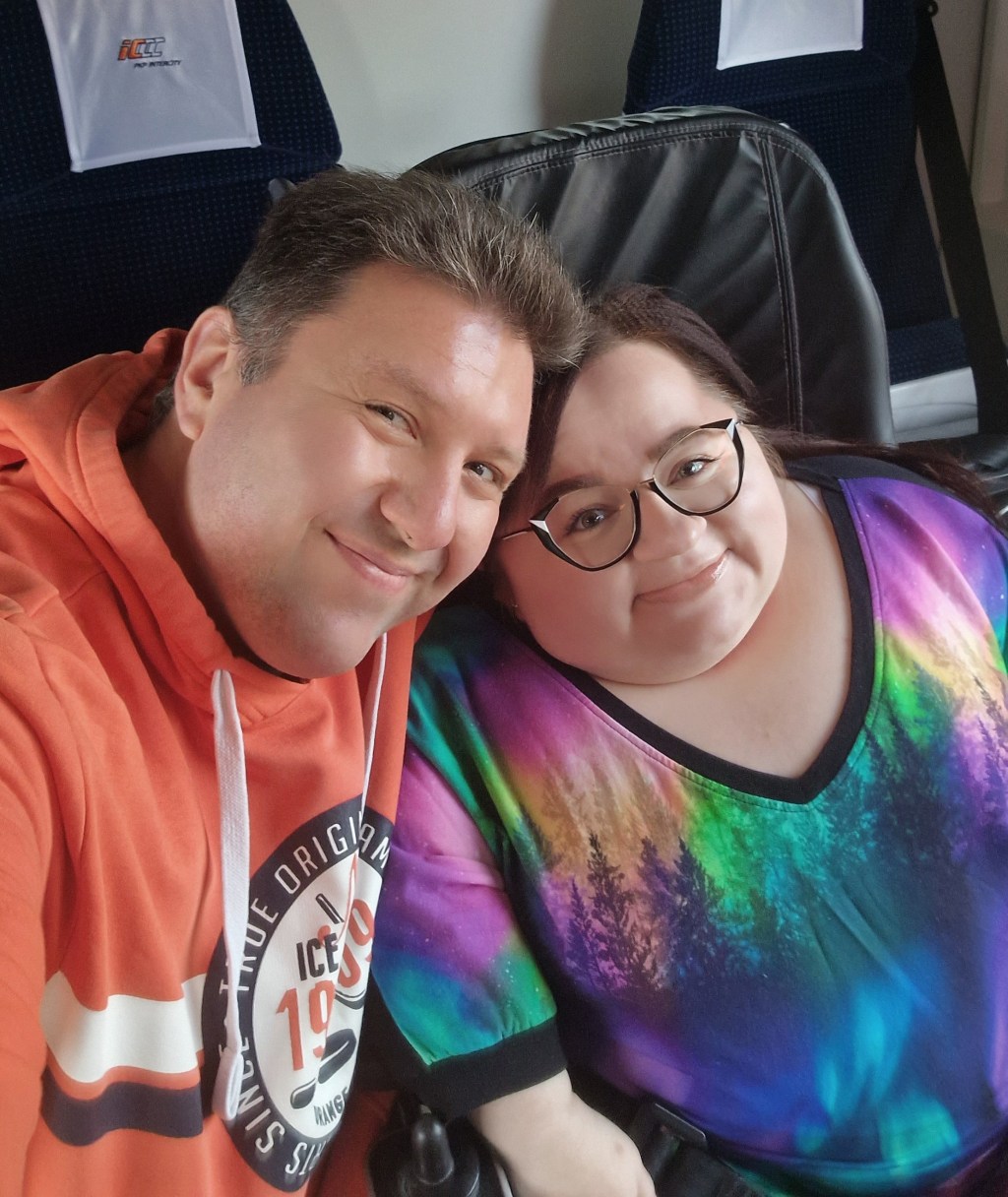 Courtesy of Bogumiła Siedleckiej-Goślickiej
The young couple have been together for almost 15 years, and have been married for eight. They support each other in every way. "The greatest art is being with each other and coming together in the middle of the differences that exist in a relationship. It sounds enigmatic and a bit like coaching, but I believe in it. The important thing is not to forcefully convince the other person of your reasons or preferences, but to take care of a good relationship, not only with the other person, but also with yourself. Marriage is the art of compromise and acceptance. Living with someone becomes easier when we accept ourselves first," she explains.
Bogusia says that she looks to her parents as a model of a successful and happy marriage. "Many difficult situations have befallen them in life, including my illness. I have four siblings, and they're healthy. Despite so many adversities, my parents managed. They took care of the most important thing — their relationship," says the 34-year-old.
Depression, three suicide attempts, and a struggle with weaknesses
For Begusia, gratitude is important. "This is something that I realize every day. I'm grateful for being alive and for what I have experienced," she emphasizes. She has been through many difficult moments in her life. In college, Bogusia saw that the world was not as perfect as she thought it was. She was treated for depression for three years and had three suicide attempts.
"I'm talking about this because I think depression is a really serious illness. It can attack at the least expected moment and return. That's why I try not to let it happen. I celebrate life, I wake up every day with the thought that it's going to be a good day. I fight in everyday life with my weaknesses and disabilities.  I solve problems, because I know that there's no situation without a way out," the blogger says.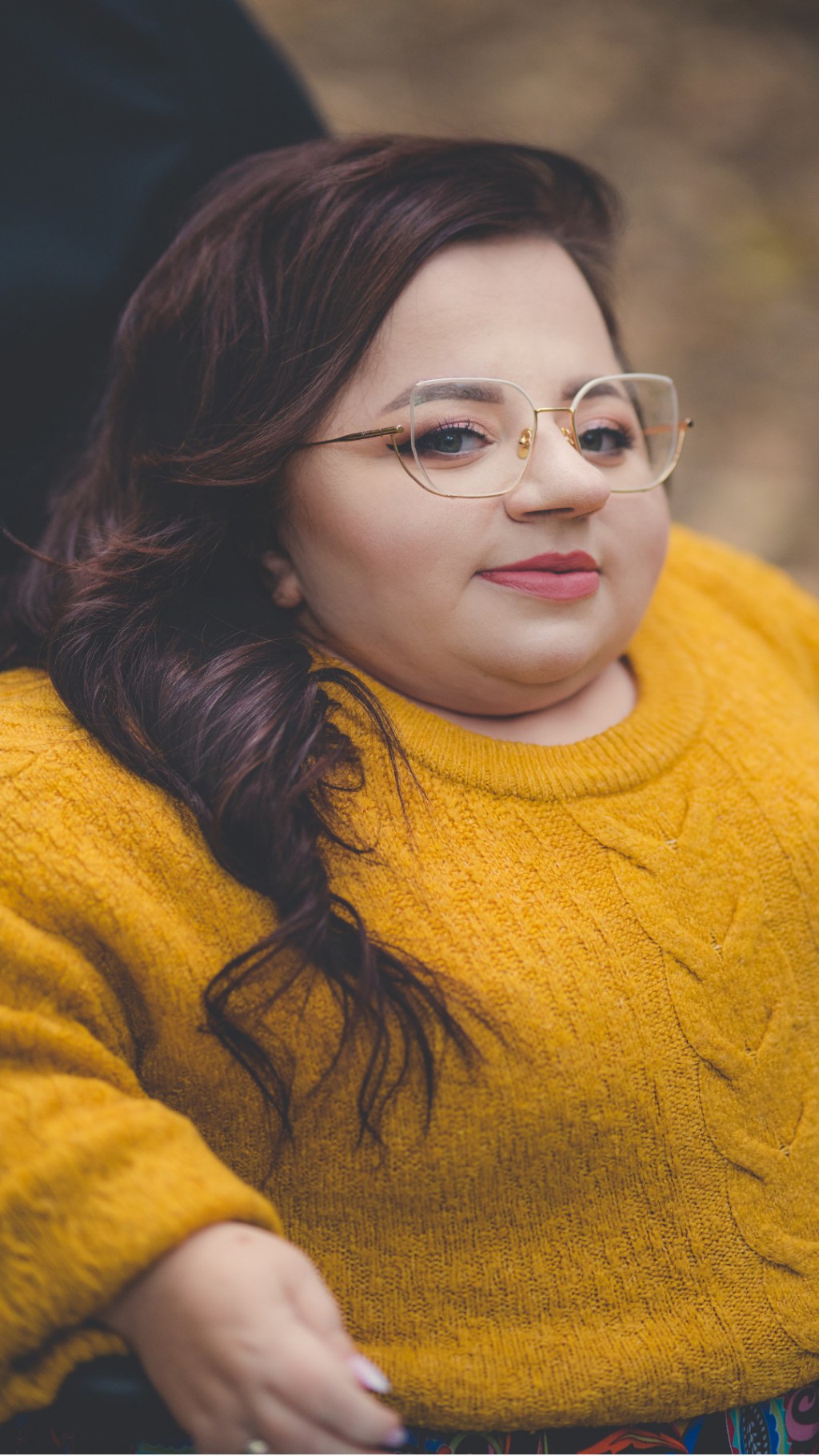 fot. arch. prywatne Bogumiły Siedleckiej-Goślickiej
Running her Facebook, Instagram, and YouTube accounts is her passion. However, she faces heckling, misunderstanding, envy, and a stereotypical approach to disability. "Many people think that a person with a disability should focus on treatment and rehabilitation, and not have a normal life. I show that I am a woman. I like makeup and colorful clothes. I don't get involved in the emotions of people who judge me. I can only have sympathy for them, educate them, and show them that there are other attitudes," Bogusia Siedlecka-Goslicka says.
"I am an angel for those who don't believe in themselves"         
A friend helped her create the name of the blog. "I'm not an angel, but I believe that each of us can be an angel for another person. I'd like to be an angel that way for those who don't believe in themselves, who don't see the world of other people with disabilities, who live in isolation. I would like to reach out to others, because I believe that this is the mission of angels," the blogger explains.
Bogusia has been publishing online as Angel on Springs for almost 11 years. Thanks to this outreach, she has met many wonderful people and has been able to get involved in various actions and campaigns and establish cooperation with NGOs. One of them is the Avalon Foundation, which works to support people with disabilities and chronic illnesses.
fot. arch. prywatne Bogumiły Siedleckiej-Goślickiej
Bogusia and her husband took part in a video for the foundation's new campaign, "Nothing human is alien to us."
"Our scene depicted a situation when we're on a walk and our dog runs away from us. We're both chasing him. There's also a frame showing a mother and daughter baking a cake together. There is also an image of a couple who are arguing, of female friends who come to a party and have worn identical dresses. Each person who took part in this campaign presents a different disability, but also shows normal, everyday life," Siedlecka-Goslicka says. "I'm human, I make mistakes, and have my better and worse days. Like everyone, I experience different kinds of moments, but I'm happy," she adds.
"Let's be grateful for what we have"
What does Angel on Springs dream of? "I would like things to continue the way they are in my life, for nothing to go wrong, for me to continue to develop, to be socially active and for me to reach out to people who need help," explains Bogusia.
She adds, "Happiness isn't given to us once and for all, and we should cherish it and take care of it. And even if we happen to fall, we should do our best to bring that happiness back to us. Let's be grateful for what we have, and not focus on what we don't have."