With the movie arriving in cinemas today, we spoke to some of those involved in creating this hard-hitting visual masterpiece.
Today sees the release of the much awaited film Padre Pio, directed and written by Abel Ferrara and starring Shia LaBeouf. The R-rated movie offers us a glimpse into the life of the much-loved saint during his early 20s, when he was experiencing much suffering, confusion, and above all, passion for Christ.
However, in parallel to Pio's own torment, the movie also allows us to witness the real suffering of the local villagers where Pio's monastery was located. We can see their pain in trying to cope with the aftermath of World War I, when there was much hunger, loss of human life, and a strong desire for change and class equality.
In a way the film is a love story: a love for Christ, community, justice, and country. And as we all know, where there is love there is often hardship and suffering.
Aleteia had the opportunity to chat with Ferrara, LaBeouf, and Brother Alex Rodriguez — a Capuchin friar who offered guidance, support, knowledge, and his own acting skills to the movie — about their experiences in creating this hard-hitting story of Padre Pio, and life in Italy post-World War I.
Over the next couple of days we'll share different aspects of the enlightening conversation, which will address some key points in the movie, reveal a little more about LaBeouf's own experience in filming Padre Pio, and hopefully encourage you to go and see it!
Pio on site
First, throughout the whole filming process it seems that Padre Pio himself was very much present in the location — San Giovanni Rotundo in Southern Italy, where Pio was sent in his early 20s, and where he remained until his death in 1968 — and also as a guiding force to all those involved during the filming process.
In fact, Ferrara shared that he felt a calling to make the movie, and when he initially spoke to LaBeouf on zoom about the role of Padre Pio it was "love at first sight." Describing himself as an "instinctual filmmaker" — he's made box office hits such as Bad Lieutenant and The Gangs of New York — Ferrara believed they were "on this phone call for a reason."
He went on to share that when the cameras rolled in the small, beautiful village on top of a mountain that "Pio was there. He was there when all that happened. In a lot of ways we filmed a documentary."
These thoughts were echoed by LaBeouf, who described how Pio became "a very real person," due to the fact they were filming in the location where the Capuchin friar had spent much of his life, where the relic of his heart is on display, and where LaBeouf he was able to lie in Pio's wooden bed: "I was very keenly aware that he was involved the whole time."
© Christian Mantuano
A sacred mission
In talking with Ferrara it was possible to see just how much the movie was an extraordinary experience for all involved. When asked how he approached this movie as a director compared to his previous styles of films, which tend to be violent crime thrillers, he said with some emotion:
"It's sacred to us, the work is sacred … we're coming to film a sacred person, but someone who had their boots on the ground … we're in there … from the brothers … from the people in the room, my family."
He went on to explain:
"It was the confirmation of what we believe the cinema is. The subject matter … the communion of the people coming there, and when everyone comes with the same intent, with the real intent, you know, with the real belief in each other, and supporting each other, and the spirit. Then the spirit is in that room, on top of the power of the guy."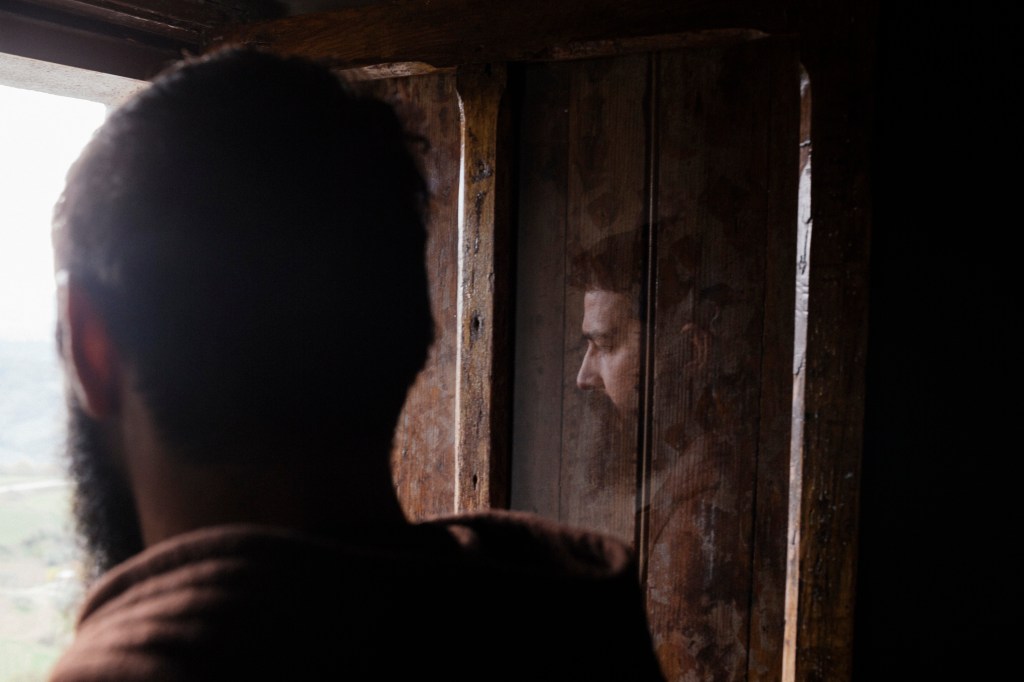 © Christian Mantuano
Interestingly, LaBeouf revealed how he and Brother Alex would pray every night: "Please, Pio, help us be effective in transmitting your message." And it seems the beloved saint listened. The movie is a testament of the deep faith of all those involved, reminding us that the path to sainthood isn't easy, but the reward is worth the sacrifice and struggles.