Check out these books about the Holy Eucharist to celebrate God's love in your own home or classroom.
We are living in the midst of a Eucharistic Revival, and all Catholics can be a part of it.
Parents of young children may not be able to attend many events for the revival, but we can bring its spirit into our homes through our own reverent love for Christ in the Holy Eucharist.
One way to share our love for the Eucharist with our young children is through books about the Eucharist. We can read, discuss, and enjoy them together, helping the whole family participate in this time of renewal. 
These are also perfect for Catholic schools to read aloud or keep in the school library!
Check out these books about the Holy Eucharist to celebrate God's love in your own home or classroom. 
Picture Books
Building Blocks of Faith: The Holy Mass: On Earth as It Is in Heaven
I've written before about my near obsession with this just incredible book! If you buy just one book from this list, choose this one. You'll be blown away at how much you'll learn from it about the Mass!
This vivid comic-book formatted volume takes children on a journey through the Holy Sacrifice of the Mass, explaining where each part of the Mass comes from and why Catholics believe in the Real Presence of Jesus in the Eucharist!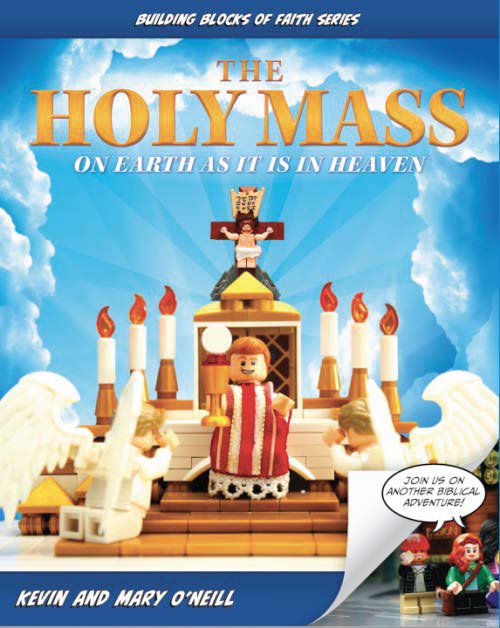 Courtesy of Mary O'Neill
Building Blocks of Faith: The Catechism of the Seven Sacraments
Another must-have gem from the Building Blocks of Faith series!
This book sheds light on the parallels between the Old Testament and the New Testament and the sacraments instituted by Christ that we experience today. Readers will develop a deeper understanding of salvation history, discover how to participate in God's covenant, and learn how to obtain grace through the sacraments.
The Weight of a Mass: A Tale of Faith
Couched in the language and look of a fairy tale, and rich in solemn beauty, this tale of what happened when a destitute widow begs only a crust of bread in return for offering the Royal Wedding Mass is based on a true miracle. Teach your children about the value of offering a Mass for someone!
Where Is Jesus Hidden?
In Where Is Jesus Hidden?, award-winning author Maura Roan McKeegan points to the many places and ways Jesus can be found. With a series of clues from Scripture to guide them, young children will learn that if they search for Jesus, he is never far.
E Is for Eucharist: A Catholic ABC
Through an engaging rhyming text and gorgeously rendered illustrations, young readers view children like themselves as active participants in the Church.
Chapter Books
The King of the Golden City
Almost 100 years since its original publication, this book is an allegory of a little maid and the gracious King who deigned to visit her. Originally just a brief sketch in Mother Mary Loyola's book of advice for parents and teachers, this story was finally fleshed out into a full book to the great excitement of Catholic families everywhere! Now, this story is once again available to help teach children the beauty of a personal relationship with the Heavenly King.
There is another edition of the book designed specifically for boys. 
Heavenly Hosts: Eucharistic Miracles for Kids
This unique Catholic book brings Church-approved Eucharistic miracles and their stories to life for middle-grade readers. Told in a narrative style, each story reads like heroic tale and not a textbook. Includes miraculous details from Lanciano Italy, Assisi, Poland, France, Colombia and more!
Blessed Imelda: Patron Saint of First Communicants
From the popular Mary Fabyan Windeatt Series of saint biographies, this book tells the story of Blessed Imelda Lambertini. At the age of 5 she desired to receive Our Lord in Holy Communion, but in the 14th century children could not receive Communion before age 14. This book tells how Blessed Imelda became the Patroness of First Communicants.
Carlo Acutis: God's Computer Genius
Blessed Carlo Acutis was a vibrant, faith-filled Italian teenager who loved technology and the Eucharist. Set to become the first millennial saint, this kid-friendly biography is the perfect introduction to Carlo's fascinating and moving story.
And for a bonus list … Check out these books specifically for children to bring to Adoration with them!