George Xanthis, who plays the Apostle John, declares: "Jesus is relatable and he's there, within touching distance."
There have been a number of faith-based films and series over the years, but The Chosen is proving to be especially popular.
While the series has invited fans to learn more about Jesus and His earthly life, it has apparently also had a powerful impact on the cast.
Recently, in a lovely interview with Catholic Weekly, George Xanthis — the actor who plays John the Beloved — shared how taking on the part of one of the Apostles has affected his own faith.
He explained that he grew up Greek Orthodox in his native Australia, taking part in some of the big religious celebrations each year with his family members: "I'm probably guilty of having been a cultural Christian sometimes."
However, his performance in the series not only led him to tears when he was acting in a scene with Jonathan Roumie, who plays the role of Jesus, it also encouraged him to dig deeper into his own faith, into Scripture, and seek the advice of his family priest.
Xanthis shared that he didn't even know who John the Beloved was, confusing him with John the Baptist. (For those who might be a little confused with the various people named John in the Bible, John the Beloved was the Apostle who, along with his brother James, was dubbed the "son of thunder" for his fiery temperament.)
The Chosen, Angel Studios
The Australian went on to highlight the significant role his character had to play at the side of Jesus — he was asked by Jesus to take care of Mary.
And through his interview you can see Xanthis' infectious enthusiasm for this "disciple of love": A follower of Jesus who was full of flaws, just like all of us. A man who is so relatable that he has actually led the actor to make comparative studies of the Gospels so he can learn more about the relationship between Jesus and John.
And his research has led Xanthis to some interesting personal conclusions:
I feel like John's book is little bit more poetic [than the other Gospels]. Maybe he didn't write everything down, maybe he remembered it all as a feeling. John was present lots of times at important moments that his book says nothing about, like the Transfiguration for example.
The Jesus experience
The 31-year-old also shared how taking on such an important role for so many years has not only led him to delve deeper into his faith, but has also given him the chance to witness the words of Jesus over and over:
As actors on the show … We're getting such a unique experience of Jesus's words, very familiar, very personal, over four and a half years and I've got another three and a bit years in front of me.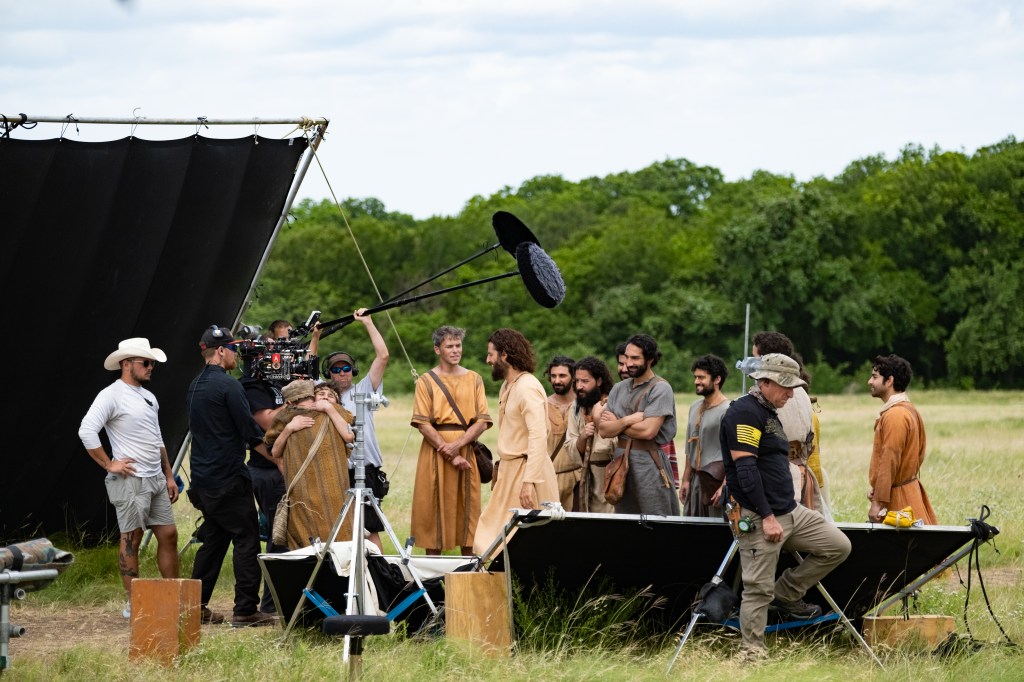 The Chosen, Angel Studios
Xanthis added: "That's a unique experience and I really hope that if any audience member binges the show a number of times, they may get the same experience, and I hope they do."
At the end of the interview the actor shared a scene from the series that really stood out to him, one in which Jesus crouched down to Simon and beckoned him to "follow me."
This decision to have the Son of God bend to his disciple helped Xanthis to realize: "Jesus is relatable and he's there, within touching distance."
At the start of the show, Aleteia spoke with the character who plays Jesus, who has also been profoundly affected by the experience.
I read a lot. I prayed a lot. I mostly prayed. My main prayer was that God would remove as much of me as necessary from the performance and allow the Spirit to work through me and lead and guide the role through Dallas and his team's inspired writing. Their writing process is very much the same way. I prep using a variety of different sources of  inspiration and ask for the Spirit to work through whatever I have at my disposal to lead me to the right place.

When we're filming, I always have rosary beads with me. I have a little leather satchel I carry as Jesus and I usually bring my sacramental "accouterments" and put them in there and  keep them with me and when I need to be alone, I'll just go pray and try to stay focused and secluded enough to be present and open to what God is allowing me to do in a given scene.
Read the rest here.