These young Palestinians went to the place of the Visitation this summer, as the WYD theme for this year highlights Mary's same journey.
In the packed Parish of St. Nicolau in the center of Lisbon, a small group of Palestinian young people is visible in the crowd of pilgrims who have come to listen to the first "Rise Up" session of catecheses as part of the World Youth Day events. A couple of them wear black and white checkered scarves around their shoulders, the traditional Palestinian "keffiyeh," as they participate in the Mass. They are a small group from Bethlehem, out of the around 200 pilgrims that have come from Palestine to attend WYD. 
"As Palestinians from Bethlehem we have to convey our message to the world and be the light to other christians since Christianity started in Palestine," says Angela, a 20-year-old university student with short curly hair and a big smile. Angela and her friends, all first time WYDers, share their excitement at bringing a piece of Jesus' homeland to Lisbon and of representing their country. 
"We feel very lucky as Christians living in Palestine because we live in Jesus' homeland. The Nativity is near our houses and we feel lucky to be near where Jesus was born," says 20-year-old Celina, her long brown hair partially covering a Palestinian scarf proudly draped around her neck.
She explains how during the Christmas season, people from all over the world come to Bethlehem for the celebrations.
This last July, her and Angela went to the place where the Visitation took place, according to tradition. This increased their excitement about WYD, as this passage of the Bible is the theme of this year's WYD.
They want to transmit that excitement to other people as they carry a bit of their homeland with them, and explained they are also enjoying meeting Christians from around the world.
"It is amazing we are all coming together, somehow, someway," says Angela.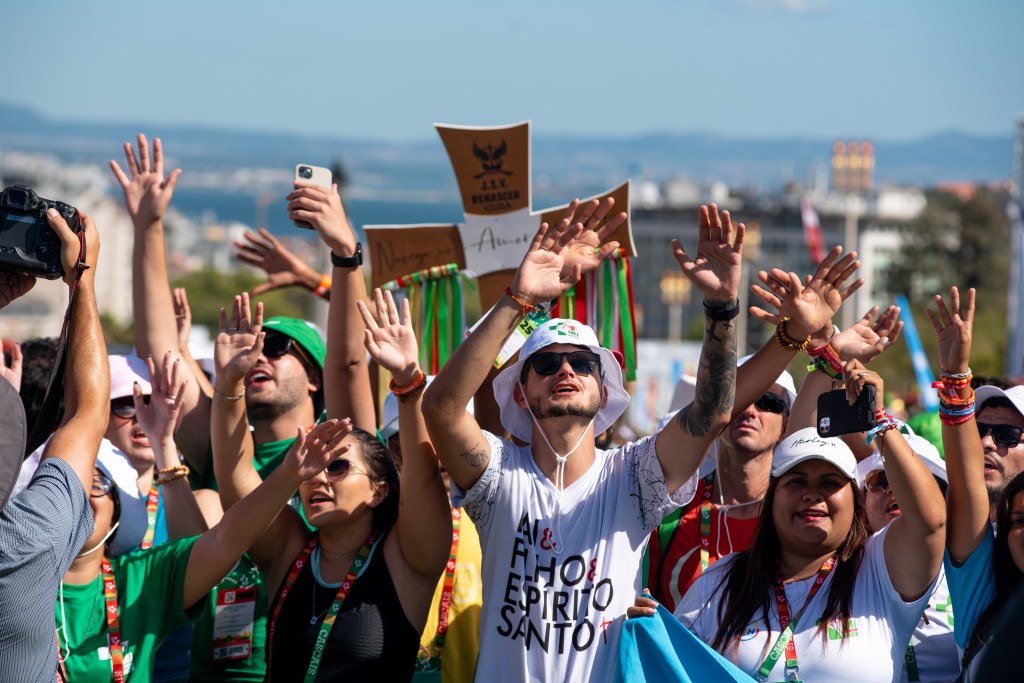 "Palestine's youth is strong"
In Lisbon they "are trying to show other people how Christians in Palestinians live," continues Angela.
"Most people don't know our flag. It is nice that they come and ask where we are from or what flag this is," explains Celina. "When we tell them that we are from Palestine, from Bethlehem, they feel happy to see Christians from there."
"Usually Palestine is presented in the wrong way; we are usually presented as the victims but we want to show the world that Palestine's youth is strong," says 22-year-old Sandra, a newly graduated accountant and friend of Angela and Celina. "We are proud to be here, proud to represent our country and we feel so lucky that we got the chance to come here."
We want "to invite everyone to come to Palestine to see what Mary experienced when she knew she was pregnant with baby Jesus," Celina concluded.