One young mom, Rachel, is on a mission to raise a warning flag about maternal mental health so other women can get the help they need.
One young mom, Rachel, is on a mission to raise a warning flag about maternal mental health so women can get the help they need. 
She ran the Captain Bill Gallagher 10 Mile Island Run in Sea Isle City, New Jersey, to raise funds and awareness for this all-important but often overlooked cause.
Rachel's commitment to this cause is personal. Her journey began when she found out she was expecting twins shortly after her oldest child turned one. 
The pregnancy was very difficult and high-risk, on top of caring for her toddler during the height of the pandemic. She was hospitalized with a premature labor scare at one point and spent much of the pregnancy on bed rest.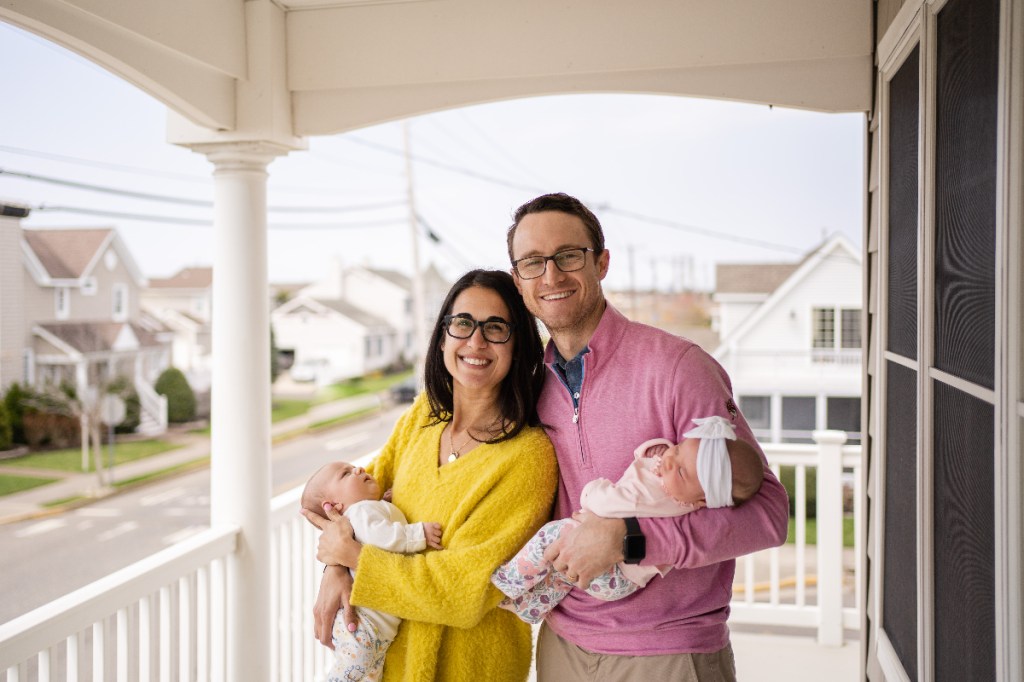 Courtesy of Rachel Creighton
After her twins arrived in February 2021, she said, "I checked off about every box of PPD symptoms, like insomnia, extreme fatigue, self-isolation, and panic attacks."
Caring for three children under age two while recovering from the pregnancy and birth pushed her to a breaking point.  
"I was in complete survival mode," she recalled. "Looking back, I think I somehow managed to convince myself that I was fine, and all was good when really I was slowly drowning physically and mentally."
"The depression eventually began resulting in self-harm and suicidal ideations," she said. "I would almost go back and forth between having self-awareness that something was terribly wrong, and I needed help, to completely succumbing to my depressive symptoms and convincing myself nothing could be done. The anguish and hopelessness I felt was immeasurable."
Thankfully, Rachel did find the help and support she needed. "With the help of my doctors and therapist, I was able to begin the long road to recovery and find my way back to myself again," she said. 
A voice for other mothers
Postpartum mental health disorders are incredibly common: One in 5 women in the US suffer from maternal mental health conditions like anxiety, postpartum depression, and birth-related PTSD. Suicide accounts for 9% of mothers' deaths in the first year after women give birth.
Tragically, 75% of affected women don't receive treatment, even though these conditions almost always improve with early intervention and treatment.
After her own gut-wrenching experience, Rachel courageously chose to share her story so that other mothers know they are not alone. 
"Throughout my recovery and opening up more about my experience, I began to realize how little postpartum depression was talked about publicly," she said. "I wanted to spread awareness on the severity of this condition that is all too common amongst mothers."
Courtesy of Rachel Creighton
She chose to run the race to unite her love for running with her desire to shine a light on the issue of maternal mental health. Running was also a powerful way to reconnect with her own passions as a woman.
"I was an athlete my whole life and played on the women's lacrosse team at Notre Dame, so I've always been drawn to competing and pushing myself physically," she said. "After having three kids, I felt like I lost part of my identity as the athlete that used to have such a strong presence. I wanted to train for something that I knew would be difficult and would force me to not only prioritize my physical health again but would help reconnect me mentally to that competitor I'd been since I was a little girl."
The Alexis Joy Foundation
She chose to run and raise funds for the The Alexis Joy Foundation, which helps women and families who are suffering from and affected by perinatal mood and anxiety disorders, in partnership with Allegheny Health Network. 
The Alexis Joy Foundation is named for a mother who lost her life to postpartum depression. Her husband, Steven, established and runs the organization in her honor.
Courtesy of Rachel Creighton
"When I looked up organizations to support, there weren't many locally that specialized in this cause and only one stood out," Rachel said. "Alexis' story hit so close to home that I instantly knew the AJD foundation was who I wanted to support. Steven, Alexis' husband, has done an incredible job honoring his late wife by helping so many struggling mothers in the Greater Pennsylvania area by providing medical care specializing in PPD and other perinatal mood disorders. I knew I had to be a part of helping the cause."
Rachel completed the race and successfully raised $22,288 for the Alexis Joy Foundation. But she's not done spreading the word: She shared more of her story and important information for new moms and their loved ones with Aleteia earlier this year. 
We can all be part of the mission to support the new moms in our communities. Rachel is running at the forefront, but we can all follow her lead and join the cause to help new moms' mental health thrive.