Emotional eaters use food to deal with stress and negative emotions. The holidays can be challenging for such eaters, but there are strategies that can help.
My friends, I have a confession: I am what dieticians call an "emotional eater." That is, one of the main ways I deal with strong emotions or stressful situations is to eat. Very often I'll find myself mindlessly downing some chips or peanuts when I suddenly realize that I'm not really hungry. I'll think to myself: Then why am I eating? Usually, it's because I just heard a piece of distressing news, felt frustrated with a problem, or was dealing with some other emotional disturbance.
An informative article at HelpGuide.org defines emotional eating as "using food to make yourself feel better — to fill emotional needs, rather than your stomach."
Does this happen to you? For me, eating to cope with unwanted emotions is an all-too-frequent occurrence. Just the other night I was watching TV when I suddenly hit pause on the remote and hurried into the kitchen. Fortunately, I suddenly realized what I was doing as I was downing my second cracker. I decided I wasn't eating out of hunger, but because something on TV had upset me. Immediately I put the crackers back in the cabinet and went back to finish the TV show I had been watching. Of course, 15 minutes later there was another jarring onscreen moment — and guess what I did next?
Characteristics of emotional eating
The HelpGuide article lists a series of characteristics that distinguish physical hunger from emotional hunger, but there is one that particularly resonated with me:
Emotional hunger comes on suddenly. It hits you in an instant and feels overwhelming and urgent. Physical hunger, on the other hand, comes on more gradually. The urge to eat doesn't feel as dire or demand instant satisfaction (unless you haven't eaten for a very long time).
Of course, your experience of emotional eating may differ significantly from mine. Maybe you associate feeling better with particular comfort foods, or you often feel like you owe it to yourself to eat a pint of ice cream when someone close to you upsets you. Regardless of how the behavior manifests itself, the fact is that emotional eating never makes the situation better, and often makes matters worse — especially if we start putting on pounds and then beat ourselves up about it.
One experience that all emotional eaters have in common is that we find the urge to eat difficult to resist once our emotions are triggered.
Holiday challenges
Once the holiday season starts (and here I'm counting Halloween as the real beginning of the holiday season because from an eating perspective it is), the challenge only grows worse. Just consider:
Lots of fattening food are suddenly in easy reach. Bowls of Halloween candy, a frig full of Thanksgiving leftovers, Christmas cookies … and more Christmas cookies!


You may experience emotionally charged encounters with family members, shoppers, fellow travelers, etc. Not to mention the unusual stresses of preparing elaborate meals and holiday parties, flight delays, etc.


For the next two-plus months, people will be actively encouraged to eat a lot. It's not just people who go on holiday … our sense of restraint takes a holiday, too!


If like me you are currently seeking to drop some weight, then the upcoming holiday season, while wonderful in many ways, is also a source of worry. How is it possible to resist temptation and not have my weight scale move even further in the wrong direction?
Before proceeding, I want to urge anyone who is experiencing a serious eating disorder to seek professional help. All of us have issues to deal with, and there is no shame in admitting that you are powerless to overcome your problem by yourself. Seeking help can be as easy as making a phone call.
With that said, here are a few strategies that I have found helpful over the years.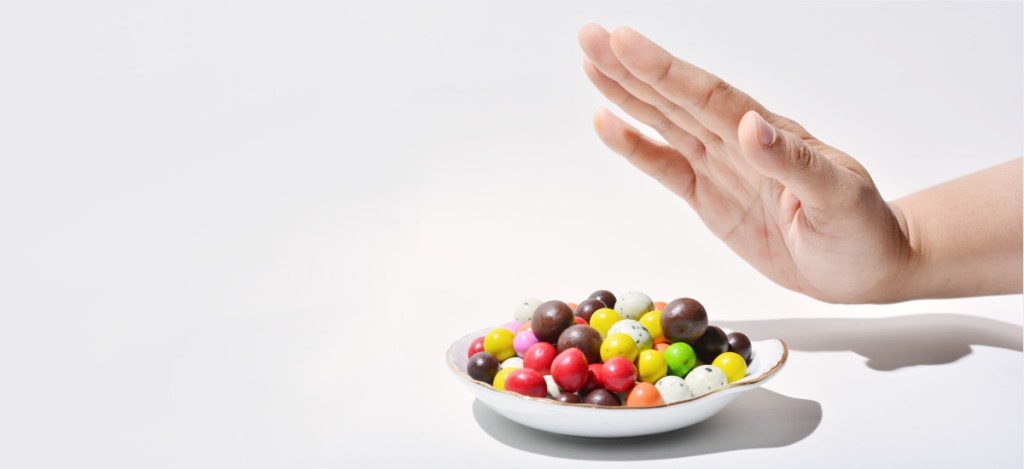 donydony | Shutterstock
1
GIVE YOUR FUTURE SELF A REMINDER
Rather than waiting until you are in the throes of a snack attack, try taking some proactive action. For instance, put a note on your computer or on the frig that says, "THINK BEFORE YOU EAT." Or keep the reminder on you. Years ago, my youngest son made a wristband for me out of pipe cleaners. I wear during moments when I am likely to get upset. If something upsetting happens, the wristband is a way to encourage my future self to think before reacting emotionally. Stopping yourself before you make it to the kitchen can be a lifesaver — not to mention a waist saver.
2
RATHER THAN EATING, TAKE A WALK
It is one thing to identify your problem and quite another to resolve it. To begin overcoming your emotional eating problems, you will probably need to find an alternative and healthier behavior to engage in when you are upset. For me, this is walking. A simple stroll around my block has proven to be a great stress reliever. It also allows me time to think through my problems, along with time to …
3
TURN TO PRAYER INSTEAD OF THE FRIG
Over the years I have come to accept that there is little I can accomplish long term without God's help. In this particular case, my prayers tend to be pretty simple, e.g., "Jesus, help me!" or "Lord, have mercy!" These super simple prayers, uttered in the moment I find myself getting upset, really do make a difference. Reading scripture, saying a Rosary, and engaging in meditative prayer are also good ways to hand your problems over to Him.
4
AVOID THE NEGATIVE FEEDBACK LOOP
Simply put, when you feel bad or upset, you tend to eat too much, leading to weight gain, which makes you feel even worse, leading you eat some more, ad infinitum… When you find yourself stuck in this kind of loop, it's very helpful to find a friendly ear to share your problems with. In my case, I let my wife know what's going on. Usually just having a conversation about my problems is enough to put me back on track.
5
NOT TOO EASY, BUT NOT TO HARD
Especially during the holidays, it can be easy to give up, and to say that you'll deal with your issues when it comes time to make your New Year's resolutions. Personally, though, I'd rather not make it to December 31st only to discover that the new pants my wife gave me for Christmas don't fit anymore. I also want to truly enjoy my holidays. For me, that means living in the true spirit of the season and not just indulging myself. On the other hand, if I do slip up (and I likely will), I plan to accept my defeat gracefully as a temporary setback, and immediately ask for the help I need to get back in the fight.
The next two months should be a time of celebrating faith, family, and communal cheer. With some determination and support, you can have a great time while keeping your emotional eating in check.