Fr. Lawrence Lew, O.P.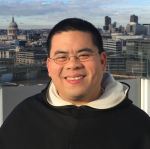 Fr. Lawrence Lew, O.P.
Fr Lawrence Lew serves as Prior, Parish Priest, and Rector at Our Lady of the Rosary in Haverstock Hill, London. Fr. Lawrence earned his License in Sacred Theology from the Dominican House of Studies in Washington DC. Prior to that (from the time of his priestly ordination in 2011) he had been Assistant Chaplain at Edinburgh University. Fr Lawrence currently also serves as the Dominican Order's Promoter General for the Holy Rosary; as Spiritual Director for the Westminster Curia of the Legion of Mary; and he is Editor of the English Dominican Province's magazine, The Dominicans. He is the author of the book, Mysteries Made Visible (Catholic Truth Society, October 2021).