The announcement came in a letter from Bishop Daniel Thomas: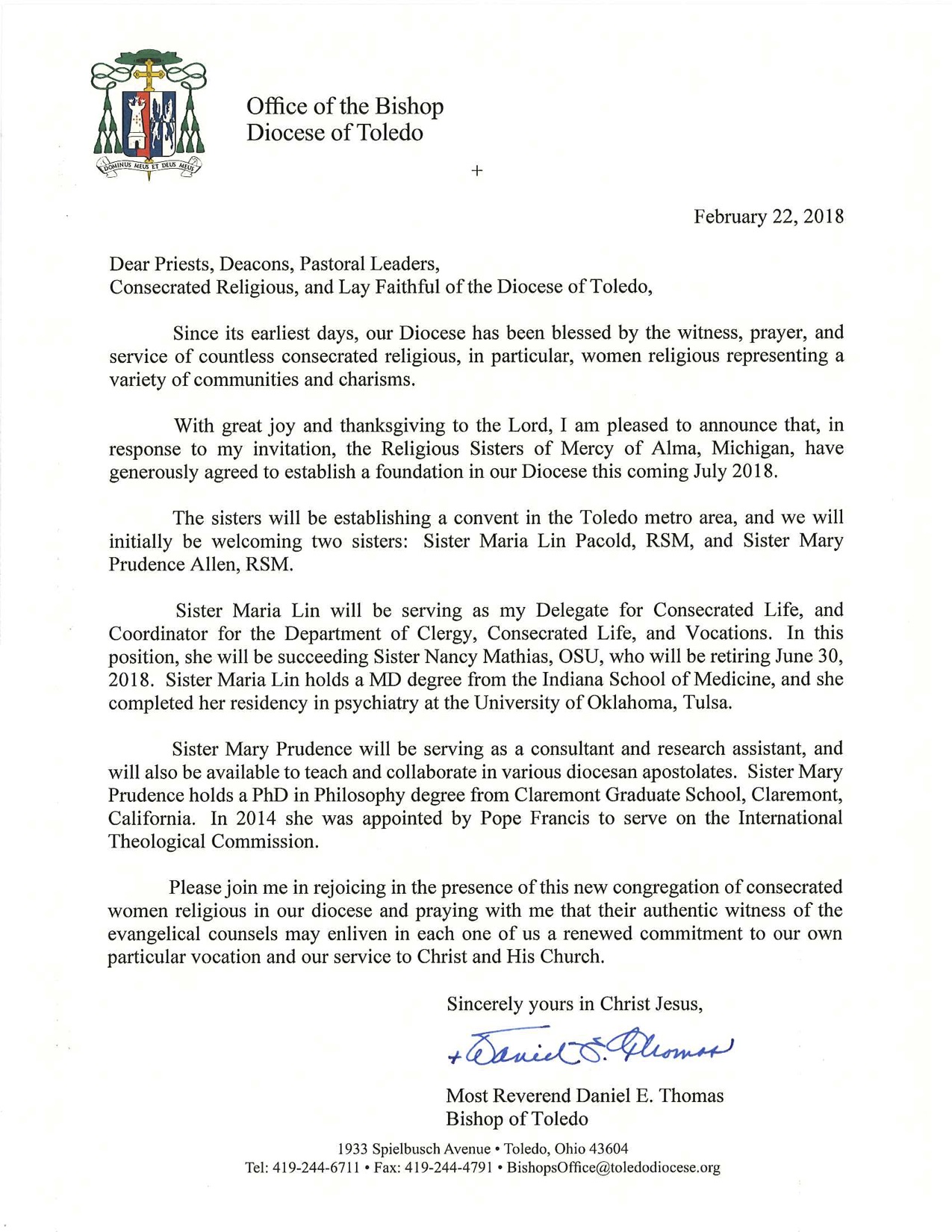 I found this interview with one of the sisters, Sister Mary Prudence, in the pages of America:
Born as Christine Hope Allen in Oneida, New York, Sister Prudence's family descends from a 19th century utopian religious community. She converted to Catholicism in 1964 and married in 1965, raising two sons and teaching university philosophy. Her marriage was annulled in 1972 and she joined the U.S. Mercy sisters in 1983.Pope Francis included Sister Prudence among the 40 theologians and philosophers he named to the International Theological Commission on Sept. 23. She is one of five women—an unprecedented number—and two Americans named to the commission that was set up in 1969 to advise the pope and Vatican on doctrinal issues. The other American appointee is Father Thomas G. Weinandy, O.F.M. Cap., former executive director of the U.S. Conference of Catholic Bishops Secretariat of Doctrine.On Oct. 23, I conducted the following email interview with Sister Prudence about her career and appointment to the theological commission.How did you feel when you got the news that Pope Francis had appointed you to the International Theological Commission? At first, I felt stunned by a completely unexpected event. But as the reality of this invitation slowly opened before me, I discovered a quiet joy because we Religious Sisters of Mercy take a fourth vow of service and the church has asked for a specific service.

As a member of the Commission, will you still have time for your pastoral and academic work, or will this appointment require you to cut back on those things? The time factor is unknown because I have not yet attended the first meeting of the Commission, which is scheduled for December 1-5, 2014.  This particular form of service would likely include both some academic and pastoral dimensions in its collaborative and confidential nature. The secular media has emphasized that you are among five women appointees to the commission, recalling that Pope Francis has called for a more profound "theology of womanhood" and role for women in the Catholic Church. How might your work on the Theological Commission promote this goal? My particular formation is as a philosopher, and my research and publication over the years are from the perspective of a Catholic philosopher especially concentrating on the concept of woman in relation to man in the history of western thought.  We know from "Fides et ratio" that philosophy and theology are like two wings of the human spirit in its search for truth.  It is my hope that my perspective and research will complement the perspectives of theologians on the Commission. Together theologians and philosophers could enrich the understanding of woman in the church more than either perspective could achieve alone.
Meantime, learn more about the order and some of its sisters in the video below.