Anyone who has seen those domes — they are among the most famous in the world—will notice something amiss.
They no longer have their crosses.
Here's what they actually look like: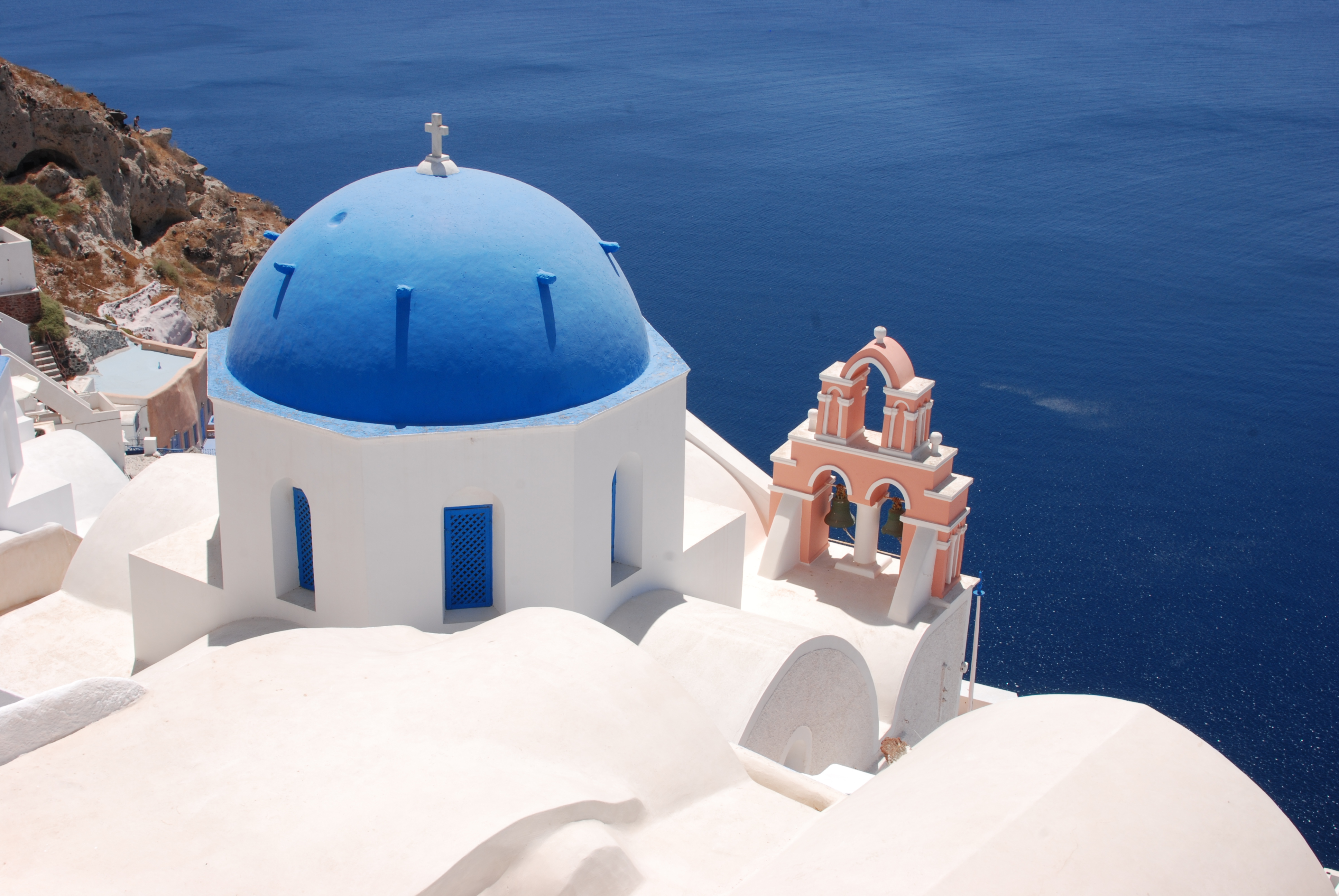 The move has not gone unnoticed. A writer in The Guardian notes:
The German supermarket chain Lidl has been caught removing the crosses from a picture of a Greek island used to sell cheese. The packaging on its "Greek" range of foods shows the gorgeous blue-domed churches of the island of Santorini – but only their domes. The crosses that in real life surmount them have been digitally excised. The company claims this is part of a deliberate policy to remove all religious symbols from their packaging, in case it's divisive. The usual suspects are insinuating that Muslim symbols would be treated differently, though there's no evidence that this is actually the case. Much more likely is that this is simply an act of bureaucratic incompetence and lack of cultural sensitivity, but in this case the culture to which Lidl is being insensitive is actually their own. Christianity is one of the central elements of European culture, even today. European-style secularism has a wholly symbiotic relationship with it – one explanation for why it has failed almost everywhere else in the world. But Christianity, in this sense, is not a label. It is not even a set of beliefs to which people may assent or not. It is much more like a very long marriage – 2,000 years of braided arguments: a shared world to disagree about together. You can't just amputate all that.
From The Independent: 
Lidl has come under fire for editing a cross at the top of a

church

 out of an image it uses on the packaging for its own-brand range of Greek-style food. The supermarket's Eridanous range features a picture of the well known Anastasis Church on the island of Santorini. A small white cross can usually be seen on top of the church's blue dome. But it has been deliberately removed from images on the packaging on a variety of Greek products which have been sold across the company's European markets for 10 years. Angry customers have taken to the brand's Facebook page to lodge their complaints. "I am deeply offended by the alterations made to the depictions of Greek churches on your products," wrote Rupert Dodds, from Cyprus. "The message I receive clearly is that you have no respect for Christians and do not want us as customers." Another, Margaret Claydon, wrote: "Deplorable airbrushing out of Christianity [on] certain products. Will not shop at Lidl again until policy removed."
Read on to see the supermarket's response.