Need an idea for Lenten almsgiving?
Help us spread faith on the internet. Would you consider donating just $10, so we can continue creating free, uplifting content?
Make a Lenten donation here
This Sunday's Gospel asks us to consider the question: why does God let weeds into the world?
For one answer, I'd like turn to the story of Dan Ponder, Jr.
He was a representative in the Georgia state legislature. Seventeen years ago, as the legislature prepared to vote on an historic hate crimes bill, he stood before his fellow representatives in the state capitol and he spoke about a woman who raised him, named Mary Ward:
"She began working for my family before I was born," he said. "She was a young black woman whose own grandmother raised my mother. Mary, or May-Mar as I called her, came every morning before I was awake to cook breakfast so it would be on the table. She cooked our lunch. She washed our clothes. "But," he explained, "she was much more than that. She read books to me. When I was playing Little League she would go out and catch ball with me. She was never, ever afraid to discipline me or spank me. She expected the absolute best out of me, perhaps, and I am sure, even more than she did her own children. One day, when I was about 12 or 13 I was leaving for school. As I was walking out the door she turned to kiss me goodbye. And for some reason, I turned my head. She stopped me and she looked into my eyes with a look that absolutely burns in my memory right now and she said, 'You didn't kiss me because I am black.' At that instant, I knew that she was right."
That moment taught Dan Ponder something about himself, his culture, his background and his upbringing. And it set him on a journey that would change his thinking, change his life and change Georgia history. More on that in a moment.
I wanted to tell his story because I think it serves to remind us of something central to this Sunday's Gospel:
That is the idea of change. Of conversion. Of growth.
The three examples Jesus shares in this parable, describing the Kingdom of Heaven, are all about God's extraordinary patience with his creation—how he gives us time to become something more.
Yeast, mixed with wheat, can become bread to feed the hungry.
A seed that might seem to be worthless, incapable of doing much good, can grow to contain a multitude.
And, in God's plan, weeds can even become wheat.
There is a scientific principle in agriculture known as Vavilovian mimicry. It was first discovered by a Russian plant geneticist by the name of Nikolai Vavilov. He found, to his amazement, that a weed can often take on the characteristics of surrounding plants. Vavilov discovered that rye, a basic grass, when growing among wheat can start bearing seeds like wheat, and even adjust its growing pattern to follow the same annual schedule as wheat.
It can change.
That may be one reason why the landowner in the parable doesn't destroy the weeds right away.
He wants to give them time. Time to evolve. To change. To become something greater.
And so it is with God. He sees what we are. But he sees, too, what we can become.
One of my teachers in high school used to wear a pin: "Please be patient. God isn't finished with me yet."
He isn't finished with any of us.
And he certainly wasn't finished with Dan Ponder, Jr.
When Ponder made that speech before the Georgia State Legislature, he spoke as a child of racism.
He spoke as a person who was descended from men who fought for the Confederacy.
In fact, he said, he didn't have a single ancestor who had grown up north of the Mason-Dixon line.
He was raised with a certain set of values, among a certain set of people, in a certain time and place.
And part of that meant, when you were a little boy, you didn't kiss a woman like Mary Ward on the cheek in public.
And dozens of years later, he stood before his colleagues and said he was wrong.
He urged men who had grown up like he had to vote in favor of a bill that would outlaw any kind of hate crime in the state of Georgia.
He was a conservative Republican, doing what conservative Republicans back then just didn't do in Georgia.
His speech brought the state legislature to its feet. And the bill passed by a more than two-to-one margin. It was later signed into law in a synagogue that had been vandalized and marked with symbols of swastikas.
Dan Ponder, Jr. retired from politics not long after that.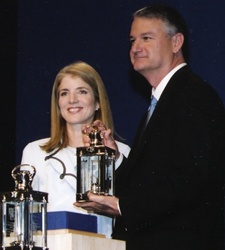 In 2003, he received the John F. Kennedy Profile in Courage Award. But that speech he delivered in 2000 lives on. It has gone down in history as one that changed history.
At the end of his speech, he said this:
Mary Ward sent me a message many years ago. A message of unconditional love, regardless of the color of your skin. My wife and I have sent a message to our children that we are all God's children and that hate is unacceptable in our home. I believe that we must send a message to people that are filled with hate in this world, that Georgia has no room for hatred within its borders. It is a message that we can send to the people of this state, but it is also a message that you have to send to yourself.
At a moment when we are increasingly suspicious and intolerant of The Other—whether because of nationality or religion or race or political persuasion—I think that message is one the world needs even more urgently today. We are too quick to mock or dismiss, to judge or condemn. We want to uproot the weeds.
But sometimes, we fail to realize that the weeds…are us.
And this, too, is part of Dan Ponder's message.
It is the message of his life's journey.
God gives us time.
He gives us opportunities to learn. To grow. To convert. We can become more than what we are.
St. Augustine once put it this way:
Consider what we choose to be in God's field; consider what sort of people we are found to be at the harvest. Nobody knows what is going to happen tomorrow.
What do we want to be?
Uplifted by his love, nourished by the Eucharist we are about to receive, enriched by his Word in our hearts, we can leave this sacred place this morning carrying this hope:
We don't have to be weeds.
By God's grace, we can become wheat.
Top photo: Pixabay
Lower photo: John F. Kennedy Library