When I was about nine years old, I was sexually assaulted by a group of several teen-aged boys.
I'm sorry to say it was not the first time in my life that I had been sexually used but this was certainly the roughest event up to then.
Some studies have shown that girls who are sexualized at an early age go into puberty earlier than most, and I was pubescent and already had breasts by the time I was 8, so by nine I guess I had looked pretty "ripe" as the saying goes.
We had a woods at the end of our block and it was one of my favorite places to walk and to play with friends. On this occasion I'd taken the woods as a shortcut to get home. I happened upon a group of boys — the older brothers of my friends, all vaguely known to me and about five years my senior. They'd gotten their hands on a Playboy magazine or some other smutty product. I recall catching a glimpse of the color photo, and bare female breasts, as I came  upon them, and then caught the eye of one of the boys.
I have written before about my theory of bullies and victims — that if people who have been bullied or abused do not actually give off a scent of vulnerability, there is still something about them that is recognizable to predatory people who catch the vibe: weak and injured lamb here. Commence shredding and feeding.
That's literally what it felt like. In an instant I was set upon by these charged-up teenaged wolves — grabbed, restrained, and manhandled in awful ways. At one point someone squeezed my left breast with such brutal force that I screamed out in pain, and my scream seemed to have an effect of some sort.
I assume it did, anyway, because I cannot actually tell you how I escaped, but I did — running home, clutching my injured breast which hurt for days and always seemed "wrong" and misshapen to me after that. Throughout my life and even unto today, I cannot bear to have that breast touched in any way, even medically, without immediately being flooded with a sense of shame, discomfort, and intense self loathing.
It seems unfair that I should feel hatred for myself and my body over the course of my whole life, for something that was done to me, and nothing I actually did. But there it is. Except for the precious time in life when my left breast helped to nourish and sustain the bodies of my beloved sons, I have had nothing but disdain for it — hatred for a part of my own body.
And hatred, we know, can work at a cellular level. Who knows how much damage has been done to my health because of the feelings I have carried, these fifty years?
I doubt any of those boys remember that moment of predation in their lives as men — although if they do, I hope they recall it with intense shame and a measure of self-loathing that approximates my own. I don't hope that because I am spiteful — spite is not really in my nature. I hope it because if they feel shame, and they hate themselves for it, then perhaps they would never hurt anyone else.
Why am I writing this? Because something odd happened last night, after a day of one booming revelation of sexual predation among men of power after another.
I've been writing another book and, since I write books in longhand, transcription is necessary. I hate transcribing but it's actually a good thing to do; there is a natural edit/rewrite process that goes along with it.
The chapter was focused on the word "Remember" and related to prayer, but as I was transcribing, I suddenly found myself bringing that old and unexpected memory into the book, smack dab in the middle of the chapter. The whole episode suddenly came alive within my memory, and with it all of the feelings of shame, of secrecy — I of course had told no one, but when the story of this attack did eventually, mockingly, make its way through the neighborhood I was smacked soundly in the face for the embarrassment it caused.
But when it landed in the book, I couldn't help thinking, "what in heaven's name brought all that up?"
It could only be, I considered, all of the stories about Matt Lauer, and Al Franken, and Garrison Keillor, and so many other men called out or fired, yesterday. I believe that I was "triggered" on a subconscious level.
It has me wondering what sort of subconscious effect all of these stories are having on society as a whole — on women who have been abused (and men who have been abused, too); on men who have abused others (and women who have been sexually aggressive, too, because yes, that happens).
Are people dealing with depressive feelings as these stories bring up old, buried feelings of shame, or fear, or anger, or guilt?
Is it possible that we are, as a society, walking around right now — attending to business and taking care of our families, and so forth — while feeling a bit unmoored, and not quite sure why? What affect might that be having…everywhere?
Our society is already in such sad shape — there is division, a loss of faith, some truly unhinged trends — I can't help but wonder (even as I am glad to see them come out) what sort of mental cloud these stories of sexual aggression and predation are putting some people under? Because I know that sexual abuse is widespread — that it is not a 'sometime' thing in the lives of women and children but an 'all too often' thing. And I know that some men have suffered cruel sexual abuse and don't ever have an avenue in which to process it, because those avenues mostly run to women who, I believe, bear the brunt of it.
Being sexually abused creates disorientation; abuse gives life to emotional and mental lies that never completely go away. It's one reason why watching political parties try to decide whose abuses are tolerable and whose deserve dismissal is so maddening. There may be "degrees" of predation, but leadership needs to send a better message about sexual offenses than, "Well, but political considerations are all-important."
They're actually not. We've allowed them to become so, but they are not.
My own feeling is that serial molesters, even if they're "nice guys" should not hold positions within the public trust, nor should those who show creepy interest in 'dating' much younger people. But that's really not the point of all this.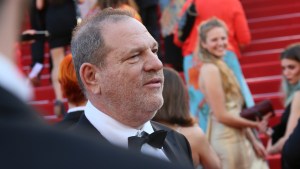 Read more:
No More 'Open Secrets': Here's what can prevent sexual harassment and abuse
Here is the point: if you are lately feeling out of sorts — if you are feeling unaccountably sad, moody, unfocused, angry, ashamed — if you have that cloud hovering over you, consider that perhaps you are being triggered, all subconsciously. If you think you might be, find someone to talk to — find a way to process what you're feeling, and get through it.
All of these revelations have created a unique moment in our history: This is the precise time that Americans need to start looking at their lives, whether they have been sexually aggressed upon, or they have been the aggressor, and process these truths. We need to have courage to speak the truth, and feel the feelings — including feelings of humility, for where we have hurt the lives of others.
There is that saying: "Hurt people hurt people." I look back on the people who have abused me — starting at age 3, and ending sometime after age 16. They were all male, except for one. And I know that every one of them carried something damaged within them. I know it because every one of us carries damage within us, and because "hurt people hurt people." We all have hurt other people, in some way.
That excuses nothing, of course, but for me personally, acknowledging the damage in others has been the route to forgiving them, so that I could continue to live my own life in a productive, loving, and faithful way, without falling into catatonia. Forgiveness needs to reside in me, in order for my own freedom to flourish.
I am not writing any of this in order to make a bid for sympathy, or even solidarity, and I am not writing it in order to pile on men, in general. I love men — the best people who inhabit my world happen to be men, and the women they love.
And I am not telling anyone else what they should do about their situations, except for this: If you have been abused, pray for the courage and trust to talk about it with good people, and then do it. If you have been an abuser, pray for the courage and the humility to admit it, and to hear the victims. Get help.
Otherwise, we may soon see a collective nervous breakdown within our society. That won't be good.
God help us all, poor broken, fallen world!