Let us give thanks to God for the witness of his martyrs, who demonstrate to us so clearly that a life of simplicity, stability, prayer and togetherness — all rooted in the love of Jesus Christ, who is the All-in-All — brings forth the depth of reality that is within the mystery, and reveals God to us in myriad ways as we learn what it is to be free.
In modern times nothing expresses that mystery, reality and true freedom better than the story of the Trappists monks of Tibhirine, seven of whom were martyred in 1996. Their story was memorably, and beautifully, told in the extraordinary film, Of Gods and Men, and they are about to become beatified, along with 12 other Algerian martyrs..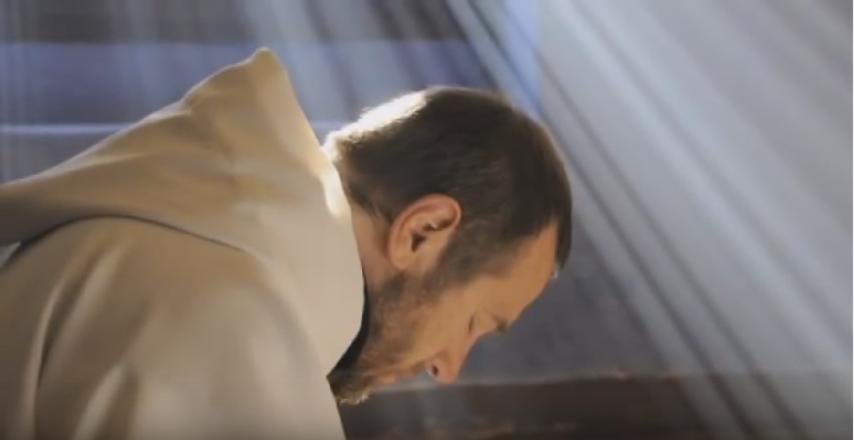 Here is the story, (translating from the French):
The decree of beatification of 19 "martyrs" killed in Algeria in the 1990s – including the seven monks of Tibhirine and the former Bishop of Oran Pierre Claverie – could be signed by the end of January. "Honoring the 19 Christian martyrs means paying homage to the memory of all those who gave their lives in Algeria in the 90s," commented the French Trappist monk Thomas Georgeon, "postulator" (lawyer) of the cause, in a interview to the online monthly Mondo e missionne, from the Pontifical Institute of Foreign Missions. "Each one of them has been a genuine witness of the love of Christ, of dialogue, of openness to others, of friendship and loyalty to the Algerian people," he says, estimating that the file opened in 2006 had advanced rapidly. "The Algerian bishops hope that the beatification can be celebrated in Algeria, in Oran, diocese of Bishop Claverie," said Thomas Georgeon, who was received in September by the Pope at the Vatican with the Archbishop of Algiers and the Bishop of Oran. […] The seven Cistercian monks of Tibhirine had been abducted in March 1996 in their monastery of Our Lady of the Atlas, 80 km south of Algiers. Their death was announced on May 23 by a statement from the Armed Islamic Group (GIA). The heads of the Trappist monks were found on May 30, 1996, without the mystery of their death being fully clarified.
If you have not seen Of Gods and Men, screenshots of which are illustrating this piece, you must. I can't think of a film in recent memory that so truly and respectfully portrays the life of faith, the religious life, and most especially the value, use, and meaning of liturgical prayer and the sacramental, Holy Mass — how these enhance the life of faith, deepens its roots so that it may withstand the storms that come.
We can take many important lessons from these martyrs, most particularly, perhaps, a lesson in perseverance, in keeping the faith. Of holding fast, too. In Of Gods and Men there is a scene where the Abbot, Brother Christian, is simply walking through the fields, along with sheep. You understand what he is thinking, and why he cannot leave to save himself. When he is marveling at the circumference of a tree that must be thousands of years old, you know his thoughts: the tree had been there since long before he existed, would be there long after he has died. Its roots are deep. And Jesus hung upon such wood.
Another scene, — one I found almost unspeakably beautiful — involved Vespers. Knowing that at any moment their humble monastery may be invaded by murderous extremists, the brothers hear a chopper come near. Perhaps this is the moment of their martyrdom, and while they by no means seek death, they cannot be anything but who and what they are: monks. As per the Rule of St. Benedict (which Trappists follow) "nothing is to be preferred to the Divine Office," and so they draw together in their very humble choir, facing the stained glass window outside of which the menacing chopper hovers, and they put their arms about each other's shoulders — true brothers — and sing all the louder, in beautiful harmony, in defiance, and in joy.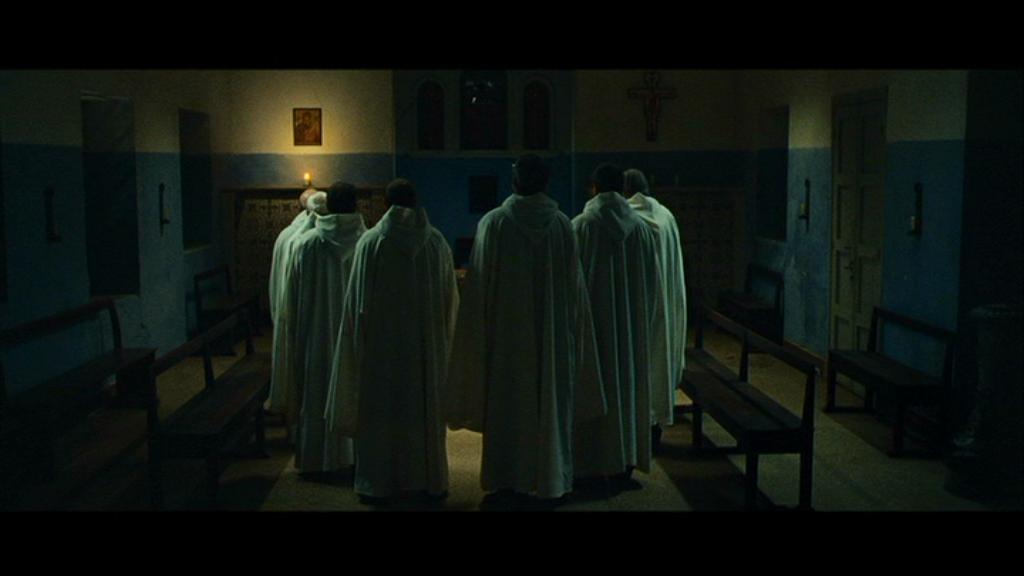 The "last supper" scene truly is astonishing. A confrontation with mystery. Understanding that this may be their last meal together — that they have made an irrevocable decision that will likely mean their deaths — they fill their glasses with the best wine, and instead of a reading, they listen to Tchaikovsky's Swan Lake. As the music plays, they share a wordless conversation about love. Here is Love; they are confronting its depths and it sacrifice, it's ache and confusion and its powerful relation to Truth. The Gospel notes are there: that they have saved the best wine for last speaks to the beginning of Christ's ministry, and Mary's words, "do whatever he tells you," a scene which launched the world's exposure to Jesus of Nazareth and speaks to the truth that to know him and follow him involves continual rediscoveries that hone new depths. We see that all of their pursuit of Christ has brought them to this self-knowing surrender to Providence. Watching this scene, the beginning of Psalm 133 came to me:
How good and how pleasant it is,
when brothers live in unity!
It is like precious oil upon the head
running down upon the beard…
Christ is all over this moment. Later, when the monks are taken prisoner, and the oldest has managed to evade capture, his silent grief at not being with his brothers, not surrendering that final bit of himself, is so sad and affecting, and yet ultimately this film is about freedom and victory.
The monks, living and dying in Christ, were true victors. I love the conversation between Brother Christian and Brother Luc, where they discuss their decisions to remain at the monastery: "to leave is to die," Luc had said earlier. Now he ponders all he has seen in his life, including Nazi's, and acknowledges that he is not afraid of death — that his freedom has always been Christ-centered. As the bell rings, calling them to prayer, they prepare to exit the small office, and Luc jokes to Christian, "let the free man go through."
Watch Of Gods and Men prayerfully, with a heart open to what it can teach, and then offer up some words to the Martyrs of Algeria, including these slaughtered monks, that Christ and the Church may use their story to grow wisdom in the hearts of humanity, throughout the world.
Bonus: Watch Bishop Robert Barron as he discusses the monks and the film: