I'm having one of those days — you've had them, right? — one of those days where the head is so full of ideas and anxieties, and doubts, and fears, that actual work is being impeded. And then the giant pile of books on your desk gets knocked over, and while you are muttering under the breath about everything going wrong, and pushing the dog out of the way, you find that one book has opened to a page with a message so perfect it's almost spooky: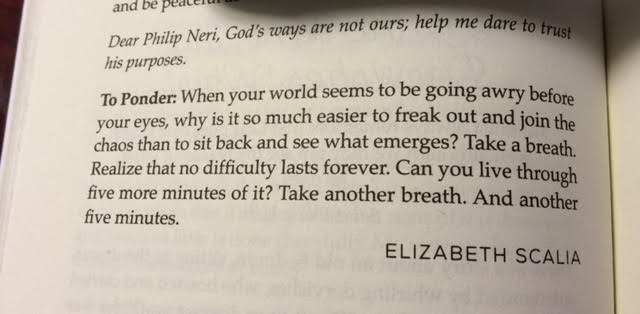 That's a page from The Catholic Mom's Prayer Companion, a daily book of Mom-related meditations, and it is actually the entry from May 26, the feastday of my beloved St. Philip Neri, who speaks plainly, never steers me wrong, and — more frequently than you know — gives me a good Roman rap upside the head.
I read the words, and then read them again. They're quite right. And I need to take my own advice, even if, as I suspect, it was Philip Neri's advice, first.
Thanks, Neri, you old rascal of a dear, spooky, and saintly uncle, you! Pray for me, Philip! To paraphrase you back to yourself, "Don't trust Lizzie," but help! Ora pro me!


Read more:
How Saint Philip Neri Anticipated Pope Francis by 500 Years