What can God do in your life with one Bible verse a day?
Subscribe to Aleteia's new service and bring Scripture into your morning:
Just one verse each day.
Click to bring God's word to your inbox
Every day, we contemplate our image in the mirror, to brush our hair or to put some makeup on. We wonder whether we are attractive enough or how to conceal some blemish, improve our looks and our body. But what if we try to transpose all these thoughts and gestures into our spiritual life?
You, of course, remember the very beautiful Evil Queen from the story of Snow White? Each day, she asked her mirror whether she was the fairest of them all. And one day, the truthful mirror told her that there was indeed someone fairer. The queen got so upset that she decided to get rid of her rival.
This fairy-tale queen is not the only one to scrutinize her image. Who can possibly boast of having never been in need of a mirror to show us a flattering image? We all examine our mirrors, peering into their surface, observing ourselves in thousands of ways. Why do we do this? To see that all is well, to see that the reality corresponds to the picture we have of ourselves. We are terrified that we are nothing like the image we wish to project. We really need someone, a mirror, for example, to tell us: "You are so good and so attractive! You look so perfect!" We panic at the thought of having missed a tiny vital detail that will lower us in the eyes of others provoking smirks, whisperings behind our back and outright laughter once we leave the room. Deep down inside we fear that what we do to others will be done to us.
How others see us
Secretly, we also examine our mirror, because we like what we see. There is this wicked delight in contemplating one's own image. Since we are not really certain that other people can appreciate us at our true value, we can at least tell ourselves what we wish to have heard from the others. So, sometimes we end up talking to our own reflection in the mirror. We look at our image, in some cases feeling reassured, in others succumbing to despair. We see ourselves as attractive or repulsive.
What would we not do to improve our looks? And this is how the dialogue with the mirror begins: should I put some more makeup, change my hairstyle, put some jewelry on, and conceal that horrible blemish on my skin?
Really, our mirrors give us a lot of trouble. And the biggest of them is that mirrors are how others see us. Inevitably, they send back an image that we examine with growing apprehension. What will other people think? Here is the biggest ever-present problem we don't dare to mention.
The sign of God's glory
Those who want to progress on the path to spiritual life have to separate themselves from the mirrors. They should no longer feel preoccupied with their image, especially if it merely concerns some superficial traits.
The Bible teaches us that we are the very reflection of God Himself. We have been created in His image and we still long for it. When we peer into the mirror, are we not trying to see Him, in whose image we have been made? We seek but we cannot find. We would like to see an image of perfection, without a wrinkle or a blemish. But what we find is ourselves with our limitations and imperfections that we loath. This brings to mind one of the most beautiful passages from Saint Paul: "But we all with unveiled face, beholding as in the mirror the glory of the Lord, are being transformed into the same image from glory to glory, just as from the Lord, the Spirit" (2 Cor. 3:18). We can see the sign of God's glory in the face of each person. It is barely perceptible, tarnished, yet very real.
It is sin that deforms and scars the face. In his novel The Picture of Dorian Gray describing the fall of one man, Oscar Wilde evoked this disfigurement. To keep his youthful face, a young man of great beauty makes a pact with the devil. His face will never bear any mark of his evil deeds. It won't be he who grows old, but his portrait made in the full bloom of his youth. Thus, despite his scandalous life, he seems to be able to save the appearances. But in the end the truth comes out – he is found dead with his face disfigured by years of debauchery. This story is the opposite of what the life of a saint should be like according to the Lord.
To see the face of the Lord progressively replace our own.
Saints are people who accept to see themselves for who they really are. They do not fret about their physical appearance, but about the marks of sin. Looking into the mirror saints see themselves as they are. And they are not content with what they see. Similarly, as they examine their conscience, when they truly see themselves, consider their deeds, what has occupied their minds, they are filled with shame. But far from despairing, they find a way to change.
Whatever the fashionable young women do to revamp their image, the saints do to conceal the lines burrowed by sin, the blemishes of evil, the traces of misdeeds. The saints are the people, who as they peer into the mirror see the face of Our Lord Jesus Christ gradually replacing their own. They look alike, since it is no longer he or she who lives but Christ who lives through them. It is an ideal that only few can attain, but it is a goal for each and everyone among us.
This is no longer the case of appearance but of resemblance. Those who love God the Father like Jesus does, those who live for others like Mother Teresa did, those who no longer worry about what others might think of them, those who see the trials of life as signs from God and share in the suffering of Christ, will perceive through their features those of the Lord. Their mirror will reflect back some of God's glory. And when they finally pass on – a human being disfigured by life of sin will give place to the one transfigured by the glory of God.
Brother Alain Quilici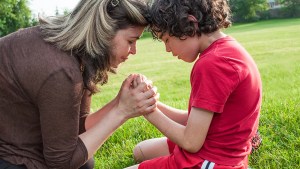 Read more:
6 Tricks to teach kids humility (and to understand it ourselves)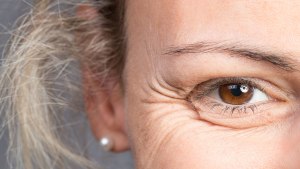 Read more:
These stars are embracing the beauty of wrinkles