We all want to be happy. But what is true happiness and how can we find it?
What can God do in your life with one Bible verse a day?
Subscribe to Aleteia's new service and bring Scripture into your morning:
Just one verse each day.
Click to bring God's word to your inbox
The vocation of man is happiness. Everyone would agree with that statement, especially those who enter into it and take life into their own hands. Above all else, we desire to be happy. As to what happiness is, whole dissertations have been written on the subject, but none settles the question. We've proposed recipes for happiness, but none stands up to the test. Because the issue is not so much knowing how to define happiness than actually being happy. It's surprising to note that the New Testament doesn't use the word "happiness" to define an abstract concept. Neither Jesus nor the Apostles were philosophers; they didn't write a treatise on happiness. They didn't offer definitions. They didn't promise to make others happy in the sense people understand it. Jesus did something completely different. He authoritatively laid out who could call themselves happy. And it's never the ones that you think.
Happy are those who …
To prove it, you only have to do a little test. Take a piece of paper and write a list of the ingredients you think are necessary to be happy. Then write them in the form the Gospel uses: "Happy are those who …" Next, compare it to chapter 5 of the Gospel of St. Matthew.
When I tried this exercise with a group of young people, here's what they came up with: "Happy are those who have enough money to live on. Happy are those in good health. Happy are those who have a united family. Happy are those who have a job. Happy are those who have found their calling. Happy are those who are at ease with themselves. Happy are those of good character. Happy are those whose parents haven't separated." Those are a few of the better expressed answers. None of them refer to the happiness of being a believer, nor of being loved by God.
When together we compared our answers to the Beatitudes, we were struck, not just by the obvious differences between the two lists—that was to be expected—but by the fact that no one was convinced by Jesus' list. Some thought it admirable, but no one thought it preferable. We clearly weren't talking about the same thing. Whichever way you might dress it up, no one really thought that someone who is poor, gentle, or merciful is "happy." No one envied those who weep. To say nothing of persecution, which, as you might expect, set off yelps of protest. If we push it, purity of heart or the love of justice might be sources of happiness.
Happiness: A gift we've already received
The differences here allowed the group to grasp that there are two concepts, if not of happiness, at least of what a happy person is. For Jesus, the truly happy one is he who is in communion with God. And Jesus' great revelation is that we should rather imagine God as the poor, the gentle, the merciful, the peace-maker, the pure of heart.
Happy is he who places himself in God's hands in complete simplicity of heart and puts his trust in him. Happy is he who relies more on God than men. The Virgin Mary's declaration to St. Bernadette Soubirous of Lourdes, "I don't promise you happiness in this life, but in heaven," may be a cause of despair for those who don't believe it, but it fills with joy those who receive it in faith.
And so, like Jesus, we must turn the proposition around. Instead of looking for what can make man happy, a dubious and often disappointing enterprise, we would do better to look to those who merit the divine label of a happy man. Thus the Lord opens our eyes to what is true happiness. Being happy is a gift we've already received but which our eyes are often kept from seeing. We have to ask the Lord to show it to us. Instead of running after illusory happiness, which will always escape us, like ungraspable virtual objects, let's ask the Lord to reveal to us wherein our happiness truly lies.
Brother Alain Quilici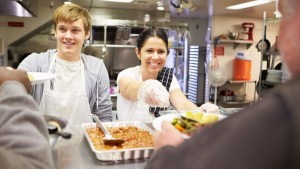 Read more:
The secret to lasting happiness, according to Jesus
Read more:
How to be happy? Harvard's been studying that for 80 years