The devil is no mythical creature; he truly exists and constantly seeks to distance us from God.
What can God do in your life with one Bible verse a day?
Subscribe to Aleteia's new service and bring Scripture into your morning:
Just one verse each day.
Click to bring God's word to your inbox
After watching cartoons, children often think of Satan as an imaginary character. But the devil is no mythical creature; he truly exists and constantly seeks to distance us from God. It's important for young children to know and understand that to stand up to the great Tempter we must above all hold to our faith and pray to God.
Should we speak to children about Satan, about demons? And if so, how? These questions come back over and over again. Let's try to answer them. Let's first ask ourselves if it's useful and if it's important, from the point of view of the awakening of the Faith, to speak about the devil.
Why speak to children about the devil
The devil exists. And not only does he exist, he's not a detail, a bit player in our spiritual life. He's the enemy who seeks our downfall, to turn us away from God. It is he who sets everything in motion to distance us from God. In explaining the parable of the sower, Jesus tells us: "These are the ones on the path where the word is sown. As soon as they hear, Satan comes at once and takes away the word sown in them" (Mk 4:15).
A great number of cartoons (among other things) feature the devil and diabolical creatures. Not only do these cartoons fail to portray Satan in the light of faith, they encourage children to believe he's an imaginary figure like the heroes he battles, as in fairy tales, with no direct relationship to their everyday lives as children of God. As they grow up, they will consign Satan to the wastebin, along with Batman and Dora the Explorer. Satan's finest ruse is to make us believe he doesn't exist, that he's just a fantasy figure, or a metaphor.
Satan is not a god
How should we speak about the devil to children? Let's get real and clear-sighted. Let's hold on to revealed Truth. We mustn't teach anything in childhood that has to be discarded later on. That's why we must stick to what the Gospels reveal, nothing more, nothing less, without watering it down. It's not about criticizing what's been done but, in the transmission of the faith, in relying upon truths with a sound foundation in holy Scripture.
In speaking of the devil to children, it's not necessary to have recourse to images of horned and cloven creatures, nor to more or less fantasy descriptions. On the contrary, we must explain that Satan is very strong and powerful, but that he is infinitely inferior to God. "He has no power over me," said Jesus (Jn 14:30). The power of Satan is nothing next to God. Only God is all-powerful. Satan is not a god. We must be careful to make this clear in the minds of children: the difference between God and Satan is a difference in nature. Of course, we're not going to tell children that, for the word "nature" doesn't have any meaning to them. But they must understand that Satan is a being, dependent upon God. He cannot destroy God; God could destroy him.
"If it was God who created him, why is he evil?" children will wonder. When we speak about evil, about Satan, and hell, we must always insist on the idea of freedom. God created us good, but with free will. If we weren't free, we wouldn't be able to love. If I don't know how to say "no," my "yes" is without value. Satan chose to say "no" to God; the archangel Gabriel (for example) chose to say "yes."
Offer children concrete examples
Beware of presentations (or representations) of the devil that show him as a hideous, frightening, repulsive creature. Of course, in reality, he is frightening and repulsive. But rarely in appearance. That's where we get it wrong. Satan is the seducer, the wily one. He presents himself to us under the guise of charm and seduction. Think of this in the light of a few examples in a child's life: to tempt you not to do your homework, he suggests how much more fun it would be to play; to tempt you, he reminds you of the delicious taste of the chocolates you got at Christmas; when you do something naughty, he tries to persuade you that it's not that bad, it's of no importance, that you were quite right to satisfy your own desire…
There too, we must be careful to avoid any confusion in the child's mind. It must be explained that when we do something bad, the devil and God, both in their own way, one lying, the other true, will tell him, "It's not as bad as that." But the devil will try to convince him, "It's not serious, because it's not bad." At the same time, God will tell him, "That was bad, but if you wish, you can admit what you did was wrong and ask me for forgiveness. And I will forgive you. Whatever you did, my love is stronger."
When we speak of the devil to children, when we respond to their questions about him, don't ever forget to remind them of the One whom God chose to crush the head of Satan underfoot: the Virgin Mary. Let's show children, for example, a Miraculous Medal, where Mary is represented with a serpent under her feet. That serpent is a representation of Satan. In Mary, Satan is vanquished, crushed, because Mary refused to ever listen to him, to ever obey him. From the first instant of her existence, Mary remained without sin. Let us pray to her to keep us from the snares of the Evil One.
Christine Ponsard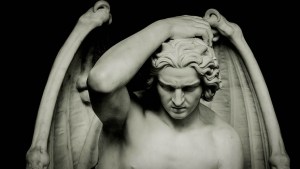 Read more:
This is Satan's greatest weakness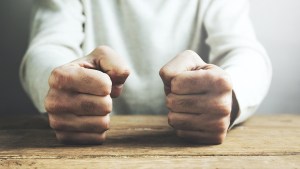 Read more:
How uncontrolled anger can open the door to the devil