It isn't only women who complain of a lack of tenderness.. Here's some advice for a husband to help better understand the woman he loves.
What can God do in your life with one Bible verse a day?
Subscribe to Aleteia's new service and bring Scripture into your morning:
Just one verse each day.
Click to bring God's word to your inbox
"My wife never shows me any affection." I've heard this from husbands who say they have a spouse who seems allergic to demonstrations of tenderness. The husband is all the more puzzled as, to his mind, woman is the embodiment of gentleness, kindness, and affection — all qualities he perhaps particularly admired in his mother.
In writing this, I don't wish to lay blame on wives who aren't the paragons of tenderness their husbands hoped for. I know full well that they're often the first to suffer from a chilliness within themselves that they struggle to change: "What do you want … I can't just turn it on like a tap … it's stronger than me … I can't force myself!"But I also know there's no such thing as a human heart without tenderness. Just because this tenderness isn't displayed doesn't mean it doesn't exist. It's there, slumbering or blocked, ignored or repressed, feared or hidden, but it's very much there. You might almost say the greater it is the more rigidly it's restrained on the outside. It's important to seek the causes of this shutdown, this blockage.
Multiple reasons for this behavior
The first explanation that comes to mind is that the wife doesn't love her husband any more, or even that she never loved him. That may be a plausible explanation in a few cases, but it can also be an easy excuse: "You have to understand … I married him with no great enthusiasm. I was pressured into it by my family and friends. It was a marriage of convenience; I thought love would come over time."
We must also look elsewhere. For example, a lack of tenderness received in childhood. That's a real handicap: how can you give what you've never received? Every child, to minimize their pain, tends to insulate themselves or to play down the importance of the sentiment they can't obtain. And yet, within themselves, there remains this need for a tenderness they've never known, if not a hollowness caused by its absence.
Upbringing can be the cause of this shutdown. There are families in which cuddles are excluded, seen as a sort of childish over-sentimentality. Consciousness of this conditioning could help a woman to take a step back from her past and allow herselfbehavior that until then seemed frivolous.
Tenderness channeled solely to the children may also be the cause of indifference toward a husband. The power of maternal love is strong in some women who think their fragile little ones need a strong affective environment, while their strong adult husband can easily get by without it. As though, to be a good mother, one need not first be a good spouse…
The refusal of tenderness can equally be a refusal of pleasure, out of a fear of sexuality. This is a probable sign of an underestimation of the body—an underestimation that may be the result of a prudish upbringing, or of an event that was a profound affront to their body (abortion, violence, sexual assault, etc.). A talk with a competent person can help untangle and lift these repressed inhibitions.
Finally, there may in the end be a distasteful sense of being nothing more than an object, if the husband systematically conflates tenderness with sex. A woman can end by dreading it. It can be perceived as a "strategic" gesture rather than something freely given. And perhaps there's also the fear of giving the other control over one's body, over one's sensitivities. Or a past lapse on the part of the husband that's never really been forgiven.
There are so many reasons. In any case, once the cause is identified, the work of healing will take time and effort.
What to say, what to do?
For the husband, he can offer disinterested tenderness, freely devoid of sexual demands, a tenderness that is not imposed, that knows how to wait patiently, for it's obvious that all "pestering" in this area can only put a brake on his wife's growth. He can adopt an attitude that, in fact, signals to the other: "You see, I don't want to constrain you in any way. My arms are simply wide open to you whenever you want to come to me for a hug; where you can let yourself go … Because I love you, that's all!"
For the wife, she must make peace with her body, that wonderful gift of the Creator. That body that his Son did not scorn to take on. This is also the occasion to reflect on one's relationship to pleasure, to consider it as fully desired by God. "Spouses, by seeking and enjoying this pleasure, do not do anything wrong. They accept what the Creator has intended for them," said the austere Pope Pius XII.
A woman may need to learn abandonment. A blockage often occurs on that score—a little girl crying inside but doesn't have the humility to abandon herself into the arms of a loving spouse who is the sign of God's tenderness by her side.
Father Denis Sonet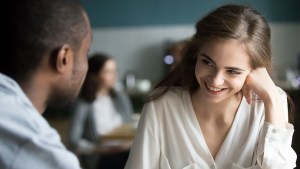 Read more:
10 Commandments for husbands
Read more:
How faith is helping my wife and me get through empty nest syndrome