Checking them from time to time might seem harmless and even amusing, but there are spiritual and psychological effects.
What can God do in your life with one Bible verse a day?
Subscribe to Aleteia's new service and bring Scripture into your morning:
Just one verse each day.
Click to bring God's word to your inbox
Every newspaper and magazine seems to have its own horoscope. Casting an eye over these few lines of predictions is an odd quirk when we don't really take them seriously—or except maybe just a little. Unfortunately, even "good Christians" fall into this trap. If you look closely, you'll see that horoscopes all share certain common features. They all contain a trilogy of topics of interest to everyone: health, work (often reduced to money), and love (often reduced to "encounters"). They have an idolatrous side: happiness and good fortune are dangled before our eyes, as protean in form as the ancient gods. Another common trait is platitudes: vague enough for all of us to recognize ourselves; from time to time with a worrying little detail in order to appear serious and closer to real life, but couched in a reassuring, not to say comforting, optimism. Above all, they're repetitive—after all, the author can't be original 365 days a year (multiplied by the twelve signs of the zodiac spread over three topics, which, counting leap years, would mean coming up with 13,176 predictions!).
But did you know that the Bible is very severe regarding any form of predictions, clairvoyance, or divination? Why is this? Because it's pure paganism.
Mind games or predictions?
We imprison ourselves in a fate already written in the stars, or other such things (tarot cards, tea leaves, crystal balls). This is a sin against faith. It is an offense against the dignity of mankind: our freedom, though conditioned by so many parameters, including—why not?—the cosmic, retains ever novel and unforeseeable capabilities.
It is also a sin against the greatness of God: his grace is even more unforeseeable and capable of changing everything. In the spiritual sense then, astrological prediction is a regression. In the psychological sense, it immobilizes a person in a magical phase, normal in early childhood, but which, in adulthood, becomes unhealthy. From the point of view of simple common sense, it is an absurdity. And if one time or another it proves true, it's through the odds of probability: if I say the weather's going to be nice on September 15, I have a fifty percent chance of being right! Or through the play of subjectivity: subconsciously, I make happen what I think ought to happen. Or, if not—and we can't exclude the possibility—through a diabolical play of spirits, who can manipulate our minds and, perhaps, certain events.
If pushed, we might go so far to admit we "fit" our astrological sign. Perhaps there are common features between an Aries and an Aquarius. Perhaps there may be some influence of "stellar alignments" on our personalities—a little like the influence on us of the region of our birth: New Yorkers or Californians, Southerners or New Englanders, those from the mountains or the plains—we all form more or less identifiable groups. But we must not think of these signs as some sort of absolute. They are no more than a tiny element in the infinite weft and weave of influences that make us all so different. And these influences are nothing but the framework within which, and definitively, we invent ourselves. Through the grace of God.
Father Alain Bandelier
Read more:
Is it possible to read a horoscope "just for fun"?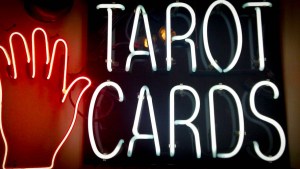 Read more:
Tarot cards: The dark truth behind the popular trend