Both husbands and wives can perceive that their spouse has become distant.
What can God do in your life with one Bible verse a day?
Subscribe to Aleteia's new service and bring Scripture into your morning:
Just one verse each day.
Click to bring God's word to your inbox
If you perceive your spouse has grown distant, be sure to check yourself first, as it could be your own fear of feeling unloved. Some people thirst for tenderness (a feeling often going back to childhood) so much that their partner can't quench it no matter what he or she does. In these situations, a partner might adopt a strategy of acting distant for fear being stifled in the relationship. Of course they still love you, but they avoid contact to protect themselves – and the more distant they seem, the stronger you feel abandoned.
This kind of strategy can actually become a cure if the suffering spouse significantly lowers his or her expectations for affection and attention. If you pay more attention to all that your partner does, instead of only noticing the little things he or she has forgotten, and more importantly if you stop nagging them with requests that only make them withdraw, you may both escape this vicious cycle. Of course, it might be enough for the partner who acts distant to begin paying more attention. Counseling might be in order if either the neediness or the withdrawal is deeply ingrained.
When the "daily grind" settles over the couple
Here's the second possible scenario: a detachment bred by habit. The love is still there, but it's no longer manifested; your partner sees no need to express it. And if you insist, he or she provides the following answer: "You already know that I love you …" The routine has settled in and you no longer see the sparkle from the early days in the eyes of your beloved. You then feel like a person living on "the crumbs of love," a victim of your partner's coldness.
Sometimes, there are natural rhythms in a marriage that affect motivation. Women who have recently given birth. for example, especially for the first time, may be so wrapped up in both the romance and exhaustion of motherhood that their husbands feel left out. Over time, unless this is addressed, the roles could reverse: the detachment turns the tables on them and the wife feels that she has been forgotten and that her husband has become cold.
To escape this kind of numbness, try the good kind of "shock therapy." A romantic weekend for two can help restart the failing communication. Since love is still there, it is possible, and therefore worth asking your partner to make the effort (even if initially they might drag their feet …). And why not see it as a prelude to a second honeymoon?
And what if it's all real?
You might also sense that your partner's feelings are gone – the sparkle of love and admiration in their eyes, the tenderness and physical desire no long there. Of course, this might have happened without there being another person involved, like problems at work, an all-consuming hobby, health problems, or even a sudden spiritual aspiration might have pushed love into the background … or down the drain.
What should you do in such cases? Perhaps, you should invite your spouse to be honest with you: "You know to be in doubt is worse than truth. If you are attracted to another person, you can tell me, I'll try to understand." But it only becomes possible to talk this way when you're ready to assume the shock and hurt from a confession that may be hard to hear.  So, it is easier said than done.
Renewing love on daily basis
A professional can help you to avoid the pitfalls of violent reproaches, complaints and moralizing – or bottling up your feelings, or displaying excessive kindness with an obvious idea of winning the partner back. Only a calm and patient attitude, without resorting to aggression or emotional blackmail, and respecting the inner struggles experienced by the other, has the chance to provoke the admiration that might reignite the dying love.
A spiritual retreat could also turn out to be a salvation for a couple. It can open both of your eyes to the important risk separation represents for the whole family. Also, it can allow you, with the Lord's grace, to rediscover the sense of mutual purpose you declared on your wedding day.
The ideal is for a couple to be vigilant and never let their love turn into a routine, and to act as soon as they perceive that it's losing its momentum. The means are not lacking today — there are creative ways for a couple to constantly cultivate the marvelous but fragile flower that is married love.
Father Denis Sonet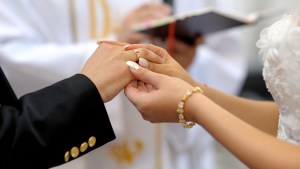 Read more:
The 2 ways a sacramental wedding changes your marriage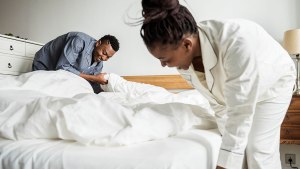 Read more:
Why marriage is inherently "unfair"