Every day we are faced with choices to give in ... but there are some golden rules to remember.
Every day, desires, thoughts, reflexes, and propensities manifest themselves in us and seek to rule us. We try to fight them as best we can, but we don't always manage it. Are we really capable of resisting temptations? Is there some magic recipe to conquer them?
Explosions of anger, outbursts of fierce jealousy, sensual desires, the reflexes of ungovernable selfishness … The list is long of the powers that inhabit the heart of man. In fact, it's so long that the ancients compared these temptations to wild horses. What can stop them? These forces seek to dominate us. We often see the danger they represent and wonder if we can ever manage to master them.
The golden rules to follow
If you discovers manifestations of these temptations within yourself, you must remember that there's nothing unique about it. It's common for all of us, even those who have high expectations of themselves. Every one of the saints was subject to temptation. And they resisted heroically. Self-mastery is the goal of all good education. Someone "well bred" is not so much a person who respects the social conventions he's forced to respect, but who has learned self-mastery. This education starts by admitting that there's no power within us that's stronger than us. Neither our appetites, nor our passions, nor our wants, nor our desires can impose their will upon us—if we don't want them to.
First we must be determined to defend against these attacks, which are insidious because they come from within us. To defend ourselves, we must know ourselves. Everyone isn't vulnerable in the same domains. One person may be more hot-headed, another more sensual, another more sensitive, or quick to hold grudges. He who knows himself well will always be the strongest.
Another rule for self-mastery is to be vigilant. One who is vigilant sees the impulse coming, a wish or desire that will little by little try to impose itself. We must realize that if we give in at the start we will struggle not to give in all the way. The vigilant person sounds the alarm bell right at the start of the attack. If he feels himself falling, he'll create a diversion to fend off the attack. Never tell yourself, "It's stronger than I am; I can't resist." That's not true: those who say that are surrendering too soon. That is the precise moment to gather up your courage and refuse to yield ground.
The power of prayer
This is where prayer plays a determining role. This doesn't mean expecting the Lord to work miraculously within us without our having to do anything—that would be making a mockery of Him and of us—but to learn from His example, from Him who is the true teacher, and to ask his help in this battle, especially when we're at the limit of the bearable. There are some battles that can only be won by the power of God. And did Jesus not command us to ask the Father to deliver us from temptation?
Father Alain Quilici
Read more:
9 Tips to resist the temptation of overeating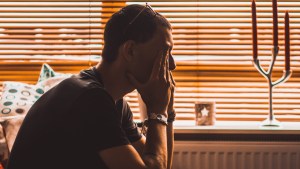 Read more:
Ask God to take away a temptation with this prayer