Some Christians think that yoga can help them grow spiritually. But is it possible to combine yoga and the Christian faith?
What can God do in your life with one Bible verse a day?
Subscribe to Aleteia's new service and bring Scripture into your morning:
Just one verse each day.
Click to bring God's word to your inbox
Eastern meditation techniques are seductive. They offer a powerful way to withdraw from the fickle and changeable  world to recenter ourselves on our interior life—something we all yearn for. I know because I myself practiced these techniques for several years.
It starts out the same as with Christian prayer: there's a desire to break with a superficial, scattered, and disillusioned life and find peace and meaning. In both cases, there's a great desire for the Absolute. But right at the beginning of that interior journey, the routes diverge. In Eastern techniques, it's all about retreating more and more into oneself, through one's own efforts, until a sort of fusion with All is felt. In this practice, there's no room for "the other." You are more and more centered on yourself and you alone. With Christian prayer it is the opposite: the goal is an encounter with the Other, with God who comes to us.
A serious risk for confusion
That's the big difference between a natural mysticism, which relies solely on natural means and leaves us alone with ourselves, and a supernatural mysticism that turns me to a personal God, who offers Himself to me in a dialogue of love. In Eastern techniques,  I am the master of my interior life, while in Christian prayer, it is God. What's more, Eastern techniques aim at the absorption of the "I" into the great All, while a relationship with Christ respects my otherness: Christian prayer is a communion, not a fusion.
Of course, techniques that arise from a natural mysticism—such as Eastern meditation techniques—can lead to very powerful experiences. But that has nothing to do with the supernatural peace of the Holy Spirit. There is a great risk of confusing the serenity born of some breathing exercises or certain postures with the real presence of the Holy Spirit. It's a risk to take seriously for it can lead to a dead end and distance us from the goal of a personal encounter with the living God that reveals Jesus Christ to us.
Father Joseph-Marie Verlinde


Read more:
5 Alternatives to yoga that Catholics can try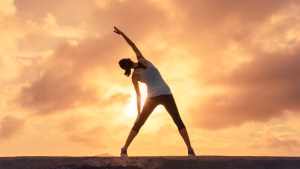 Read more:
How to pray while you exercise