Death can come without warning, leaving no chance to prepare -- how do we help children through it?
There are tragedies that suddenly transform the life of a whole family: a father killed in a car accident, a teenager fallen off a cliff, a child drowned at sea… When the death of a loved one comes suddenly without a warning, the unbearable suffering is always accompanied by a sense of incomprehension.
At such times so many "why's" come flying from the mouths of children. Heartbroken, torn by anger and despair, you might feel unable to respond. Yet, children should feel free to ask their questions and receive honest answers. They won't do so, however, unless they feel you're ready to handle their questions.
Always listen to what the child has to say before giving your answers
You don't need to provide an instant answer to your children. First, you need to carefully listen to what they have to say. This is what children need the most: for you to really hear him or her out, without projecting your own questions onto theirs. However, as we all know, it's very hard to truly listen to someone, especially while we ourselves are suffering and overcome with heartbreak and fear.What's more, at times you might be trying so hard to give the right answer that you become focused on it instead of actually hearing the question.
To listen carefully, people don't just use their ears, but their eyes. The facial expression of a child is as expressive as his words, if not more. Their whole bodies can sense if you are listening to them.
Never give a ready-made answer
As you deal with your children's questions, don't provide them with ready-made solutions; instead, try guiding them so they can find "their own" answer. There is the ultimate Truth, and it should be taught. But an answer that children cannot fully grasp serves no purpose. It's as if you were offering them sustenance they cannot fully digest.
There are brilliant theological treaties on the mystery of redemption, but as you well know, even if you read them to your children, they hold no answer to these agonizing questions. We all need to seek our own answers which will depend on age, nature, and experience.
No matter how hard they are, all of your children's answers deserve an honest answer. The questions of young children may be extremely direct. They go straight to the point and you might feel tempted to avoid them, pretend you did not hear them, to purposefully misinterpret them, or (even worse) answer dishonestly. But only the truth can set us free.
Helping children to find their "personal" answer, means that you choose to accompany them along this journey, and it is never easy.Providing a ready-made answer is not enough and shows the lack of commitment. But seeking an answer that would correspond to each child as they are, presumes that you have listened to them with love and respect. At times we do not dare to face our own children's reaction to hardship, because we ourselves feel terribly lost and vulnerable: "I cannot talk about it right now. I know that I will start crying and I want to look like a strong mother".However, you can be both strong and vulnerable at the same time. It is only once we have accepted our own vulnerability that the Lord can fill us with his strength.
Invoking the Holy Spirit
What children need the most is not so much an ideal parent but an approachable parent who is "meek and humble in heart." The answers to questions in the face of horrible suffering and death can only come to us from the Lord. He alone can make us comprehend this mystery. He alone can give us strength to overcome this unbearable hardship. He alone can fill us with hope of the resurrection in the middle of great suffering. So while you listen to the questions of your children and sooth their pain and suffering, try to repeat: "Come, Holy Spirit, the comforter!"
Christine Ponsard


Read more:
The best way to support a friend whose loved one is dying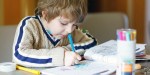 Read more:
The coloring book that helps kids work through grief