There's so much to be busy with at this time of year, but let these powerful words be at the heart of what you do.
Decorating the house and the yard with lights, hunting for presents and baking pies, attending holiday parties, and finding the right Christmas tree … There are so many things you need to do before Christmas. But let us not forget the most important ones.
Love
It is what all people – especially our children – need the most. It's not enough to have a lot of love in your heart – you need to give it away every day. Let us show our children how much we love them. This should not consist in lavishing presents; it is the gift of ourselves. And the most tangible way to do so is to give of your time. The most modest of toys takes on great value in their eyes if you take time to play with them, and the cake tastes so much better if you bake it together.
Generosity
The Magi brought gold, frankincense, and myrrh. What are you going to offer Jesus? What present does He want to receive from you? What Jesus really wants is us. Let us offer ourselves to Him as we are, with all our faults, sins, limitations, and infidelities — but also with all of our wealth, and the wonderful things God has placed in us. Let us give it all to Jesus without separating our worries from our joys, our achievements from our failures, our desire to love from our propensity to betray.
So this offering does not remain an idea, but takes on a very concrete and tangible form, let us encourage our children to choose what they wish to give to Jesus. If they wish, they can write a note, choose a pretty stone or make a star and deposit it under the Christmas tree. And more importantly, they could offer it to the Lord, in the secret of their hearts, at the moment of offertory during the Christmas Mass.
Poverty
No amount of riches obstructed the shepherds from running to the manger and nothing could sway their minds: they simply believed. The mystery of Nativity was revealed to the humble and the meek. What riches may be holding us back, preventing us from freely doing the same?
Let us be concrete. These riches might be a project we're so attached to that we refuse to give it up, or maybe it's a prized possession. The reason why it's important to encourage our children to give one of their toys away for Christmas is not because other children don't have any toys at all — although that's important — but because it's an act of detachment, of stripping oneself of something, on the condition that it is something we still value.
Brotherhood
Jesus came to reveal to us that God is our Father, and that we are all sisters and brothers. What can we do to experience this closeness at Christmas time? Some families have a tradition of sharing the joy of Christmas with neighbors or friends they made in the course of the year. Children can draw their own Christmas cards and deposit them in the mail boxes of all your neighbors on Christmas Eve, or help you bake cookies they can offer to fellow parishioners. In some parishes, people ban together and collect money to distribute hot meals to the less fortunate. Of course, all these small acts of kindness are not enough but they are done with a love that deeply transforms all those who take part in them and those who benefit from them.
"Don't be afraid. I bring you good news that will cause great joy for all the people. Today in the town of David a Savior has been born to you; he is the Messiah, the Lord." (Lk 2:10-11). Let us prepare ourselves for a joyful Christmas by giving all of ourselves to the One who is coming, so He can offer his love to us.
Christine Ponsard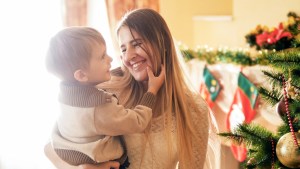 Read more:
6 Saints to introduce to your kids this Advent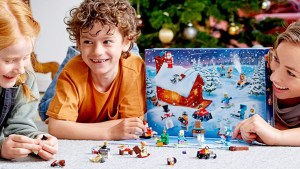 Read more:
12 Fun novelty Advent calendars