Keep this truth in mind when it comes to bearing with difficulties at work.
What can God do in your life with one Bible verse a day?
Subscribe to Aleteia's new service and bring Scripture into your morning:
Just one verse each day.
Click to bring God's word to your inbox
It's a permanent battle trying to keep our lives from fragmenting: finding time for family life, a professional life, a social life, and a spiritual life. The time we spend at work is only well lived when we put our heart into it, in the biblical sense of the word — when we allow the deepest part of ourselves to be transformed by the love of the Trinity.
Take the example of the Holy Family
That most admirable of women whom God chose for his Incarnation was busy working when the Angel Gabriel announced the great news to her. The just and gentle Joseph, descendant of the royal line yet humble manual laborer, then took her into his home at the Lord's request and, through the sweat of his brow, provided for the Child-God and his Mother.
Jesus himself worked, beginning at a young age, learning and then plying the trade of carpentry. We know that Jesus did nothing without praying to his Father. And there's no doubt the Holy Family always integrated their work into their familial relationship with the Father.
"Ora et labora"
When monks adopted ora et labora ("pray and work") as their motto, they in turn expressed this need to make work an occasion of prayer, indeed to make it a prayer. St. John Paul II said that work must be "in the service of man" and not the other way around. As God is the ultimate goal of the human being, this truly means that work, in the service of man, helps to draw us closer to God.
Work: Punishment or sanctification?
At the same time, we know from Genesis that original sin transformed man's mission to take charge of Creation into one that, yes, provides for our subsistence, but through sweat and hard labor. Must we then deduce that there are two parts to work, one noble, in which man can legitimately feel himself as carrying on the divine work, and another part we must just submit to as a consequence of sin? Yet it was into our world marked by original sin that God came to live and to work, at manual labor until he was 30 and then in public ministry for three years. The first work was humble, with its own joys and crosses. The second was more noble, with its resplendent cross and glory.
Our path has since been laid out before us. All of our work is for the glory of God, be it creative, fulfilling, and exciting, or repetitive, whether at school or in the home; be it technical, artistic, or intellectual; be it lucrative or unpaid. It's true we all sometimes feel like crying out to God in complaint, but every task can be carried out for love of God and neighbor.
Yannik Bonnet
Read more:
5 Saints show us how to balance work and family life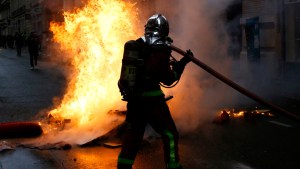 Read more:
11 Patron saints for those in risky jobs