There are ways to protect children without lying.
What can God do in your life with one Bible verse a day?
Subscribe to Aleteia's new service and bring Scripture into your morning:
Just one verse each day.
Click to bring God's word to your inbox
We know that the ends never justify the means. No good intention (for example to help a loved one) can justify lying. Obviously, you cannot lie, even for the sake of protecting your children. When we lie, we are turning away from God.Lies shut our hearts and minds to His light. However, the only actual weapon we dispose of to fight evil, the only effective protection we can offer our children is God Himself.
Being forced to lie because we feel there is no other way is to lack Faith. It is to tell God: "You ask me for the impossible, but I know better what to do." Since it's our duty to tell the truth, let us put our trust in the Holy Spirit who will never fail us.
Telling the truth, wisely
We need to tell the truth, but not necessarily the entire truth. In many cases, we have the right and even the duty to keep our mouths shut. This applies to many situations, not just those that concern painful or sordid realities. It is not dishonest to conceal certain things from children. On the contrary, it's a manifestation of kindness and wisdom. Turning children into confidantes, making them party to secrets that they are not able to handle, is a grave disservice.
It is not always possible to remain silent, especially considering that children may learn the truth, or at least sense it. In some cases, we have no other choice: we need to tell them. Before we begin the discussion, we must be very attentive to the child  in front of us. The more delicate the problem, the more you need to be cautious when discussing it. Often it is better to speak with each child separately, one by one, since each  reacts differently. Even if you have to talk to all of them at the same time, you could approach each of them again, to discuss the situation individually.Remember that a child might feel more comfortable when talking with one parent, instead of both at the same time.
When you tell the truth, simple words are best
In a world where all sorts of aberrations are tolerated and common place, it's more important than ever to give our children a clear point of reference. Parents have to teach their children to know right from wrong. At the same time, we must also teach them to never judge anyone, to refer to all men as sons of God, whom their Father loves deeply, for we never tell the truth if we don't do it with love, or for the sake of love. Only love can heal a child from the wounds that some secrets can inflict. Only God can place the right words into our mouths that would lead our children on the path to Truth.
Christine Ponsard
Read more:
5 Essential parenting skills no one tells you about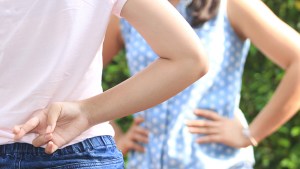 Read more:
The lie we believe about lying