The way we start makes a big difference.
What can God do in your life with one Bible verse a day?
Subscribe to Aleteia's new service and bring Scripture into your morning:
Just one verse each day.
Click to bring God's word to your inbox
When we spent our vacations at grandma's, she always began the evening prayer with the following ceremonial formula: "Let us place ourselves in the presence of the Lord and let us adore Him!" When I think back on it, I find it old-fashioned, and at the same time so perfect. Too often, we embark on a prayer without pushing the "contact" button. Words follow one another without necessarily being addressed to anyone in particular.
The word that begins the prayer is the most important
"One day Jesus was in prayer in a certain place. When he finished, one of his disciples said to him, "Lord teach us how to pray, just as John (the Baptist) taught his disciples'. He said to them, 'When you pray say: Father, hallowed be your name, your kingdom come," (Lk 11:1-2).
The first word matters. We don't begin by saying something; we begin by invoking Someone.
The Venerable Marie-Eugène de l'Enfant-Jésus, told the following story about a humble Carmelite nun who attempted to justify her lack of talent for saying prayers: "My Father, I know not how to pray well! When I start by saying 'Our Father', I find it so beautiful that I am incapable of reciting the rest".
How right she was! Both in the hesitant prayer of a novice and in the height of a mystical experience, a worshipper will always be a servant raising his eyes to see his Lord, a child turning her heart to the Father, a disciple sitting at the feet of his Master.
A simple "hello" to begin 
According to the accounts in the Gospels, Jesus Himself always began his prayer by invoking the name "Father", "I, praise you Father, Lord of heaven and earth" (Mtt 11:25); "Father, the hour has come. Glorify your Son" (Jn 17:1); "Father, forgive them" (Lk 23:34); "Father, if you are willing, take this cup from me" (Lk 22:42).
In a similar fashion, when Archangel Gabriel addressed Virgin Mary on behalf of God, he did not start by revealing the great mystery or by asking for her consent; his first words were a greeting: "Hail, oh highly favored one, the Lord is with you." (Lk 1:28)
We can't pray without first putting ourselves in a state of prayer, that is placing ourselves in the presence of the Lord. An old priest used to constantly repeat this to us: "Let us be present in the Presence". Starting both individual prayer and liturgical celebrations with a sign of a cross and a "hello" to the Lord, is neither an old-fashioned nor a trivial tradition. Prayer can only exist in the presence of God. God is there. Even before I turn to address him, He turns to address me.
Father Alain Bandelier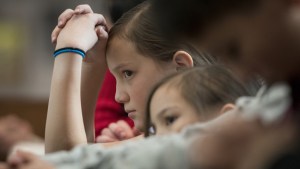 Read more:
Simple techniques to introduce children to prayer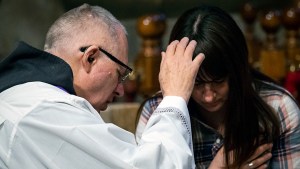 Read more:
Afraid of going to confession? Pray this prayer for courage