The everyday ways you mark time, growth, are essential to a healthy, vibrant family life.
What can God do in your life with one Bible verse a day?
Subscribe to Aleteia's new service and bring Scripture into your morning:
Just one verse each day.
Click to bring God's word to your inbox
Rituals give daily life its flavor. And that's their primary function, to give meaning and variety to the daily grind of life. Think about the Lord's Day on Sunday … There are many little ways to set it apart from other days. For example, sitting down to a hot breakfast together, lighting a candle at mealtime, or perhaps watching a movie together as a family. Another function of rituals is to forge a family identity, to make it distinct from all others. Experienced in an atmosphere of joy, they foster peace and fulfillment.
Rituals that enliven the passage of daily life
To liven up daily life, don't complicate things! Keep it simple and use those everyday moments: mealtimes, the school commute, vacations … All of those moments are occasions to reinforce our bonds of love, to bring added warmth and joy, to add pleasure to life.
Daily life is revitalized through love — family love, of course, but also the love of God. So take advantage of the humblest moments like when starting the car to take your kids to school, chant the Hail Mary with your children, or when walking the dog before dinner, say a pray together.
Little springboards from one stage of life to another
At certain times in life, rituals are more important than ever, particularly when we're young. Isn't one of the greatest pleasures of a young couple to invent their own rituals drawn from their respective family traditions?
A couple named Ben and Marie (Marie's mother is French) always have croissants and jam for Sunday breakfast and, on vacation, they play board games, like Ben's family does. Their teenagers invent their own rituals in turn: after a summer vacation on their own, the three children gather at the end of August with their parents for dinner in a restaurant where one tells all about summer camp, another about her internship in Africa, and the third his sports achievements.
When challenging times come, such a widowhood followed by remarriage, these kinds of traditions allow us to build a new family circle, especially when there are children on both sides who have grown up used to different little rituals.
Rites of passage not to be neglected
Next to these rituals that unite and bolster cohesion, there are other rites of passage that mark the passage of different stages in life and its great events — baptism, marriage, funeral rites, etc). The Church, an "expert in humanity," takes them very seriously. It offers rituals–too often misunderstood–that are both personally grounding and spiritually full of meaning.
But more mundane stages of life also deserve to be marked. Take losing a tooth, or getting a driver's license, or moving from elementary school to middle school. Little rituals that accompany these kinds of rites of passage convey support and love, and help place meaning on a person's growth and accomplishments.
Rituals that help us to grow spiritually
Who hasn't known the reassuring experience of bedtime rituals that ensure a peaceful passage to sleep? Brushing our teeth, bedtime stories, prayers, cuddles, goodnight kisses — these acts calm and settle. Periodically, these family rituals should be revisited to avoid becoming formulaic and boring. An adolescent's reticence may be the sign that it's time to take a fresh look. It might be a good idea to let them take the initiative to put their own mark on this family ritual.
The same goes, and even more importantly, for family prayer. If it normally takes the form of a "thank you," "forgive me," a "Lord, please bless …," or a Hail Mary and an Our Father, on particularly tiring days, a simple "Jesus, I love you" or a thoughtful sign of the cross may do. The form it takes can also vary according to the child's age. A kiss before a statue or an icon is a simple enough gesture for a little one. Later on, there may be gestured Gospel stories, then singing, either of which can be accompanied on their musical instrument, or perhaps a time of silence together, to say nothing of all the variations appropriate to the liturgical season.
It's all a question of helping children acquire that solid grounding they'll keep all throughout life, that personal faith they will carry with them. We can rise to the challenge by giving our daily routines a new dimension: that of life with Christ.
Jean-Claude and Yolande Bésida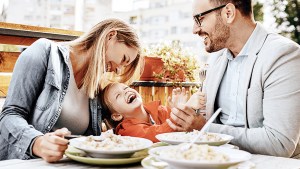 Read more:
This simple ritual will make family dinner the highlight of your day
Read more:
5 Spiritual lessons I've learned as the dad of a large family