Use this analogy of captaining a ship to help make a wise decision.
What can God do in your life with one Bible verse a day?
Subscribe to Aleteia's new service and bring Scripture into your morning:
Just one verse each day.
Click to bring God's word to your inbox
In our "interior human resource management," the head must take command of the whole. The head is the captain of the ship. And any good captain begins by consulting his subordinates. Making a decision all on one's own is the act of a poor leader. But it's also a poor leader who allows his subordinates to do whatever they like.
What does my body say?
A captain begins by consulting his deputy in charge of physical affairs: his role is fundamental, but he doesn't have the big picture. He must therefore be submit to others; if not, the ship can run aground or sink leaving all on board powerless to act. This deputy is the body. What does my body tell me when I'm in the presence of this other person? Is it content, or not? We must be attentive to its reactions. While we won't just hand over the rudder to it, we must still listen to what it tells us. Since marriage is a spiritual adventure that takes flesh, the body's opinion is of capital importance. If the body is happy (I'm attracted to him/her, I'm happy and at ease when I'm with him/her), only then can you move on to the next stage. If not, beware!
What does my heart say?
The captain must then consult the deputy in charge of sentimental affairs. This deputy is the heart. Its opinion is no less essential. It would be a serious error not to take it into account, for it will determine the deciding factor: do I love him/her? Just as we mustn't let the heart decide on its own — for it has a great tendency to euphoria as well as blindness — neither can we do anything without it. We can't commit ourselves to someone for life unless we love them. Everyone knows that. And for the heart to be able to weigh things and usefully inform the head, it must be prudent.
In order not to draw the wrong conclusions from what the heart tells us, we must first know ourselves. The eternal romantic won't react in the same way as the perpetually reticent. He who, for the moment, has more need of his mommy than a wife won't react in the same way as he who seeks solitude and avoids company. She who blushes at the slightest wink won't react the same as she who falls in love every other day. There's a whole education of the heart to be done and it can't be done on one's own. But if the heart says yes, you can move on to the next step. But nothing's decided yet!
What does my head say?
There's still one more test to pass, and that's the role of the head. Man is a creature endowed with reason, capable of understanding, of discerning what is good or bad for himself in the light of what experience, the Gospel, and prudence tells him. A reasonable man can see that everything doesn't always necessarily work out for the best. He will see around him a certain number of family disasters and won't want the same fate. He'll do his best to increase the odds in his favor. And that's possible!
Before committing yourself, you must ask some serious questions and not turn a deaf ear if you don't like the answers. There isn't room here to provide a detailed list of all the possible questions to be asked — everyone will have their own list — but here are one or two examples..
It is highly unwise to commit oneself in marriage without knowing someone's religious convictions. I personally know many couples who've never discussed the question, neither before nor during their engagement. But we know that above all marriage is a spiritual adventure. It only stands the test of time if it's rooted in religious convictions and supported by rites expressed in a common language. Its goal must have as its starting point the principles of everyday life. And for us, it is Christ, He whom John the Baptist called "the bridegroom," who ensures the solidity of the marriage bond. Without Him, nothing holds. If there's any divergence so great that it risks becoming insurmountable, the head must weigh whether it's really prudent to commit oneself for life. It's better to put a halt to things. Even if that's painful, it's better to break things off now rather than commit yourself to foreseeable arguments, leading to an even more painful separation in the long-run.
There's no shame in being reasonable
And then there's the question of social and cultural background. Here, too, experience shows that it's unwise to commit oneself without having asked these questions. It's true there are several possible responses, but not to talk about it would be to invite sufferings that could have been foreseen. When two people from widely varying cultural backgrounds join together, which one of the two will impose their mark on the couple? And how will the other fit in with that? At the beginning, everyone always says that love will conquer all — they just respect one another. If it were that simple, there wouldn't be so many novels written about it.
So there are a number of objective criteria to consider. That's the role of reason. It's the head that will ask: Is it really reasonable to commit myself in marriage to this person given what my body feels, what my heart tells me, what I observe about their behavior, character, situation, language; their attitude towards money, family bonds, vision of the future, desire for children, religious convictions, etc.?
If the candidate passes all of these tests and you're still ready to give your consent, before saying the great "I do," there's still one last but indispensable question to ask: Is the feeling reciprocal? Because it takes two to make a marriage … and both must come to the same conclusion. If that's the case, then your problem is solved: it's him, it's her, it's us. Don't imagine that what's laid out here is just an exercise in administrative box-ticking. It's all both simpler and more complicated than that. But if you put your trust in the Lord, and in true friends, all will be well. As long as your ship is well-managed, with a captain in charge and deputies who play their roles, reason will guide the ship safely to shore!
Brother Alain Quilici
Read more:
We want to wait until marriage, but should we do anything to prepare for sex?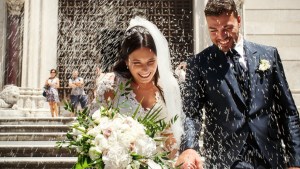 Read more:
After 10 years of marriage, here's 5 things I want newlyweds to know