Our relationship with God is both about intimacy and otherness at the same time.
What can God do in your life with one Bible verse a day?
Subscribe to Aleteia's new service and bring Scripture into your morning:
Just one verse each day.
Click to bring God's word to your inbox
How far we are from God, even when He's so close! We affirm His presence, His faithfulness, His nearness—and we're right. But at the same time we must recognize the distance that separates us from Him. The gap is infinite, and two-fold. Firstly, there's an ontological distance: our condition as creatures.
Pope Benedict XVI taught his young German students in Cologne two words that speak of adoration: the Latin adoratio evokes the sending of a kiss, which the Holy Father didn't hesitate to understand as a gesture of communion. In Greek, however, proskynesis evokes prosternation, in which man recognizes his littleness before the Infinite. Moses had to remove his sandals before the burning bush (Ex 3:5); Isaiah had to purify his lips with fire (Is 6:5-7); and the Apostle Paul fell to his knees before the Mystery (Eph 3:14).
Why has it become so difficult and so rare to pray on our knees, or to make a simple genuflection (nowadays replaced by a vague kind of nod, a pale imitation of the Greek Orthodox metanoia or Eastern salutations)? Are we such hostages to the culture of the self-made man, of people who owe nothing to anyone? Or of the ambient secularism which expunges all signs of transcendence?
When our sin distances us from God
A relationship with God is both about intimacy and otherness at the same time. The two don't contradict each other but are, rather, mutually reinforcing. And that's what is so overwhelming, first for Mary, and then for us: that the Highest of the High should look down with favor on the very low, on his "lowly servant," as she said.
A second distance digs even deeper into the first until it becomes a veritable abyss: that is our sin — the closure of our hearts, a willing separation. Recall Peter's reaction at the time of the miraculous catch of fish: "Depart from me, for I am a sinful man, O Lord" (Lk 5:8). Here again, let's not be too quick to tell ourselves that mercy will bridge the gap. While that's true, at the same time it only underscores the fact that sin is intolerable, precisely because it wounds pure love, the infinite mercy. What an injustice! Again, justice and mercy aren't contradictory, but mutually confirm each other. Have you ever noticed the disturbing evidence: In the history of Church, who was it then that painfully wept over their sins, who has been the most horrified by the slightest infidelity? Answer: the saints!
Let's ask the Lord's forgiveness each evening
We can't enter into the presence of God without passing through a purification, a purgatory in the here and now. For, it's true, no one lukewarm can approach the burning bush of Love. The authenticity of our relationship to God and so of the authenticity of our prayer is at stake. Because of us, we cry out, "Kyrie, eleison!" Because of Him we cry out, "Gloria in excelsis!" These are the two "notes" that open the Sunday liturgy (though some leave out one or the other without realizing how it destroys the whole spiritual balance).
But be careful: contrary to what we often think, there's nothing bitter in a Christian's confession of sin. It's not sad! Or, rather, if there is a sadness for sin, it's those tears of repentance that become tears of joy. For such is the effect of the wonder of merciful Love: the wound we inflict on Him is also the source of our healing.
So, each evening, it's good to remember the wonders that lit up our day (Alleluia!), and then take a moment to recognize the infidelities, great and small, which darkened it (Forgive me, O Lord!). You'll find that this is a path to conversion. And, at your next confession, you'll really have something to say!
Father Alain Bandelier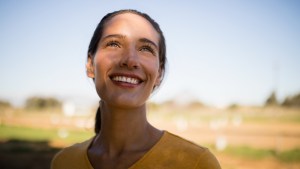 Read more:
Put this one thing at the heart of your prayer
Read more:
A tough day at work? Don't crack, recite this prayer instead