It's common in adolescence to struggle with emotional outbursts. Here are a couple of strategies.
What can God do in your life with one Bible verse a day?
Subscribe to Aleteia's new service and bring Scripture into your morning:
Just one verse each day.
Click to bring God's word to your inbox
Hormones, the passage to adulthood, anxieties, feelings of powerlessness, parental relationships, issues at school … any and all of these things can make things tough for teens, so much so that sometimes you want to take it out on your little brother with your fists. Anger is an important emotion, but it mustn't turn into violence. The expression of powerlessness, of pain, frustration, confusion, or guilt indicates that your needs or those of others aren't being met. They are sometimes the sign that you've been treated unfairly (or perhaps that you've treated someone else unfairly). Above all, they tell you that you need to do something to remedy this painful situation.
Anger can ruin beautiful relationships
You must find the right way to express your anger; otherwise it can do damage. If you constantly hold it in, watch out — it can cause stomach pain or intolerable headaches. Damning words, a vicious kick … Such volcanic eruptions of anger can destroy a friendship or damage a relationship with someone you really care about.
While it's normal to get angry from time to time, it's important to understand the reasons for your behavior. Take the time to recognize what it is that irritates you, be aware of the way you try to control yourself, and learn how to express your annoyance in a constructive way: this will save a great deal of frustration and grief—for yourself and for those around you.
To manage your anger, look to the saints
Think about the way you normally deal with your anger and its consequences. Are you happy with yourself after throwing a tantrum? Do you think you might feel better or make more of an impact if you dealt with your anger differently? Maintaining self-control can be a real challenge. Talking to an adult you trust about how you're feeling can be a great help.
Practicing sports or the arts is highly recommended to moderate those mood swings that are so common in adolescence … and can persist in later life. There are non-violent ways of expressing one's anger: locking yourself in your room, pounding your pillow with your fists, twisting up a towel, crying, talking, writing … But there are also the saints and the example of those who have gone before us. Great saints, like Jerome—passionate and by nature fiery and uncompromising—were very hot-tempered. Before choosing a life that led to holiness, St. Louis was subject to frequent outbursts of anger, as one illustrious friend attests. And yet, they were eventually canonized. Ask the intercession of the saints who struggled with emotions and hardships and they will come to your aid.
Cyril Lepeigneux
Read more:
9 Tips to better manage anger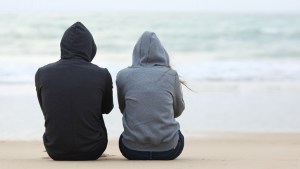 Read more:
4 Ways to help teens struggling with depression