Here's what you need to do to reach that "new world" and enter into contemplation.
What can God do in your life with one Bible verse a day?
Subscribe to Aleteia's new service and bring Scripture into your morning:
Just one verse each day.
Click to bring God's word to your inbox
For many, contemplation is an unexplored world, perhaps sensed, sometimes glimpsed, but often more of a "great beyond" that too often awakens fear more than desire. We've heard it spoken of but never imagine ourselves going there ourselves. We admire the witness of the mystics: the great classics (such as St. Teresa of Avila or St. John of the Cross), as well the more prosaic and down-to-earth (St. Padré Pio or Marthe Robin). But we hardly seek to imitate them. And, it's true, they are inimitable, for the story of a soul is always original. No two paths are ever identical. Each of us has our own path to follow. But here's the problem: too many Christians of good will stop midway though the journey.
Remain in Christ as Christ remains in us
I like to compare everyday prayer to a procession on a church square. It's beautiful and necessary. But will we cross that threshold? Will we dare enter into that Holy of Holies? Our prayer gravitates around the mystery. It approaches it while at the same time dodging it. Will we take the next step? Will we, like Moses, venture into the cloud of shadow and light? Like Elijah, will we dare enter into the silence of the Presence? That is the moment when words fall silent, when the flow of thoughts ceases, when the soul is at rest and in silence "like a child quieted at its mother's breast" (Ps 131:2).
One word says it all — a word repeated 39 times in the Gospel of John. That word, variously translated, is "remain," "abide," "dwell," or "live in." "If a man loves me, he will remain in my word, and my Father will love him, and we will come to him and make our home with him" (Jn 14:23). "Remain in me, as I remain in you" (Jn 15:9). "Remain in my love" (Jn 15:9). "I live, no longer I, but Christ lives in me" (Gal 2:20). The reverse is equally true: I learn to dwell in Him "Be of the same mind, with the same love, united in heart, thinking one thing" (Ph 2:2).
To contemplate is to become
But be careful: this convergence verging on the coincidental is not fusional in nature. Fusion is confusion. True mysticism is of the order of communion. That's not the same thing. That's what distinguishes Christian meditation from fashionable "New Age" meditation. A typical aspect of the latter is the attempt to overcome "otherness" — considered an inferior (dualist) state of consciousness. At times, it is the "I" that must dissolve into the Whole (as salt dissolves in the ocean); at other times it's the divinity that must identify itself with the profound "me." In either case, prayer becomes no longer a heart to heart exchange; dialogue becomes soliloquy. It's a pathway leading nowhere and to no one.
Contrary to what we often think, it's not by emptying ourselves that we enter into profound prayer; it's more by filling up the tank.
Mary "kept all these things in her heart," a perfect image of the Church at prayer. Let's do as she does. Let's keep in our hearts one feature of the face of the Lord, one of his words, one of his mysteries, and dwell a good moment in his presence, whether through our habitual contemplation through faithful, labored, or even painful clinging to the Lord, or through an internalized contemplation, allowing ourselves to be carried away by his holy presence. In that moment, in the secret of your heart, the Spirit acts. And we become a new person!
Fr. Alain Bandelier
Read more:
7 Things that can improve your prayer life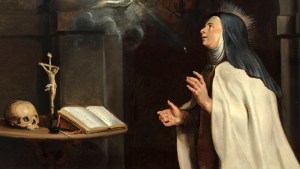 Read more:
What is a Christian mystic?