We live surrounded by constant noise, but our children need silence to grow in their life with God.
Need an idea for Lenten almsgiving?
Help us spread faith on the internet. Would you consider donating just $10, so we can continue creating free, uplifting content?
Make a Lenten donation here
Pinging cellphones, radio, television, music, children shouting … We live surrounded by constant noise. But when this noise disrupts our daily life to the point of keeping us from communicating with each other, and above all with God, we must dare to call a halt and make a place for silence in the heart of our families.
The family atmosphere must foster silence. The way we speak, the way we address others, begins with the way we address our children. Yelling and screaming doesn't promote silence, and "exciting the nerves" only leads to more yelling. If we start shouting to tell our children "stop shouting!" it's not likely to get the desired result! Children imitate us. One teacher explained that, when he was trying to establish silence in the classroom, he would speak in a very soft voice. The students were forced to keep quiet and be truly attentive in order to hear him. That's certainly easier said than done, for it requires a strong dose of patience.
This silence that children need
Many children are in the habit of living with perpetual background noise: television always on, or earphones forever screwed into their ears. That's clearly not good from any point of view, and especially not when it comes to developing a prayer life.
First, noise is an assault on the body. Then, a child gets in the habit of hearing, without listening to, a myriad of messages (rarely constructive and not always benign) that clutter up the memory, disturb the mind, and cloud the judgment. The child, like the adult, needs a minimum of silence, and even of solitude, in order to gather himself, to be himself, to "make of his life a conversation with God."
In music, it is the silences that set off the notes to advantage. In the same way, in life it's those moments of silence that give weight to our words and actions. It then becomes possible to be continually attentive to the divine Presence, even amid racket and busyness. "The more your works are born in silence, the more lively and life-giving they become" (Dom Augustin Guillerand).
The silence a child needs also applies to his private life. He has the right not to tell you everything, he has the right not to hear his confidences repeated. Of course, daddy has the right to know what he tells mommy, but not necessarily his big brother or his grandma. A secret is a secret, a confidence deserves respect, even when it comes from a child. In that secret place, "a well closed garden, a sealed fountain," the child experiences an intimacy with God. It's important.
Christine Ponsard
Read more:
3 Reasons to recover silence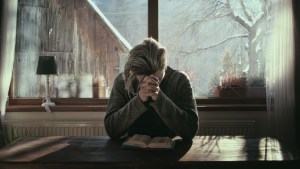 Read more:
How to adore God in the silence of your home