There are times and places for giving advice to parents. Here's how to be helpful and preserve relationships.
What can God do in your life with one Bible verse a day?
Subscribe to Aleteia's new service and bring Scripture into your morning:
Just one verse each day.
Click to bring God's word to your inbox
How lucky it is for grandchildren to be able to see their grandparents on regular basis! But many grandparents and grandchildren don't have that opportunity, perhaps because they live far away from each other or because the children's parents don't prioritize it. While there can be challenges to have grandparents play a big role in the nuclear family's life, there are also benefits. Grandparents can be a big help in both practical and emotional ways, and they can do special things with children that parents often can't do.
Given how invested grandparents are in the welfare of their grandchildren, it's hard for them to stop themselves from wondering what is the best way to raise and educate them. Depending on the quality of the relationship the grandparents have with the parents, this can be communicated in a spirit of care and support.
Avoid the small remarks that might poison the relationship
If the relationship between the grandparents and the parents is a good one and the parents ask for help or input, it is possible to for them to share advice on raising children. Naturally, this should be done without passing judgment and even with a bit of humor.Such advice would not be seen as intrusive if from the very start of their children's married life the future grandparents made it clear they intend to stay out of the newlyweds' life. In such cases, children often feel respected and ask for advice of their own accord.
But if the relationship is riddled with problems, the most insignificant remark can be received with hostility and serves nothing. It would only be possible to give an advice if grandparents have been explicitly asked for it or in exceptional situation (such as physical or moral danger for the grandchildren). Whatever the case, it is vital to abstain from even potentially hurtful remarks poisoning the relationship, such as "Your children don't know how to behave!" or "You let your children get away with everything and then wonder why they don't listen?" This doesn't help the relationship and makes parents far less inclined to involve grandparents in any decisions.
Mention positive aspects of education
At the same time, positive aspects of child-rearing and education can be mentioned since in the majority of cases, even if grandparents made mistakes (and who doesn't?), parents generally pass on the same values to their children as those they themselves received. This is particularly important in matters of faith. If grandchildren have not been baptized, or have not been raised with Christian values, it is important to respect parents' choices all the while discussing this subject with them.
It is vital to learn how to be patient and to avoid acting like "a bull in a china shop," as well as to never forget that the life of a grandparent, if it is lived with joy, is a much better example to their grandchildren than any grand speeches.
Showing an example or righteous and happy life
Grandparents have an important role to play in the development and growth of their grandchildren so they need to be careful about criticizing the behavior of parents. However, they should be able to justify or explain the attitude of parents, especially if their grandchild has chosen them as his or her confidants.
On the other hand, when grandchildren visit their grandparents, the latter should require them to conform to their rules (without them being perceived as contradicting the rules that children receive at home).
It is not the role of grandparents to correct how their grandchildren are raised at home. But by providing examples of an upright Christian life, they can always help the parents to provide a good upbringing, which requires so much skill, attention, and love in a world that gives us so little of it.
Denis Sonet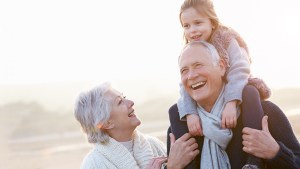 Read more:
Scientists reveal the perfect way to help grandparents live longer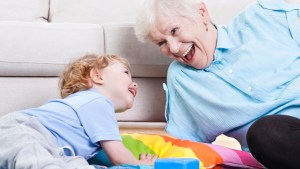 Read more:
Babysitting can decrease grandparents' risk of dementia