Many give up on prayer when it gets tough or seems fruitless, but remember this ...
What can God do in your life with one Bible verse a day?
Subscribe to Aleteia's new service and bring Scripture into your morning:
Just one verse each day.
Click to bring God's word to your inbox
Joy is a Christian sentiment, because together with serenity it is the fruit of Charity. The one who lives of God and with God, who is sustained by the Eucharist and forgiveness, and who lives this out in loving others as Jesus loves is joyful. But that joy is not always accompanied by pleasure. Pleasure is a sensual expression of emotional joy. Joy is the culmination of spiritual joy, but we expect to be able to take pleasure in all that is good. When the time for trials and tribulations with its temptations is upon us, the pleasure can loose its intensity or vanish all together. This is also sometimes the case with praying.
A diabolical trap
It could be that in the past, prayer came easily to us, elevated and supported us. But now praying has become difficult and no longer seems to "offer us anything." If we suppose to have lost the joy of being Christian, we are incorrect. We have simply confused sensual pleasure with spiritual joy. If we stop praying until the pleasure returns, what would that look like?
We can discover this among those who take their life of prayer seriously, as well as among those who have taken the vows to not pray when they don't want to. Behind the frequent justification, "It's this generation, we are weak," there lies the temptation of acedia, which has existed in all ages. Acedia (sloth) is a voluntary state of listlessness. It is cultivated and therefore a sin. It is directed against the need to pray. Acedia is a temptation for spiritual people.
Prayer is a moment when the soul encounters God, who is always there. Should we only rejoin Him when we want to? Not only is that fantastically impolite, but more importantly, it is wrong: God alone can procure us joy, at the moment when we need it the most.
Brother Thierry-Dominique Humbrech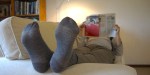 Read more:
Simple remedies that combat a slothful spirit


Read more:
A prayer for when you can't pray, by St. Anselm of Canterbury