This meditation method has long been used by Benedictine monks as a unique way of listening to the voice of the Holy Spirit.
What can God do in your life with one Bible verse a day?
Subscribe to Aleteia's new service and bring Scripture into your morning:
Just one verse each day.
Click to bring God's word to your inbox
One of the purposes of Lectio Divina is to expand our communion with God through the Scriptures. It is more than just reading the Scriptures – it is listening and communing with God through His Word.. It is not an overly intellectual study, but requires intelligence. It involves faith, so that the dialogue between us and God can be established and sustained.
Where to begin?
If you are a novice, you should begin by reading the New Testament, especially the Gospels. You can choose a passage from a weekday or a Sunday Gospel, or read the whole contents of one book. If you have more experience, you can choose a theme. For example, look for what Jesus had to say about baptism or observe Him throughout the various meals he took with his disciples. It is possible to compare and confront different passages from the Old and the New Testaments.
It might be helpful to always use the same Bible so you grow in familiarity with it. The bookmarks will allow you to note down your favorite passages, which you like to reread.
Finally, before you start, it is good to remind yourself that Lectio Divina is personal, but not individual – it is done with the whole Church and is steeped in its Tradition.
How to practice Lectio Divina?
Despite various methods, the process remains the same. Guigo II saw four successive stages, like the rungs of a ladder between Heaven and Earth, which a man ascends or descends: read, meditate, pray, and contemplate.
1. Invoking the Holy Spirit
Jesus promised us the Holy Spirit. Our cooperation with Him consists in our reading, but it is the Holy Spirit Who transforms the Scriptures into the living word. We can call on Him by praying:: "Come Holy Spirit, Father of the meek, open and enlighten my heart and my mind!" According to St. Jerome, "Opening the book of Scriptures and reading from it is like tightening the sails of the Holy Spirit while not focusing on which shore we will set foot."
2. Reading without haste
Read the chosen text as if it was for the first time, simply and with humility, making an abstraction from all you might know, from all that you might have read or heard in terms of commentaries. If you cannot do it, read a selected passage out loud or slowly recopy it.
3. Be interested in the context
What were the events that preceded this passage? Where did the incident take place? Was Jesus together with one person, or was he accompanied by his disciples or the multitudes? When did the incident take place? What time of the year was it? Did the incident take during a religious feast? If yes, which one? What was its significance in Israel?
You should also note the historical contexts, the objects involved in the incident, etc. For example: the six jars that figure at the marriage in Cana (Jn 2: 1-11) could contain 80 -120 liters each; these are not modest jugs! Or, take the incident when Jesus meets the Samaritan woman at the well (Jn 4: 1-42), such a structure in a hot land is an object of opulence that served as a gathering point, but carrying water was an arduous task, etc.
Finally, you should not be too quick to stick theological interpretations on a text and minimize its literary value. For example, when Jesus speaks of "a spring of water welling up to eternal life"(Jn 4:14). You should linger on: what is the source of water, and what about the living water? Is this water vital?
4. Be interested in words, gestures and silences
You should not just ponder the words, but also the gestures and the silence of characters, to begin with Jesus himself. Whom were they destined for? How did they make the characters feel?Let yourself be bewildered by the scandalous or contradictory statements and gestures, for example: "If someone slaps you on one cheek, turn to them another also" (Lk 6:29); or by a shepherd leaving 99 sheep to look for one (Lk 15:4-7). So, you could experience a familiar passage in new light!
5. Meditate and contemplate like the Virgin Mary
"Mary treasured up all these things and pondered them in her heart" (Lk 2:19). You should reread the text in the light of the Word, for all Jesus did and said is a revelation of the sacrifice of his person and that of the Father and the Holy Spirit. You should try to meditate on the Trinity discovered through this text.
And you should also reflect on what this text elucidates about you, your life, and your relationship to God. What is God telling you today? Because you have encountered God in the Scriptures, you will end up by behaving according to His word that has shaped you.
6. Say a prayer at the end
Dom Chautard referred to Lectio as "the provider of oration." In the end you can invoke the Holy Spirit and utter a prayer of adoration or supplication, and the act of grace they inspire.
7. Keep the Word in your heart
Lectio Divina reminds us of the words of God in "rumination," in a murmur of the heart: "Anyone who loves me will follow my teaching; my Father will love them, and we will come to them and make our home with them" (Jn 14:23). Writing down a passage, words that speak to you, can help you learn them by heart.You can also slowly recopy them and share them with someone (without comments).
You should not be discouraged by the apparent austerity or futility of Lectio.Dare to stay with a question, with two statements that contradict each other, with unsettling words. Try to repeat them again and again in your heart. The main point is to spend time with Jesus. Your prayer then will be sustained by the hope that has been engraved by the Word of God.
Marie-Christine Lafon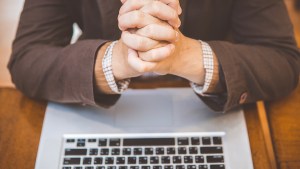 Read more:
Say a prayer before logging on to the internet
Read more:
Make your heart a furnace of love with this prayer