The real question is not how to find more time.
What can God do in your life with one Bible verse a day?
Subscribe to Aleteia's new service and bring Scripture into your morning:
Just one verse each day.
Click to bring God's word to your inbox
When it comes to prayer, audacity and endurance pay off. This is what the Scriptures teach us from Abraham pleading for Sodom (Gn 18) to the parable on the Importunate Neighbor (Lk 11:5-8).Boldness and tenacity are somehow a guarantee of success. Hence, praying begins with the cardinal virtue of fortitude.
Let our desire to pray never be extinguished
As the text of the liturgy leads us to see, we do not merely recite the Our Father. We dare to say (with a shiver), audemus dicere, the words "Our Father." If you think about it, it is an act of audacity, when we presume that we can dare to knock on the Gates of Eternity and beg for whatever we need. We would have never dared to do this, had the Lord himself not made us courageous enough through his teaching!
Let us not fear awakening the one who never slumbers (Ps 121), for the Father is always at work (Jn 5:17). Let us not be afraid to knock on God's door, to fling our poor stony hearts at the Gate as if to engrave the Heavens with our requests. Let us joyfully pester Providence, for we have learned that our desire to receive shall always be infinitely smaller than his desire to give.
Here is the secret to continuous prayer – desire. St. Augustine used to say "Your prayer is your desire." When does prayer cease? Not when tongues fall silent, but when desire is no longer there.
Hence, the real question is how much do we want to pray?
The Lord provides us an example to teach us how to be in continuous prayer without ever tiring of it – a persistent widow who during the whole night was knocking on the door of an unjust judge (Lk 18 1-8). What desire moved this woman? What sense of outrage made her so obstinate? She stubbornly kept up her fight until sunrise. People never let go easily when their loved ones are involved. Do we await God with the same sense of urgency as this poor widow? Have we allowed the flame in our hearts to go cold?
Never be discouraged
Actually, a Christian prays as he breathes — constantly. It would seem that as busy as breathing keeps us (a constant requirement), we could do nothing else. What is, in fact, certain is that we can do nothing without breathing.
Have I been rendered breathless by the preoccupations of this world? Let me take the time to pray, to take a big gulp of healing fresh air. There is no point in constant agitation. A Christian must stop and stand still before the entrance to the tabernacle, humble, peaceful and hopeful. Let him not do as a little child who, having lost sight of his mother on the street, begins to run without direction or reason instead of stopping to wait for her to find him. He has not learned the paradox: The longer the child waits, the quicker his mother will find him! One only needs to wait and call her.
Does this child believe he is all alone, seeking in the darkness? Does he put so little faith in his mother? Does he not realize that she is the one more worried of the two? That she will go the longer stretch in order to find him?
It is the same with the Lord. Do we put so little faith in Him? Don't we realize that He is more impatient than we are for our communion? Or that He is already looking for those who hope and cry out to Him without becoming discouraged?
Father Guillaume de Menthière
Read more:
A prayer for when you can't pray, by St. Anselm of Canterbury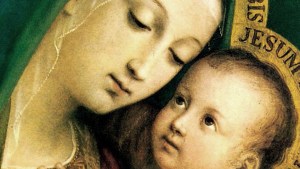 Read more:
If you are struggling with a decision, say this prayer to Our Lady of Good Counsel