Animals mean more work, but they are highly beneficial for kids!
What can God do in your life with one Bible verse a day?
Subscribe to Aleteia's new service and bring Scripture into your morning:
Just one verse each day.
Click to bring God's word to your inbox
Mickey, Dumbo, Bambi, Nemo … from the very beginning, animals populate a child's world. They're the heroes of the stories and films through which our kids come to understand the world, and a great way to have them learn how to confront their problems and express themselves. So encountering real animals in the flesh is a special experience for a child.
A friend who is always there
The communication between an animal and a child is spontaneous.It evolves with time and the child's ability to speak, until the moment when he or she can "educate" his or her animal companion.Already early on, children realize that by their actions they can provoke an instant and generally gratifying reaction: a caress makes a cat purr and a ball thrown to a dog makes it jump up and play.
In the late 1950s, a child psychiatrist named Boris Levinson was the first to publish research devoted entirely to the positive effects that pets have on human beings. He claimed that a pet could be a good friend who provides its unconditional love, and never judges or returns negativity. This relationship allows children to feel that they are understood and appreciated as they are. When children feel trust, they can show their feelings and confide their fears and pains to their pet to be comforted and consoled. Observing the interaction children have with their pets can also prove instructive for parents: how does the child speak to his pet? What does he tell his pet?
Affectionate and reassuring
Scores of scientific studies have demonstrated the positive effects that pets have. In 2015, Dr. Anne Gadomski of the Bassett Medical Center in New York and her team discovered that the presence of a dog in the household can reduce anxiety and stress in children. The mere fact of petting an animal lowers blood pressure. The presence of pets can allow children to better confront important upheavals in their lives, such as death, moving, or underperformance in school. A pet is an object of love; it makes children feel safe. The psychiatrist Boris Cyrulnik, who worked on the effects of unhappy childhoods, observed that animals stimulate positive, calming emotions in children that lead them to feel pure love.
A pet can also become a good teacher — for example in developing child's motor functions.Yolanda, who works as a neuropsychologist, has noticed that "pets share some of their liveliness and spontaneity. With their help, a baby expands his or her sensorial spectrum (warmth, smell) and coordination." Elizabeth, a young mother, confirms: "When they play, Spotty makes my baby sit, stand, run and jump." Pets allow children to improve their coordination, autonomy and a sense of initiative in encouraging them to play and explore.
Children's language skills and imagination are also improved by contact with animals. Many parents confirm that thanks to house pets, their children have discovered that actions can conceal emotions.Their fluffy companions make them see how living creatures function — they can get sad, scared, upset, etc.
A friend that makes our children more responsible
Cats, dogs, birds and other pets also help children to develop a sense of reality by demonstrating the importance of rules and boundaries that should not be violated or crossed. If you over-feed a goldfish, it might die. If you pull a dog's tail too hard, it might bite.A pet is not a toy, but a living creature that should be respected and taken care of. Having such a friend at home requires a sense of boundaries and responsibility … changing the straw for a rabbit, cleaning the fish tank, etc. In time, such tasks can prove taxing. As a child grows, he or she will become more and more responsible: feeding the cat, taking the dog for a walk. Children are proud of doing such things.It is a good and a wholesome way of growing in confidence and a sense of accomplishment.
Children will also learn that their pets have a will of their own, and that their patience has limits. Bruce Fogle, a veterinarian from Canada who specializes in animal behavior, recommends "teaching children to recognize the signs of irritation and anger in dogs and cats. There are two golden rules: leave the animal alone when it sleeps or eats. And have young children understand that they must be careful with dogs and cats they don't know."
When a pet can become a doctor for a child
The positive effects of house pets on children are especially evident in the case of little ones suffering from developmental or intellectual disabilities, mental illness, or emotional difficulties. They learn how to manifest their emotions and develop attachment to their companions.Animals can help young patients to heal and heal from depression faster. Samuel Ross, the doctor who pioneered educational farms in the United States, spoke of animal assisted therapy: "If you let them hold an animal that has accepted them as they are, their outlook changes radically. This contact establishes a loving bond, a first relationship they can trust, and this is a success!"
Of course, no pet can replace a parent, a friend, a brother or a sister, but it can get a child get back on the track. It can help them learn to be less selfish, more assertive, and to grow in relationship skills.
Karine-Marie Amiot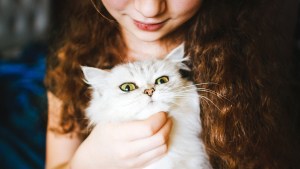 Read more:
6 Ways pets are good for your health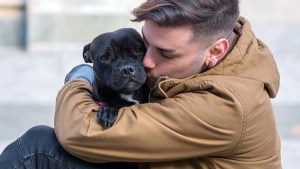 Read more:
Why pets are good for your body and soul