To learn how to channel our desires, let us turn to this virtue...
What can God do in your life with one Bible verse a day?
Subscribe to Aleteia's new service and bring Scripture into your morning:
Just one verse each day.
Click to bring God's word to your inbox
In Latin, praying (precaria, prayer) means that we are demonstrating our dependence on God. Together with the psalmist we are saying "All my longings lie before you, Lord" (Ps 38:9). Our desires are both confounding and vague, and whether they are expressed in violent clamor or in humble murmurings, they always reach God.
In his Memoirs from Beyond the Grave, François-René, vicomte de Chateaubriand, tells of a period in his youth when he abandoned all religious practice. It seems he abandoned the faith itself. Yet, as he writes, "I prayed, for I suffered, and the suffering pray." Not all of our desires are righteous, however. "When you ask, you do not receive, because you ask with wrong motives, that you may spend what you get on your pleasures" notes St. James (4:3). It is the cardinal virtue of temperance that allows us to channel, purify, and control our desires.
The virtue that channels our prayer
It is hard to know what we should ask, because it is difficult to know what is truly good for us and for others. How can we know the difference between our secret cravings and the righteous desires that animate us? Temperance helps to channel our prayer, for the act of praying does not involve subjugating God to our desires or trying to have God change His mind. God cannot be moved. "Father of the heavenly light does not change like shifting shadows" (James, 1:17). The purpose of our prayer is not to change God's plan; it is to obtain what He has decided to give us, through this prayer.
Often when we pray, we resemble a man in a boat. His prayer is like the mooring. It is the man in the boat who is moving, not the rock. Hence, our prayer does not change God, it transforms us. It brings us closer to God, like the man in the boat, who approaches the rock by pulling on the cord. It is we, who are changed by our prayers.
Our Father schools us 
It is not the purpose of a prayer to inform God, it is to teach us about ourselves. We do not let the Heavenly Father know what we need — He is better aware of it than we are: "Your Father knows what you need before you ask him," says Jesus (Matt 6:8). On the other hand, in reciting the Our Father over and over again, we are redirecting our lives toward what is rightfully desirable, we set our course on what is the essential, and we become convinced of the immense goodness of God who grants us what we ask of him.
It was St. Augustine who used to say: "If we are praying in a rightful and fitting manner, we cannot say anything else other than what this prayer to the Lord encompasses."In return, we can rightfully desire all that Our Father enshrines. This short formula contains all that we are allowed to hope for. This is the reason why the Our Father is not just a perfect prayer to which we should turn to as an example, it is also in a certain way, an instruction to all prayer. It remedies and rectifies all our requests. "Our prayer must be righteous," wrote St. Thomas Aquinas, "which means it should compel us to ask of God what is good for us."
Father Guillaume de Menthière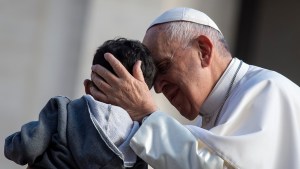 Read more:
The petition of the Our Father that gets to the very heart of things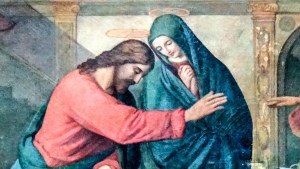 Read more:
Imitating Mary's only petition in the Bible, and learning how to pray without words