We often forget that we have been created to sing praises and serve God instead of expecting Him to do our bidding.
What can God do in your life with one Bible verse a day?
Subscribe to Aleteia's new service and bring Scripture into your morning:
Just one verse each day.
Click to bring God's word to your inbox
Praying is not a pious pastime, a meditation that will make us feel better or a recreational activity. In the first instance, it is not the role of a prayer to seek out help or alleviation. Prayer is foremost a cardinal virtue of justice. This justice consists in offering each party what is due. And we owe everything to God. What do you have that you did not receive? (1 Cor 4:7). We cannot both declare that we are thirsting for justice and overlook this very first act of justice – offering our praises to the Creator. "It is truly rightandjust, our duty and our salvation, always and everywhere to give you thanks …" we are reminded in the Preface to the Eucharistic Prayer. We pray because it is right and just.
A prayer of adoration is a fruit of selfless love
"What shall I return to the Lord for all his goodness to me? I will lift up the cup of salvation and call the name of the Lord" (Psalm 116 12:13). We join in the Eucharist out of gratitude, for disregarding what we owe to the Lord would be highly unjust. But even before we offer up our graces to God for his goodness, we must thank him for what He is.
On Sundays, in the great hymn of Gloria, we sing – "We praise you, we bless you, we adore you, we glorify you, we give you thanks for your great glory." Such is the prayer of adoration where are not immediately preoccupied with what God did or will do for us, but with what God is – infinitely glorious. Adoration is the fruit of selfless love. The love that can claim: "I love you not for what you can do for me but for what you are. I thank you for your existence." Yes, it is right to love God above everything else, to love him with all our hearts, as Jesus has commanded us.
We have been created to sing praises to God and to serve Him
Have we not transformed this great act of free love into a tool to obtain what we desire? It was St. Ambrose who used to say that most of the time men approach prayer in a businesslike manner. We do not crave for prayer; we want our little projects to prosper.
What do we seek when we pray? Is it, as St. Francis de Sales asked, to speak of "God who comforts" or of "comforts of God"? Is our prayer rooted in our desires or in our faith? "God, I pray you to do now by La Hire as he would do by you if you were La Hire and he were God." Isn't this prayer of St. Joan of Arc's fellow soldier a caricature of our own?
Must we remind ourselves that we have been created to praise and serve the Lord, and that He is not at our bidding? Well, as St. Thomas said, Salvation consists in fulfilling what we have been created for. In other words, to praise the Lord, is to already attain Salvation. Of course "our songs add nothing to His glory." It is not for himself that God wants us to adore him, but for ourselves, for singing praises to Him is to fulfill what we are, to do what we have been created for, to begin with here below, which will be our eternal joy: to sing praises to the Lord.
Father Guillaume de Menthière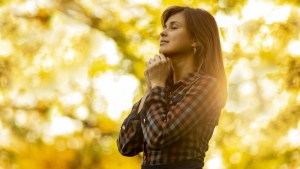 Read more:
21 Words that will help you better understand prayer
Read more:
Are intercessory prayers really useful?